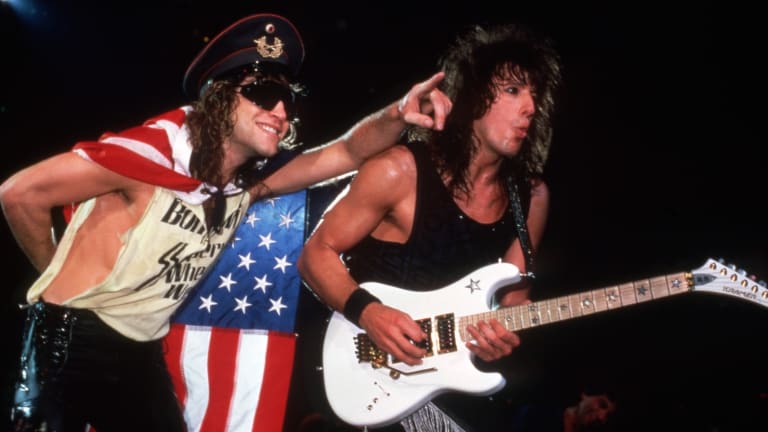 A double-barreled interview with Jon Bon Jovi and Richie Sambora
'We don't make smart moves or dumb moves – we just move," JBJ tells Metal Edge
Metal Edge, March 1987
"Sometimes you're out there and you don't know where you are," says Jon Bon Jovi, but if he's occasionally a bit lost on stage it's not too surprising – Jon and his band have toured Canada, Japan, and the U.S. east coast since launching their concert marathon in July, and they'll begin headlining there this month after their British road trip ends. If, as guitarist Richie Sambora says, "A kid's not gonna buy a lot of your records until he sees you live," Bon Jovi's awesome show should send their smash Slippery When Wet LP well past double platinum.
The next set of U.S. concerts (which will feature Cinderella as special guest) will be bigger, more elaborate, and include more songs thanks to the freedom that comes with headlining. Of course, there's more pressure, too: "A lot of business stuff to think about," explains Jon. Whether they're opening or headlining, Richie often thinks about technical things, especially if they haven't had a sound check. "Are the monitors gonna be all right? How many kids are out there? Stuff like that runs through your mind, but as soon as the lights go off you forget about everything," he says. "You say, 'Kill em! Let's go!' It automatically goes into overdrive." For his part, Jon says he's usually preoccupied with locating the nearest bathroom right before going on stage. "It's a problem with me," he sighs. "I usually have to go, so I wanna see how close one is."
Once out there, Jon and the guys check out the women in the crowd, and get the arena rockin' with songs like "In and Out of Love" from their second LP, 7800° Fahrenheit, and new Slippery anthem, "Let It Rock." Jon and Richie, who collaborated on most of the new album's tracks, pick "Wanted Dead or Alive" as their favorite, though "You Give Love a Bad Name" was chosen as the first single and video. Bon Jovi filmed it live over two days at the Olympic Auditorium in L.A. and gave 5,000 fans a free concert in the process. "We finally locked into what we want from a video," says Jon. "We're really happy with it, it finally captured us," he enthuses. 
Until now, he ranked video making on his hate list right up there with traffic, cucumbers, crowded elevators, the dentist, and the PMRC. "We saw the 'Only Lonely' video in Tokyo," he recalls. "We said, '$90,000 for this piece of shit?' " But given circumstances and deadlines, they were stuck. "You get disgusted," says Richie. "It makes you not want to do them any more." This time, they left the concept out and kept creative control. They were helped in that by Video Assist, a process in which a portable VCR records what is simultaneously being filmed, so it can be seen immediately and revised if necessary.
In the clip and in concert, Bon Jovi sports a less stylized look this year. "We wanted to be comfortable," explains Jon. "It's not real glamorous, it's a lot more played down," he says, adding that they prefer to let the music do the talking–that's why the band isn't pictured on the album's front cover. But there were many debates and rejected ideas on the way to that decision. The tough choices don't get any easier. "It's not as romantic as you make it out to be when you're a kid, that's for sure," Jon says, fully aware of the amount of business in the music biz. "You work hard seven days a week. As soon as you start believing your press, then move over 'cause somebody else is coming," he adds, referring to the often fleeting nature of fame. He and his band hope to hold their ground via a relentless cycle of writing, recording, and touring. "We don't make smart moves or dumb moves – we just move," he says of their strategy.
Jon reflects, "When you first start out you're really naive. Then you spend the next five years fixing all the screwups." At this stage of the game, "You don't get any time to sleep, you eat on the run. But you do learn to sit back and enjoy the success a little bit," he smiles. These days, he's got a lot to smile about.