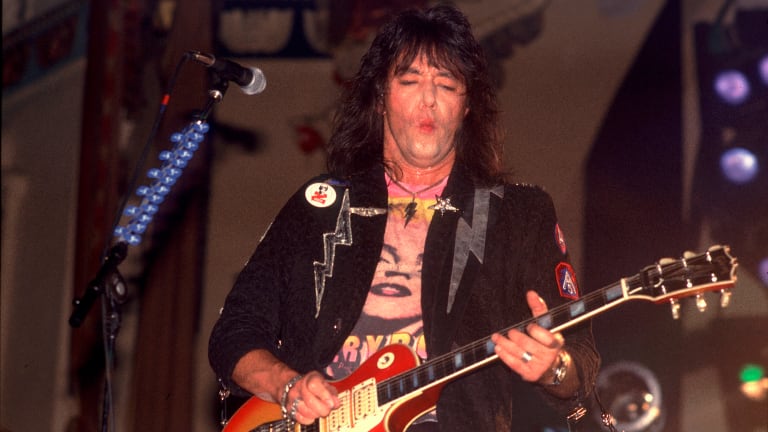 Ace Frehley flies solo with Frehley's Comet
Former Kiss axekiller returns 'healthier, trimmer and plugged-in'
Metal Edge, July 1987
What ever happened to Frehley's Comet? Fans have been wondering about that since Kiss' original guitarist announced plans for the project three years ago. Metal Edge was perplexed, too, when all attempts to contact fretmaster Frehley for a Kiss alumni article (Oct. '86) proved fruitless. But we are now pleased to report that Ace is alive, quite well, and ready to release long-awaited disc this month.
"I've been getting my act together," says Ace. "My management didn't work out for me in the past. Maybe I just wasn't pushing hard enough for a deal. But I'm really into it now. I've recorded this album three times already, and finally you're going to hear it."
Assembled in several New York area studios, the LP was co-produced by Ace and Eddie Kramer, who worked with the axeman on his 1978 solo album, and features several years' worth of material – Ace had 50 songs to choose from. "I write sporadically. Sometimes I don't write for a month, and then I'll write three songs in a week," he says. The ballad-less LP includes the autobiographical "Rock Soldiers" (lyricized by Chuck Taylor, composer of "Wild Thing") and "Into the Night," a tune by Russ Ballard, who penned Ace's hit "New York Groove." "Lightning may strike twice in the same place," he says hopefully. Accompanying him are Frehley's Comet members John Reagan, a bassist who's played with John Waite and Peter Frampton and has worked with Ace since '83, Anton Fig, drummer for David Letterman's Late Night band who played on Ace's solo LP ("He might get a leave of absence for the tour"), and keyboardist Tom Howarth. "I stole him from Cheap Trick," says Ace. He'll be doing 30%-40% of the vocals, I'll be doing the rest." While Ace believes he has a "pretty distinctive vocal quality, I'm not a singer's singer," he says. "I consider myself a guitar player first. But it's not something I can get out of at this point," he laughs.
With the LP finally vinylized, Ace "can't wait to get back on the road." His last tour was a series of east coast dates back in March of '85, designed "to get my feet wet being a frontman. It was great, knowing that I could handle it," he says. Now that his well-publicized excesses are history, Ace has an even better handle on his career. "I'm healthier, I'm trimmer, I'm in better shape. I'm on top of things," he enthuses, using an appropriate metaphor: "I'm plugged in." He acknowledges that "all the nonsense I was doing" – particularly the drinking and driving – wasn't very wise. "I've learned my lesson," he says recalling his vehicular smashups. "I take care of myself. I'm not a kid anymore. You can't stop that biological clock. If I'm going to be competing with all these young bands on stage I can't drink three bottles of champagne and a case of beer and do a show the following day."
Aiming for a special guest slot on an arena tour ("Mötley Crüe would be fun to open for. They opened for Kiss"), Ace plans to "be up there sweating, blowing up guitars – the whole nine yards" while performing new tunes and old hits like "Cold Gin" and "Shock Me." 
"I've always believed that theatrics and rock and roll go hand in hand. They enhance and add more excitement to the music," says Ace. He promises more of the audio-visual pyrotechnics he was famous for in Kiss, but no mask-like makeup. While his stage look is not yet set, Ace definitely does not want "to get locked into an image. That was one of the things that really bothered me about Kiss."
The Space Ace persona that he created and the costume and makeup that went with it had become a stifling trap. But that was only one cause for Ace's discontent. "After 1978, when I did my solo album and I saw what it was like to be on my own, I really felt that the group was holding me back," he says. Before drummer Peter Criss left the band, "we were a democratic group, we'd vote on decisions and whenever there was a deadlock, [former manager] Bill Aucoin would intervene," Ace recalls. But Peter's departure upset the balance of power, and Ace often felt shut out. Plus, as a married man and "more of a homebody," Ace didn't want to tour as much. 
There were artistic conflicts, too. "They wanted to work with [producer] Bob Ezrin on The Elder and I didn't, and you see what the result was. But you live and learn," signs Ace, comparing the situation to a marriage gone sour. "It was time for a change. I was getting stale, I wasn't growing creatively. Ten years was enough. I wanted to do my own thing, be in charge of my career. Nothing against Paul and Gene. We're still friends, I speak to them occasionally. But after my solo album's success I know that was the direction I wanted to go. It was just a matter of time."
Unfortunately, it took more time than Ace figured: he was still bound by a partnership contract that would have forced him to share any solo profits (netting him only 25%). While lawyers litigated, "I started getting crazy." He bears no grudges, though, and is glad Kiss is thriving. He likes the music, but when he sees a video, "It doesn't seem like Kiss to me. When I think of Kiss I think of me, Peter, Paul and Gene. They use the name, and the logo I designed, but it's only half the original band." Ace stays in touch with fellow defector Peter Criss, a former Connecticut neighbor now living in L.A. "He's trying to form a new band," reports Ace, who looks forward to their reunions, as do their daughters – his Monique, 6, and Peter's Jenny Lee, 5, are friends.
Asked for his fondest Kiss memory, Ace cites the 1979 tour in Australia, the finale of the original tour. He remembers one gig there when the hook that descended from above to catch his guitar (so he could shoot fire at it) arrived with a dead chicken on it. "I totally lost it," Ace laughs. "That night Gene spit green blood," he adds, blaming the crew on both counts. "Those were the good old days," he smiles, but he doesn't dwell on them. He's busy thinking about "being on the road with a hit record."
He no longer prefers playing live to studio work, however. "It's 50-50. I enjoy recording much more now. Maybe that's because I'm in control of it," says Ace, a technology nut (he's into computer graphics) and self-taught recording engineer who has a home studio. "Once I get these five albums [on his Megaforce contract] out of my system I'd like to produce other bands." He'd also like to try scoring films. "I've taken a long enough hiatus," says Ace, energized and ready for his return to the metal scene. That other comet is long gone, but Frehley's Comet is here to stay.