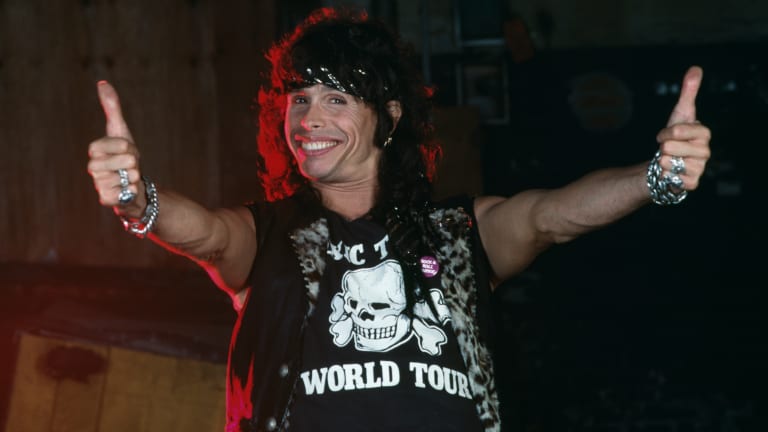 Aerosmith 'Pump' it up
Boston baddest boys are revved-up and ready for action. 'This album's the A-list,' says Steven Tyler
Metal Edge, December 1989
It's been nearly two decades since Aerosmith burst out of Boston and rose to the top of the rockpile, gaining as much notoriety for their fast lane lifestyle as their bluesy, ballsy music. Excesses of all sorts split the band temporarily, but the reunited quintet regrouped for Done With Mirrors in 1985, followed by the megahit Permanent Vacation and its companion tour, one of the top grossers of '87-'88. Now Steven Tyler (vocals), Joe Perry (guitar), Ton Hamilton (bass), Joey Kramer (drums) and Brad Whitford (guitar) are back with a new album called Pump, which was recorded at Little Mountain Studios in Vancouver, Canada with producer Bruce Fairbairn.
Steven, Tom and Joey gave Metal Edge a three-song preview when we lunched at a waterside restaurant neat Steven's home south of Boston, and we're betting that it'll be platinum within a month of its Sept. 12 release. The guys are equally enthusiastic.
Steven Tyler: We're real proud of this album because we did a lot of stuff that nobody would ever do. It takes you on a trip.
Joey Kramer: It's more of a rock 'n' roll album than we've done in the past or what I've heard from anyone lately. The emphasis is on feeling and emotion.
Tyler: Everybody shines. This is the finest thing that we've ever done. It's a good interpretation of where we're at and what it took to get here.
Tell us about the songs.
Tyler: "My Girl" is the closest we've ever come to an old Kinks song. "Don't Get Mad, Get Even" – that's self-explanatory.
Tom Hamilton: It's for everyone who has a person in their life they'd like to run over with a tractor.
Tyler: "F.I.N.E." – Fucked up, Insecure, Neurotic, and Emotional. "Monkey on My Back" is about drugs and addiction, how could I ever go anywhere without going downtown and seeing [his supplier] Freddie first. "What it Takes" is a slow ass-kicker, it's a rock 'n' roll ballad without the syrup.
Hamilton: "Janie's Got a Gun" is about a daughter that kills her father for molesting her as a child. It's a song that really grabs people. That and "Love in an Elevator."
Is that one based on a real experience?
Tyler: Positively. Once in a southern hotel somewhere long ago, I was with these two little chickies in an elevator. I was really tipsy and we were going down on each other. The doors open up in the lobby and people are standing there, and we're on the floor. It was a millennium waiting for that door to close.
Hamilton: "Voodoo Medicine Man" will remind a lot of people of "Nobody's Fault," something we'd done in the past but not on the last few albums. It's an all-out evil sounding rock song.
You used some outside writers on the album.
Hamilton: On just a couple. "Young Lust" and "The Other Side," Jim Vallance co-wrote. Steven wrote "What it Takes" with Desmond Child. Steve and Joe wrote about 20, 25 songs and the rest of us thrashed the ideas around. We kept narrowing it down. We had an A list and a B list.
Tyler: The album's the A-list.
Hamilton: The songs have a way of interacting where one will be favored one week and on the side the next.
Tyler: There was a great song called "Is Anybody Out There" that didn't make the last album or this one.
Kramer: We had so much more material this time. It got really tough to pick what went on the record. We tried to whittle it down so every song on the album was great. No fillers.
Hamilton: We wanted a record where all the songs were a little related to each other than on the last albums.
Do you have a favorite track?
Kramer: "Elevator"
Hamilton: "Janie's Got a Gun" is probably the song on the record.
When did you start production? How long did it take?
Tyler: Eight months. Production started Nov. 1, and we went into the studio in mid-April.
Kramer: Actual recording, we did in four weeks.
Hamilton: We were so prepared. The arrangements were really solid by the time we got there. Plus, this is the first album that all of us were completely straight.
I thought you were on 'permanent vacation'…
Hamilton: Three of us were and two of us were sneaking around. This was the first album I got to play what I felt instead of trying to make sure I didn't blow it in the middle of a take.
Was the recording process easier, then?
Hamilton: Sone songs, we had to keep grinding away. If we didn't get it on the third or fourth take we'd take a break.
Tyler: "What it Takes" was real hard.
Hamilton: "Monkey on My Back" was second take, but we'd practiced all day. That one came together in the studio. "Elevator" was real fast. It was the first one we recorded. Before we got there we rehearsed like crazy.
Was there less distraction working away from home, in Vancouver?
Hamilton: It means not having to wonder if the plumber is going to show up or if I took the trash out. The studio itself is nice and spacious.
You and Mötley Crüe were there at the same time, and you even sang on their record, Steven.
Tyler: Yeah, on "Sticky Sweet," a real heavy, good song.
Hamilton: They played so loud that sometimes we'd bleed into each other's studios.
Did you hang out with the Crüe?
Hamilton: Nikki and I went running a couple of times a week. We all went out the night Bon Jovi and Skid Row were in town. We're sipping Perrier and non-alcoholic beers and the guys in Skid Row were swilling Jack Daniel's the way we used to.
Isn't it ironic that the two most notorious "bad boy" bands are now proponents of clean living?
Hamilton: It really makes sense. It's also a product of the times. In the hippie years it was the thing to do, getting high and loaded was socially expected, it was fashionable to be wasted. That hurts after a while. You do it for a few years and it's pretty painful. Now it's the year of the physically fit. Everyone's running, lifting weights. I like to keep in shape. I'm in better shape now than I was when I started playing rock 'n' roll.
Tyler: We're not getting younger. You want to keep up.
Hamilton: Hopefully we won't swing back into getting wasted again, but maybe the '90s will be a rebirth of some kind of spiritualism, developing the potential of making the kind of place it should be.
You're going to start your tour in Europe and it'll be the first time there in 12 years.
Hamilton: Right, in October, for six weeks. I have no idea what to expect as far as audience rection. It's gonna be interesting.
At this point it must be impossible to choose a song list.
Hamilton: Forget it. We have to choose between what we get off on and what we have to play. "Dream On" is still fun, though.
Tyler: So is "Sweet Emotion."
Kramer: Every year the show gets longer and longer.
Tyler: It's harder to maintain the excitement.
Kramer: You have to know when to stop. We could play for hours and hours with all the songs we have. You have to leave them wanting more. Anyway, and hour and 45 minutes of us doing what we do is like going to the gym for four hours. You're cooked, fried, history.
Tyler: It takes me three months to learn not to be on 110 for the first eight songs, how to lay back.
Are you aware of the power you have over the audience?
Tyler: Yeah. It's a scary thing. As much as you've got them in your pocket and they're with you, they can turn. There has to be respect. It's a challenge. I just think of it as a party, and take it from there.
Hamilton: Sometimes you can do no wrong, other nights you're pushing the edge. Someone will make a mistake and screws up somebody else and you blow it big time, and it ruins the night for you, but the audience may not even be aware of it. They're a lot more forgiving than a band will realize.
Tyler: You can't take yourself so seriously, I'm 41, and it's take me this many years to laugh at myself. Sometimes I take myself too seriously and get bent out of shape, it's terrible.
What are your favorite songs to play live?
Hamilton: "Draw the Line" – you just get up there and blast it out. That has always been a fun one for me.
Tyler: Me too.
What about songs in general, if you had to pick from the catalog?
Tyler: "Kings and Queens." It cooks like crazy.
Hamilton: Yeah, great song.
What about album?
Hamilton: Toys in the Attic or Rocks, one of those two.
Tyler: Rock and a Hard Place, though it was another Aerosmith. It only sold like 10,000 copies. It was like trying to sell tickets on a boat that just sank.
And favorite video?
Hamilton: "Dude. "It's a really good illustration of what the band's about. It rocks out, it's naughty and funny.
Pleased with your videos?
Hamilton: Yes, they came out really good.
Tyler: I never wanted to do a video for "Dream On." The live one doesn't count. If I could have stopped it, I would have. When we first came out there was no MTV. If you played a song for ten different kids you'd get 10 interpretations. It had different meanings for different people. When you do a video, there it is. The kid can't decide for himself.
Can you believe it's 20 years since Aerosmith started out?
Hamilton: Yeah, since the fall of 1970. I graduated from high school in 1970 and by that fall I was in the band. 20 years, that's enough time for a couple of world wars. I think about when the band lived in an apartment together in Boston as yesterday. For the first couple of years we barely had enough gigs to stay alive. Steve and Joe would make a concoction of brown rice and vegetables, we ate a lot of that.
Tyler: What's nice is that there are fans who were with us in the early '70s that are still with us now.
Hamilton: [at shows] You see the old, faded t-shirts from the early '70s, and that's really great.
How do you account for your longevity?
Tyler: Good songs. Bands borrow from each other, there's nothing that hasn't been done before. We started out to be a little different form the other guy.
Hamilton: A lot of bands acknowledge that they learned a lot from us. We've been able to take our style and expand it in our own way instead of imitating our imitators. On the last tour we kept improving at a steady pace and got a handle on why it sounded good one night and might not have the next I feel like we're finally getting it right.