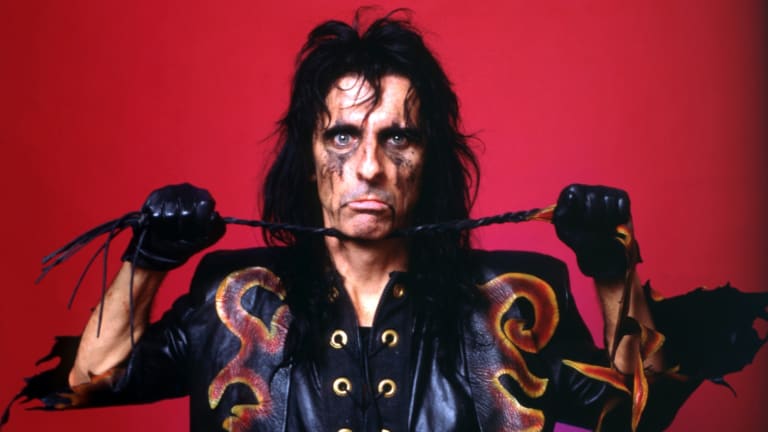 Alice Cooper returns: 'I had a choice – stop or die'
The original shock rocker is back to invade our nightmares once again
Metal Edge, March 1987
More than a decade since he welcomed audiences to his nightmare and put fear into the hearts of the precursors of the PMRC, the notorious Alice Cooper has returned to terrorize a new generation of headbangers – and remind them that metal with a hellishly theatrical twist was not invented by Mötley Crüe, Twisted Sister, or W.A.S.P. "We were sex and violence. We were like a stake in the heart of the love generation. They hated us," smiles the pioneer rocker. "We had a style and an idea nobody else had, and the balls to do it. We did everything first."
Everything including hangings, decapitations, electrocutions – Grand Guignol theater come to life. Fans ate it up and turned albums like School's Out, Billion Dollar Babies, and Welcome to My Nightmare to gold and platinum. With hits like the title tracks from those LPs, "I'm Eighteen," and "Elected," Alice reigned supreme in the '70s but band problems and his battle with the bottle caused his decline in this decade. Now, after five years away from the music scene, a dried-out, revitalized Alice has returned to the charts with Constrictor, and concert stages with a tour that "goes above and beyond what anyone thought we could do."
Lean, mean, and still hungry at 38, he insists he hasn't mellowed a bit. "I'm healthier than I was 10 years ago – physically. I don't claim any mental health at all," he grins slyly, adding that his attitude is "more disruptive" than ever. But he is in control now that he has quit drinking. "I just stopped. I went to a hospital. It was really easy. I had a choice – stop or die. I didn't drink to get drunk, I drank to stay at one level," says the recovering alcoholic. "Certain years I can't remember," he admits, "A lot of it was a blur." Once sober, he "realized that Alice didn't drink at all–the creator of the monster was the alcoholic," says Coop (as his friends and family call him), who separates himself from his stage persona. "Now I have both of us in control. But now that I don't drink, Alice is really a necessity to me. I have more of a hunger to play him."
Asked why he didn't stage his comeback sooner, Coop gave timing as the reason. "In the early '80s there was an appetite for new faces. Alice wasn't needed. Now I think that's changed," he says. Ironically, he's competing now for record and ticket dollars with hot young bands he influenced. "It looks like I'm copying them, but I can't say 'I did that first and you stole it.' The only way to combat that is to go out and do it better."
Before the start of his current 50-city swing, Coop joked that "we were thinking of having the first 20 rows wear blood bibs," and promised a spectacular show. With 16 albums to his credit, he says it's hard to choose the live set. "We have a dozen songs we have to do," sighs Coop, who'd rather play new material. His current band consists of drummer Ken Mary, bassist Kip Winger, keyboardist Paul Horror, and the dual axe force of Randy Piper (ex-W.A.S.P.) and lead guitarist Kane Roberts, who co-wrote most of the music on the new album (Coop lyricized and arranged it). Devoid of ballads and as powerful as the snake it's named for, Constrictor is "much heavier than anything we've ever done." Where expensive production was his '70s goal, "this album is dedicated more to music than packaging. Street level." It includes the aptly titled single "He's back," the theme of the movie Friday the 13th, Part 6, that received a video launch last summer.
Coop got the film assignment by accident (he was in MCA's offices when the producer called), but it was a match made in heaven (pardon the expression). "I'm a big splatter movie fan," says Coop, who watches three a night ("it's research for the show," he grins) and loves the Friday series. "Alice and Jason have a lot in common. They keep killing Jason and he keeps coming back. Alice always comes back, just like Jason."
A video junkie, Coop has 20 constantly-running TVs at his home in Phoenix, AZ. "I'm bombarded with a vast amount of useless knowledge," he says, adding that he watches MTV "to see what everybody else is doing. They have made it really important," he says of the channel. "Now video's as important as your record." For his part, Coop places equal emphasis on music and image, and stresses the importance of an original idea. His own was born years ago, when the former Vincent Damon Furnier craved attention and realized he wouldn't get it as a grocery box boy.
The Detroit-born, Phoenix-raised Coop compares himself to the title character in a recent Matthew Broderick movie: "The dark side of Ferris Bueller – I was as clever, but a little more devious in getting what I wanted." Observing that the Rolling Stones had the nastiest image around, "I had to come up with something that would horrify the Rolling Stones." Not surprisingly, his mother and minister father "didn't know how to take it at all," especially when he changed his name to Alice. But Coop says his folks have adjusted to their son's career and dual personality.
"There are a lot of things that Alice is that I'm not," he says, listing spontaneity, fearlessness, and strength (drawn from adrenalin and the crowd) as his alter ego's exclusive traits. But Coop, who uses the words "theatrical, dark, funny, and dangerous" to describe them both, enjoys the dichotomy. Off stage, he's a family man, married for 10 years (to dancer Sheryl Goddard, who played a giant spider in his show) and is the father of a five year-old girl and a year-old boy–but as Alice, he's a snake handling demon, a horror movie come to life. "We already have problems with the PMRC," Coop grins, far less disturbed by that than the persistent misconception that he plays golf with Bob Hope and George Burns. "I don't want anything to do with the Establishment," he insists, miffed that people didn't realize he played Las Vegas, did Hollywood Squares, and hit the links with old duffers as a goof. He doesn't play golf at all anymore.
In his spare time, Coop likes to check out new bands in local clubs, preferring live to recorded music–he doesn't own a stereo. He says he'd like to get involved in producing a new act, "if I saw somebody that really had it." He'd also like to try writing a movie script and might "retire when I'm 50 and get somebody to play Alice– and I could direct." But he's far from ready to give it up yet. "I don't know whether it's ego or what, but there's a drive now," he says, jazzed to be back. I'm not in it for the money anymore. That instant gratification I used to get from drinking has to come from somewhere else. It's harder to start again," he concedes, aware that his reputation is on the line. But Coop – and Alice – are prepared to give it all they've got.