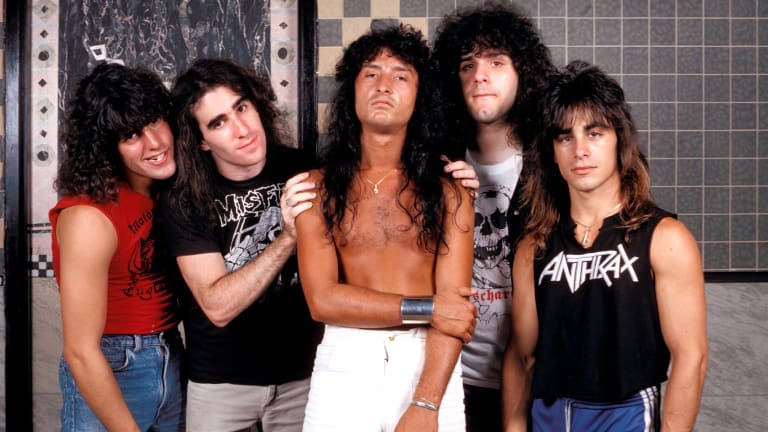 Anthrax spread the disease
No sequins, no spandex, no makeup – all metal
Metal Edge, December 1986
Flash and trash? No way. No sequins, no spandex, no makeup. No fancy haircuts, either. Those who like their metal glamorized should go elsewhere. But headbangers who love fast, furious, super-aggressive music will appreciate Anthrax, a bone-crunching quintet who consider themselves "the heaviest band in the world."
Following in the path of label-mates Metallica and Raven, Anthrax is the latest Megaforce Records act to "graduate" to a major label (Island Records), but they haven't compromised their hard-hitting, no-frills reputation. "They didn't even want a single, they know we're not that type of band," says lead guitarist Dan Spitz, who's in preproduction with bandmates Joey Belladonna (vocals), rhythm guitarist Scott Ian, bassist Frank Bello and drummer Charlie Benante. "They want the heaviest album of all time, and that's what we're giving them."
Though still managed by Megaforce's Jon Zazula, Anthrax new association with Island means more exposure and more money, which means better production on the next record. "We spent six months on it and it's not what Anthrax is all about," says Dan of their current release, Spreading the Disease. He's looking forward to working with producer Eddie Kramer this time out and is sure "the next album will represent us in a better way."
Nevertheless, Dan believes you have to see Anthrax live to really know them. "It's total mayhem," describes Dan, who'll play European dates with the band this month and next before entering the studio in mid-November. Audiences who caught their U.S. gigs this summer know that Anthrax's show emphasizes musicianship, not costumes or special effects. "We go onstage in what we wear during the day," says Dan, "black denims, t-shirts, and sneakers. The kids can relate to you better like that. I'm like them – if I wasn't onstage, I'd be in the audience watching.
Like most truly heavy metalists, Anthrax tours extensively because they get no airplay. As for MTV, "It costs $80,000 to make a video, so you spend the money, and they play it for one week. Not worth it at all," Dan says in disgust. Still, he's positive about the band's future and sees Metallica's path-paving success a sign of a "changing of the guard" in metal. "Now it's Anthrax's turn," he believes.
Named for a cattle disease band founder Scott Ian learned about in school, Anthrax was formed in the summer of '81, took two years to get rolling, and went through several personnel changes before the present lineup was solidified in '84. Dan met Scott while working in a Manhattan guitar store and playing in the band Overkill, "and we've been playing together ever since." Dan compares the quintet to a family. "Even when we're not on the road we hang out together. Everything is five ways, majority rules." The guys collaborate as a group on songs, though Scott and Joey write the lyrics. All have varying tastes in music, with Scott and Charlie leaning towards the hardcore. Dan, whose likes include Journey, Led Zeppelin and jazz is from a musical family and credits his older brother Dave (now Black Sabbath's bassist) with getting him into music years ago. He was also influenced by Joe Perry ad Randy Rhoads, and currently admires Akira Takasaki of Loudness.
Dan, who used to work as a dishwasher, a cook and a car stereo installer, hopes to continue making his living as an axe slinger indefinitely. He believes Anthrax has the chops to make it over the long haul and feels that avoiding radical change is the key. "If you change with the times, you're taking a risk. You have to change a little bit, obviously as you get older and your writing abilities progress. But you've got to keep what you started with, what the kids were drawn to in the beginning," says Dan. "You have to stay close to your vision."