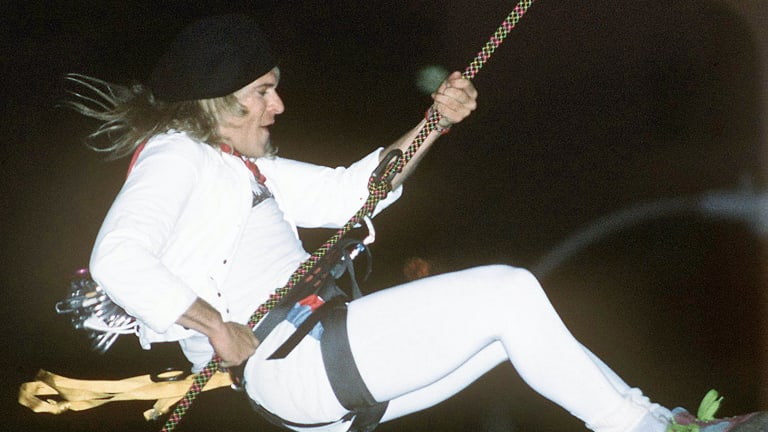 Backstage insanity with David Lee Roth
'Traveling on the road is a refined art – you can either perceive it as deadly boring or see it as an adventure,' Diamond Dave says
Metal Edge, July 1987
"Traveling on the road is a refined art – you can either perceive it as deadly boring or see it as an adventure," says David Lee Roth. As a road warrior of the highest magnitude, Diamond Dave is more adventurous than most. On his recently-wrapped up U.S. road swing, Dave racked up a few more vivid memories to add to his collection. Example: "A couple of girls dressed as maids got buckets and mops and started cleaning hotel rooms. They cleaned 15 rooms before they found what they were looking for." Did persistence pay off? "Absolutely," laughs Dave. "We're here to make friends."
"This is where I live," says Dave of the road and his bandmates concur. "I really like being on the road more than anything. It's the highlight of being a rock musician," enthuses axeman Steve Vai, and bassist Billy Sheehan agrees. "I love it," he says, comparing it to the "necessary evil" of recording. "There's no higher high than being on stage." 
"I've never been so up for anything in my life," adds drummer Gregg Bissonette. "It's the greatest feeling in the world." For Greg, the tour's highlight was playing two sold-out gigs for his hometown crowd in Detroit. For Steve, it was the Nassau Coliseum show, where he was surprised with a beautiful custom-made guitar and greeted post-gig by a horde of family and friends, including Crossroads costar Ralph Macchio. "We try to cram as many people backstage as we can, and we have a great time," says Billy.
Of course, "Things always go wrong, that's the only thing guaranteed to happen, says Dave. Problems range from the technical to checking into the wrong hotel. "90% of what happens to us out here is not directly under our control. So it's how you react, how you get along," Dave continues, citing adaptability and flexibility as his best traits. Playing six shows in a row in ever-changing climates can take a toll, but Dave held up well, aided by physical workouts (he goes cross-country skiing or biking, depending on the weather). "I don't dare let my body get sick when I'm on the road," says Steve, who made up for little rest by sleeping 10 to 15 hours on his days off: "I lock the door and rip the phone out of the wall."
Days off were also used for songwriting. Both Steve and Billy are planning solo albums, but their priorities lie with the band, now prepping album #2. To be produced one again by Ted Templeman, the LP will contain no covers now that the band is established, says Dave, who still wants to do a movie eventually. "The Picasso Brothers should definitely be on the big screen. Myself aside, the band looks terrific. Plus, these guys all have personality, a great sense of humor, and vitality," he says. But he couldn't see playing himself. "I'm not an actor," Dave insists, though he is interested in directing. "On the other hand, adventures in the film game – who needs it?" he sighs, thinking of the litigious mess that has surrounded his aborted Crazy From the Heat project. Performing on stage remains his first love. "It's what I'm cut out for and what I'll do till the day I die," Dave vows.
From the time he discovered the radio when he was six or seven, he knew he'd be "on one side of the microphone or the other." It's easy to picture him as the class terror, but Dave claims he "wasn't much uncontrollable as I had my own vision, my own way. I knew what I was going to do and I was already practicing. It's not a case of sit and dream. It was a lot of hard work, and it still is." 
Recalling the early days with Van Halen, Dave remembers "working clubs and bars, not getting paid, and then getting paid shit." But he never considered quitting, even though "you trade in everything that you would consider normal – normal social life, education, financial situation. It's a gamble. How many people really make it? I consider myself lucky." Now while "it seems like there's so much to do and not enough time to do it," Dave and Co. are in it for the long haul. "We're well on our way," he says. "And we're here to stay."