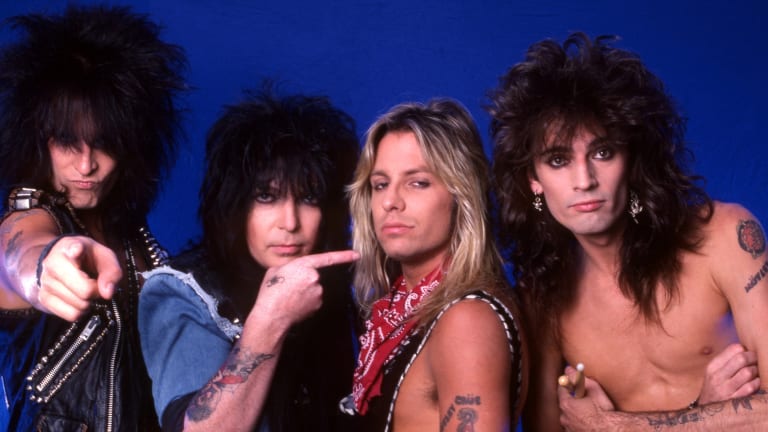 Behind-the-scenes mania with Mötley Crüe
On the video set and in the rehearsal studio as L.A.'s Mötliest rockers prepare to unleash 'Girls, Girls, Girls'
Metal Edge, March 1987
The time: Sunset. The place: Hollyweird. The mission: Interview, observe, and photograph Mötley Crüe as they put the finishing touches on their first home video and begin rehearsals for their fourth LP, Girls, Girls, Girls. The Crüemen have convened at Cherokee Studios for a final night of taping, and between camera setups and hair and makeup preparations, we have the chance to catch up with L.A.'s Mötliest rockers.
Vince Neil, looking tanned and lean, offers thanks to video director Wayne Isham for a very memorable experience filming earlier footage–he entertained several voluptuous beauties in the jacuzzi in a super-stretch limo while riding down Sunset Blvd. "I always wanted to do something like this," he says of the cassette. "It gives people the chance to see what we're about, and the old videos no one ever saw," he adds, referring to the Crüe's first rudimentary clip attempts, done when they were unsigned. Watching the vintage "Take Me to the Top" and "Public Enemy #1" on monitors, Vince and his cohorts completely break up "We were all so young back then," he says, semi-cringing. "It shows you how far we've come."
The finished tape, now available nationwide as Mötley Crüe Uncensored, features other footage you won't see on MTV, including the prologue to "Home Sweet Home," in which the band members each get a call to go 'home' to the road, and several shots of females baring their assets. Besides music videos ("Live Wire," "Looks That Kill," "Too Young to Fall in Love," "Smokin' in the Boy's Room," and the aforementioned clips), the 45 minute program includes candid interviews with the band. Following Nikki Sixx from Porsche to tattoo parlor, the camera captures his reminiscences about the Crüe's early days, invades Mick Mars' home, and catches Tommy Lee tearing through town on his new Harley-Davidson. There are some surprising revelations: Tommy has the guts to admit that the first album he bought was an Osmonds record, and Vince reveals that he band was almost called Christmas.
Dedicated "to the Crüe fans and to the young and young at heart," Uncensored ends with a montage of live and backstage footage over the credits. "A lot of people have misconceptions about Mötley Crüe, and it's probably going to reinforce most of them," laughs Vince, who–like his bandmates–doesn't mind their image as the kings of sleaze rock. "We are trying our best to curb our evil ways," says Nikki with a wry smile. "We're not doing very well," he laughs, acknowledging the Motley penchant for getting into trouble and living on the edge.
As T-Bone bangs away on the skins, Nikki flops into a beat-up couch at S.I.R. Studios, where Mötley Crüe is rehearsing the new tunes composed (and to date, semi-lyricized) since the Theatre tour. While the techs check the equipment and stock the refrigerator with wine, corona (the L.A. rocker's brew of choice), and proofless Kaliber for Vince, Nikki outlines his plans for the Crüe's latest vinyl effort. "I want the album to be raw and really raunchy, a sleazy-sounding album–the way we sound when we rehearse. I want the magic to come right through the instruments, right from the band," he says. The approach going into the studio: "Just bash it out, jam it, and go for it."
While he loves Theatre of Pain, Nikki doesn't want to duplicate that double platinum album. "We never try to do the same thing twice," he says, but adds that Girls, Girls, Girls will be reminiscent of their first LP, Too Fast For Love. The title, inspired by the strip clubs the band frequented on tour, reflects one of several Mötley preoccupations. "This album is just sex, drugs, and rock and roll," Nikki sums up. "I'm not being deep on this album at all," he says, explaining that there are no message songs (like "Fight For Your Rights") this time. "It drips of sex," he says, adding that each song has a story behind it–an unprintable one. "I'd say this album is definitely about teetering at the top," he continues. "Our problem is, we have too much fun too fast, and sometimes it makes you crazy. But I don't worry about that. I just live for the day. Do it for now. Don't worry about tomorrow. Fortune teller rock isn't our trip."
Neither is getting locked into one sound or look, or doing what people expect. "I don't want to have to do anything. Whatever's in fashion, we do the opposite," says Nikki, who plans to lose his facial strips this year–and Tommy may follow suit. The Crüe's glam-and-glitzy '85 costumes will be replaced by tougher-looking leatherware Vince describes as "cowboy-biker-punk-street-sleaze." Ray Brown, who designed previous Mötley wardrobes, is making mostly black and brown outfits sans lace, studs, and peekaboo cutouts. "Every year we've got to change, we've got to move on. We'd be miserable doing the same thing," says T-Bone. Nikki sees it as an evolution. "We're another year older, and another year wiser. Over the last two years we have grown as musicians," he asserts, and feels that will be proven further when the album is released in early '87 (between mid-January and mid-February) and the band hits the road six weeks later. Sun-loving Vince, who hopes that the tour kicks off "someplace warm," is reluctant to give details, but he promises that the new show will feature "tons of lights and pyro. It's going to be massive, bigger than last year's."
It's a fair bet that the theme will somehow involve females (an album title tie-in) and motorcycles–the Crüemen (all but Mick) have new Harley-Davidsons, and they're dying to show them off. After listening to them tear into some killer new numbers ("All in the Name of Rock and Roll" is my pick hit), I get to see the bikes up close while the guys take a break, and I can understand why– they're beauties! Later on, I witness Mötley mania first hand when the guys, wired from wielding metal for a few hours, proceed to toilet paper the rehearsal studio. The result looks like a sick prom–there's a Corona six-pack suspended where the balloons would be. Then, instruments in hand, the Mötleys offer renditions of classics like "Iron Man '' and a metal version of "Turkey in the Straw" before returning to their own material. Of the 14 songs they're rehearsing, 10 will be on the finished album, including a live version of "Jailhouse Rock"– which shows that the band has a sense of humor about Vince's brief incarceration.
But all joking aside, Mötley should have a serious monster hit in Girls, Girls, Girls – judging from what we've heard, the album will keep the Crüe on top of the metal heap. Imitators take heed. "We don't have to try to be Mötley Crüe, we are Mötley Crüe'' says Nikki. Long may they rule.