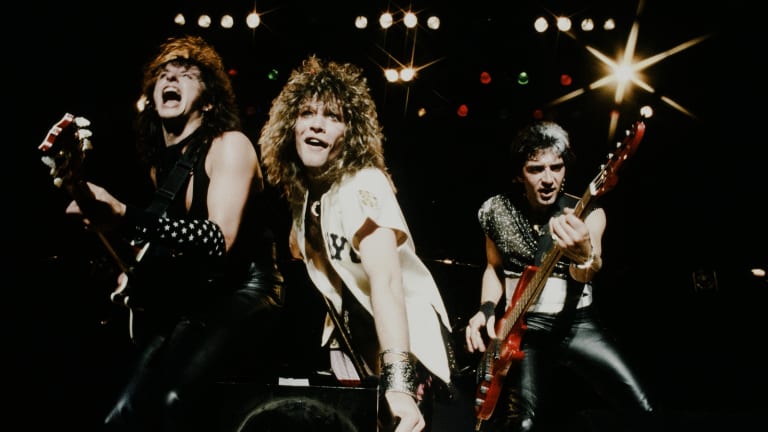 Bon Jovi on video: The making of 'Only Lonely'
Behind the scenes with Jon Bon Jovi and Richie Sambora
Metal Edge, November 1985
Bon Jovi's video "Only Lonely" would have been very different if certain record company hot shots had their way. Brilliant concept #1: shoot the video on England's White Cliffs of Dover. Concept #2: Jon rescues girl from pirate ship. #3: Jon sings on horseback (never mind that he's never ridden a horse in his life). If this reminds you of "Oh Sherrie," in which Steve Perry walks out on a dumb medieval epic scene, it struck a similar chord with Jon Bon Jovi. He hired the guy who directed that clip, Jack Cole, and worked with him on the story, casting, and locations, including the Modern Times club in Sayreville, New Jersey (Jon's home town), where the band first got together.
Friends, family, and local kids showed up to watch the making of the $85,000 video and serve as extras in the concert sequences (the clip combines performance and a storyline). Jon also got some relatives hired as production staff on the shoot.
Jon, who once turned down a role in Footloose, isn't wild about acting and wasn't thrilled with the results of his videos for "Runaway," and "She Don't Know Me" from the first LP, despite MTV and fan support. "I have to do them," he knows, but he's much happier about it now that he's directly involved.
"I don't think any one of us got into the music business to be actors," agrees guitarist Richie Sambora. "But it's important, and it's a lot of fun." Like Jon, however, he prefers touring, even if it is a "24 hour a day job" that takes him away from his girlfriend Tracy, a model.
Bon Jovi has been on the road here since June after gigs in Japan and Europe in support of the 7800° Fahrenheit LP (the title's a metaphor for hot rock–it's the temperature of the center of a volcano). "It's light years beyond the first one," says Jon, who co-produced the album. Just a few years ago, Jon was working at the Power Station recording studio, getting $50 a week to sweep the place while watching the likes of Mick Jagger work on tracks. "I learned how to make a record," he says.
Richie, a guitarist since age 15 and a veteran of solo bar gigs, session work, and a funk-jazz band, has paid his dues, too. "Making it is a big sacrifice. Everyone thinks it's a party. It is. But you can't let it be all the time or you'll never be good at it. I party with the best of them, but it's business, too." Richie, the last to join the band, recalls their debut tour with the Scorps. "We were worried we wouldn't go over, but we did it," he says, remembering the rush of playing guitar solos for thousands of people. "We're the kids from around the block who last year went around the world. You pinch yourself, man."
After the high of the tour, the band was dealt a lot blow–the $40,000 worth of equipment they shipped home had been stolen. Jon felt like quitting, but just for a day. There have been other casualties: broken relationships. But Bon Jovi's in it for the long haul. Jon and the guys agree: "It's worth it."