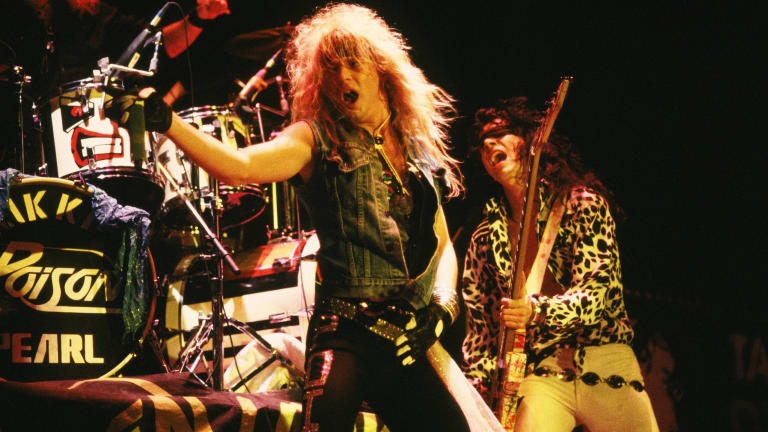 Bret Michaels: Poison-ous tales and rockin' revelations
The Poison front man talks dirty to Metal Edge
Metal Edge, February 1988
Bret Michaels is one guy who loves to talk. Ask him questions and you'll get great answers – along with some pretty colorful stories. Between updates on Poison's plans and his private activities, Bret had a couple of wild tales to tell the last time he phoned Metal Edge.
"I was sent two cassette tapes, unmarked packages, from two separate girls who said they were going to pay to have me kidnapped. One said she was paying $10,000, the other $5,000 for it." Each wanted to make him their love slave, and Bret was more excited by the idea than unnerved. In fact, he jokingly instructed females with similar notions, "Don't pay someone else, pay me!"
Bret also recounted a recent trip to a mall, where he looked rather scruffy. He was stopped by some kids, who "had an argument right in front of me, going back and forth, 'He's Bret Michaels,' 'No, he's not!' One asked me for I.D., the other goes, "Prove it, sing a song.' I'm just there to get a shirt, and I'm standing in the middle of them. Finally I started singing, and they go 'Nope, you're not him.' " Bret laughed, recalling the scene. He's used to being recognized now, and though fans are sometimes frenzied, Bret doesn't mind: "When they stop acting like that I'll be worried." Besides, he loves to socialize, and is getting ample opportunity to do so on the beach near his new apartment.
"I'm living in my in my ultimate dream area, in Marina Del Rey. I love the beach, the people, the atmosphere – it's great." His two-bedroom apartment overlooks the ocean. "I bought all new furniture, TVs, VCRs, microwave, a waterbed" -and a new black Porsche and a motorcycle to park in the garage. After sharing digs with his bandmates from '84 until the Ratt tour, Bret's living solo. "I wanted to live at the beach and they didn't," Bret explained, but he sees Rikki, Bobby (who are sharing a condo) and C.C. "every day, we're always on the phone." His apartment is lived in – "there are pieces of bread laying around collecting mold and half-empty cans of beer in the refrigerator" – and decorated with posters, tour souvenirs, artwork from fans, and his gold and platinum record awards for Look What the Cat Dragged In, now double-platinum: "As soon as you walk in you know it's going to be Bret Michaels' place."
Bret and his Poison cohorts are now at work on the follow-up to their smash debut LP. "The songs we're working on are insane," he enthused. "There's going to be more of Poison's personality on this one. Tom Werman is an excellent producer and I think he's gonna bring out what we are." Possibly titled Swallow This One, the album will have "different moods" and "sexual overtones." It won't be out till spring, but there'll be Poison product in stores before then. Now featured on the Less Than Zero soundtrack via a remake of Kiss' "Rock and Roll All Nite," they have a home video in the works: Backstage at the Circus includes their "I Want Action," "Talk Dirty to Me," "Cry Tough," and "I Won't Forget You" videos plus live and behind-the-scenes footage.
Bret geared up for Poison's busy schedule by going back to the Pennsylvania camp for diabetic kids he attended as a boy to get a better grip on his disease. "All the fame and fortune in the world means nothing if you don't have your health," says the frontman, who's trying to quit smoking, too. "My health's going to come first" – even if it means parting a little less heartily. Already looking forward to Poison's next (hopefully headlining) tour, Bret intends to be rocking for a long time, and he's not about to let anything – low blood sugar included – stand in his way.