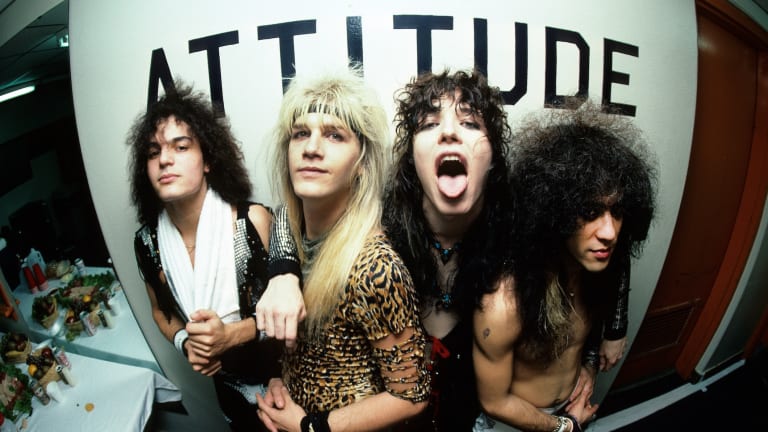 Cinderella's fairytale rise
With a massive debut album and a tour alongside Bon Jovi, Philly's favorite sons are on the move
Metal Edge, July 1987
Cinderella have been having quite the year. A double-platinum debut album with Night Songs, several hit singles, and an opening slot on the biggest rock tour of the moment - Bon Jovi's Slippery When Wet. Bassist Eric Brittingham to time out from his band's busy schedule to tell Metal Edge all about it.
Night Songs is #3 with a bullet, Congratulations!
Eric Brittingham: Yeah, it's more than incredible.
Did you ever think it could happen this fast?
Brittingham: No, I was surprised when it went gold so fast. The album came out July 16 and it's already double platinum. That's pretty amazing, and it's just kicking in now.
Well, you are on one killer tour.
Brittingham: Yeah, we're sold out every night. We're having a great time.
What are some of the highlights so far?
Brittingham: We played Seattle on Tom [Keifer]'s birthday Jan. 26 and Jeff [LeBar] got these scantily clad girls to walk out with a cake. The Bon Jovi guys soaked him with champagne and then 20,000 people sang "Happy Birthday" to him. Tom didn't expect it at all.
Any "Spinal Tap" moments?
Brittingham: We hadn't been doing an encore for a few shows and then we decided to do one. We went backstage and our roadies had taken half of the shit off. My bass rig was half gone and the amps were shut off. I've fallen a few times, I went flying into Fred [Coury]'s drum riser. My ego was more hurt than I was.
How's Bon Jovi treating you?
Brittingham: There's a great feeling between the two bands. Sometimes before the show Jon will hang out with us while we're getting ready and just shoot the shit. Alec [John Such] tells me anytime I want to try his basses, it's cool. We're free to do anything we want.
Is there much post-show partying?
Brittingham: Not really, when we're done we want to get out because of traffic. We stay for about half of Bon Jovi's set.
Any interesting road souvenirs?
Brittingham: We usually get jewelry thrown up onstage, we get a lot of flowers and teddy bears, everything from jackets to underwear to shoes. Sometimes our stage looks like a dump.
How long will the tour last?
Briittingham: Probably till August. There's a two week break between legs, and then we're back with Bon Jovi for the summer. I'm looking forward to playing outdoor places.
It's hard to stay healthy on tour. Are you holding up okay?
Brittingham: Yeah, I've only been sick a few times. I guess lack of sleep and junk food does wonders. We never know where to go eat until after the show. The ultimate goal is to have 24 hour room service in every hotel.
Has your set changed since you started touring?
Brittingham: It's gotten better because we've seen what works best and what doesn't work. The stage is smaller than the one we had with David Lee Roth, but the show's more exciting.
How many basses do you use on tour?
Brittingham: The old Vantage with the collage on it is my main bass. I've had it for six years now. Everything I've tried hasn't measured up to it. I have three Westone basses that sound good, and a couple of Precisions I use for recording.
Have you been writing new material?
Brittingham: Yeah. Tom's written about four or five songs, and so have I – we both have Portastudios. I'm working on lyrics, which I'm not very good at. On the last album we picked from about 60 songs. I wrote about 10 but none of them got on it. We have so many songs left over. Some of my favorites didn't make the album, but they will be on the next one.
What's the new stuff like?
Brittingham: Tom's lyrics are about the road. There's a little more of an Aerosmith sound and more melody to it.
When do you plan to record?
Brittingham: In October, after we go to Japan in August and Europe again in September. We'll take a couple of weeks off and then start working on the songs.
Will you work with Andy Johns again?
Brittingham: Yes, he's a great guy. He plays the producer in our new video.
Do you worry about topping a double platinum debut album?
Brittingham: There's a certain amount of pressure. Tom thinks he has to top it. But I've heard some of the stuff he's writing and I don't think it will be a problem.
Sam Kinison was supposed to be in your "Somebody Save Me" video and backed out at the last minute. Not very cool.
Brittingham: Obviously, we were a little pissed. But we got Jon Bon Jovi and Richie Sambora to do it, so it worked out better.
Will there be more videos?
Brittingham: Probably, I think for "Night Songs."
How about a home video tape?
Brittingham: I'd like to do one with backstage stuff.
Which is your favorite clip so far?
Brittingham: The first one, "Shake Me." But the new one had live stuff we did in Long Beach. Pretty wild shit.
What have you bought that you couldn't afford before?
Brittingham: My Portastudio. I'm not the kind of guy who'd go out and spend, spend, spend. I could make a million dollars and I'd still have my one bedroom apartment and my little Honda. I want a Lamborghini but I'd never buy one. I'm too cheap! And I wouldn't have any place to park it. You need a house with a garage.
Do you plan to stay in Philadelphia?
Brittingham: Yeah. That's where my wife's friends are., and she's home a lot.
What does she do?
Brittingham: Lori is a word processor, but she'll probably stop working this spring and come and visit me more.
Does being on the road strain the relationship?
Brittingham: It's hard to keep a relationship going over the phone. We've been out for six months already and when you go home you have to get to know each other all over again. But it's working out. Eventually it will get easier. We've been married for four years and we were used to being with each other all the time. Now I see her like once a month and it takes a lot of adjusting.
Do you want kids?
Brittingham: Eventually. I don't think it would be right now, for a kid to grow up and not see his dad. But when the time's right I definitely want a couple of rugrats running around.
Would you want them to be musicians?
Brittingham: I'd want them to do whatever they wanted to do.
Did your parents encourage you?
Brittingham: Not really. I don't think they ever took it seriously. My father died about five years ago, when I was in Saints in Hell, and I'm sure he thought I was a waste case. My mother died when I was young, but I think my stepmother is happy for me. I have a grandmother, two real brothers – they play music – two stepbrothers, and a stepsister, all older and they're excited.
So you're the youngest?
Brittingham: Yeah, I'm 25. I'm going to stop having birthdays. Next year I'll be 25 too.
What first got you into music?
Brittingham: My dad played, and I started playing guitar when I was about 8. The first thing I learned to play was the Bonanza theme. I watched Don Kirshner's Rock Concert and The Midnight Special and tried to figure out the chords.
Did you go to concerts?
Brittingham: I lived in Ocean City and you'd have to go to Baltimore or Philly or D.C. I think the first concert I saw was Kiss in '75 or '76 on the Destroyer tour. It totally blew me away.
Who else did you listen to?
Brittingham: Deep Purple, Black Sabbath. I was a little metalhead.
What were you like in high school?
Brittingham: A nerd. Seriously. I had no friends at all. Couldn't get a date if I tried.
You're kidding.
Brittingham: I guess I got better with age.
How did you meet Lori?
Brittingham: She was best friends with Tom's girlfriend Emily, who used to go out with our singer in Saints in Hell. We started dating when I moved up to Philly. Tom was my best man and Emily was Lori's maid of honor at our wedding.
What do you look forward to doing after the tour?
Brittingham: Staying home and relaxing, doing jigsaw puzzles, going out to dinner, I love food.
It doesn't show.
Brittingham: I still think I need to lose 10 pounds from my gut. I used to be thinner. When the tour started I was 165, now I'm down to 150, but I want to be 140.
What words describe you best?
Brittingham: Quiet: Perfectionist. I'm really picky about things. I'm not a big partier. I like to be goofy a lot. When I'm off the stage I look like a dirtbag. I like to wear my baseball cap, jeans and sneakers.
Do you have a game plan for the future?
Brittingham: I try to take things from day to day. Success happened so fast for us. It's something everyone dreams of. I still can't believe it.