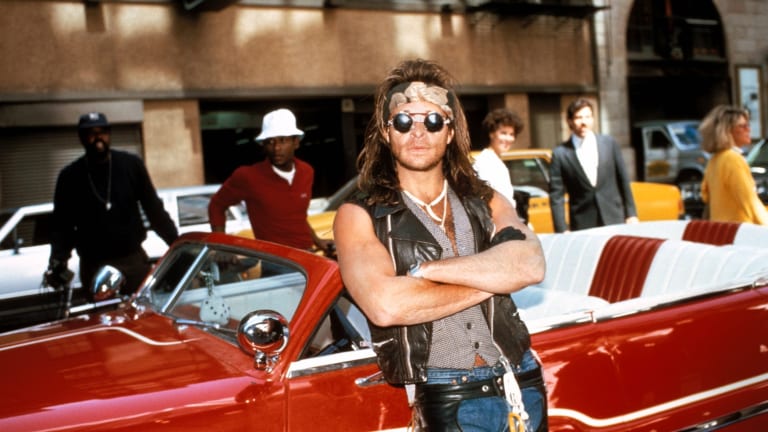 David Lee Roth makes a crazy movie, and Metal Edge goes to the casting call
"I'm not an actor, I'm a movie star!," Roth tells us
Metal Edge, March 1986
Leave it to David Lee Roth to launch a movie with a media event; a well-advertised 'cattle call' that brought 1,300 hopefuls to a Hollywood theater on a Sunday morning. California girls of all shapes and sizes came to parade before Dave and his partner Pete Angelus, the video director with whom he is writing, directing and producing his sexy comedy flick in question, Crazy from the Heat.
Named after his platinum record, Dave's debut feature is being filmed on tropical locations (he plays a rock star who flees the country when his agent rips him off) populated for this movie by bikini-clad beauties. Tentatively due out this fall, the movie is an extension of Dave's good-time videos.
"I'm not an actor, I'm a movie star!" says the ever-outrageous Roth, who's basing the flick's characters on people "we've seen, experienced, and endured in the music biz." He'll perform four or five songs in it, and Nile Rodgers may do the score. But, adds Dave, "The movie's just the latest thing with me. I'll always have the music and going on the road."
He's got a "great new band together"; Billy Sheehan (Talas), Steve Vai (Alcatrazz), and drummer Gregg Bissonette are recording the new LP with him that Ted Tempelman's producing for a tentative summer release.
Dave will give no details, but says "We're gonna surprise 'em one more time." He hopes to hit the road in October. Obviously, the split with Van Halen doesn't mean the end of Dave. He's in this, he laughs, "until I die of exasperation."