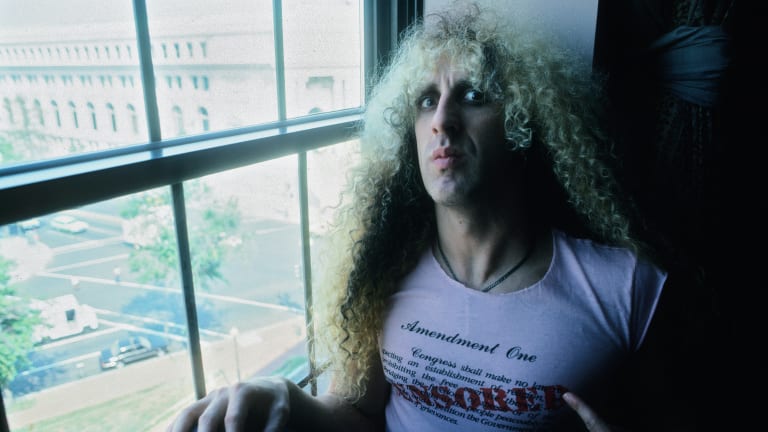 Dee Snider ain't no 'Sucker'
'I didn't work for 12 years to be a cartoon,' the Twisted Sister front man says
Metal Edge, February 1988
The grotesque costumes are gone, along with the garishly-painted faces. Ditto the photos of mouths frozen in mid-scream, the gimmicky album covers, stylized stage sets, and comic book videos. Visually speaking, Twisted Sister has straightened out: they've shed over-the-top trappings in a bid for musical credibility. "Before, the music was 10%, the crazy image was 90%, I wanted to turn that around," says Dee Snider, explaining the changes. Wild-mannered as ever but with his two front teeth restored to normal (he had them filed into fangs), the outspoken front man adds, "I didn't work for 12 years to be a cartoon."
Dee concedes that his attention-getting schemes may have backfired. Struggling to break out of the Long Island bar circuit, he and his bandmates went to visual extremes to get noticed, and it worked: their outrageous image, portrayed in clever, crazy videoclips, attracted fans and made Twisted Sister household-famous enough for Jeopardy questions and Johnny Carson's monologue. But high visibility on MTV and elsewhere due to Dee's role as an anti-PMRC spokesman, likely contributed to the band's decline and disappointing performance of the Come Out and Play LP. "Was the album bad? Maybe," says Dee. "Was it overexposure? The videos, the cartoon image? Maybe." He has stopped trying to figure it out. He realized, however, that the combination had become detrimental.
In the aftermath of the curtailed tour and an album that merely went gold, a drop from past platinum success, Twisted slipped from sight as its members took time to reacquaint themselves with their families and pursue separate projects. With the band on indefinite hold, guitarist Jay Jay French and bassist Mark Mendoza produced the debut album for Reckless, while Dee wrote a book, did some acting (including TV's Beans Baxter), produced Envy's vinyl debut, and relaxed, spending time with his wife Suzette and son Jesse at their waterfront home on New York's Long Island. There were no financial pressures to regroup, but eventually, Dee and his cohorts felt they wanted to give it another try. The problem of replacing departed drummer A.J. Pero was easily resolved: Twisted recruited Joey Franco, a well-respected player from, textbook author, and former sticksman for the Good Rats and Chilliwack, who'd been a friend since the bar days. "He brought a new energy, his enthusiasm sparked everyone else's," says Dee, who felt a similar kick working with Envy's eager Stile sisters. But Dee kept Joe and his new music under wraps until the album: Love is For Suckers, was done – and even then, there was no media blitz. Dee wanted people to hear about the music first and focus on it without distraction.
A video for the first single "Hot Love" was a departure from typical Twisted style: it's a saga complete with a sexy girl and vintage autos (obtained from a car club) but no cartoonish antics. While no clip was made for the title track, the second single, another video was planned for either "I'm So Hot for You" or "One Bad Habit." Dee believes that radio can go several cuts deep on the record, and is optimistic about its chances despite lackluster chart performance. Touring, he hopes, will make the difference, and he promises audiences a less theatrical but no less exciting show that features the new material but includes all the songs fans expect to hear in "an all-out blast" from beginning to end.
If he wanted to, Dee could keep quite busy closer to home – he's been offered a Broadway musical with an anti-drug theme that would cast him as the narrating central character, and he is currently co-writing a script for a no-holds barred party-type comedy movie (he plans to help cast it and may make a cameo appearance). But he hasn't gotten rock out of his system yet. He's had his share of ups and downs, seen how quickly things can change from one moment to the next, once country to another: today you're a superstar with limos and presidential suites at your disposal.=, tomorrow you're ignored. Now, by changing with the times and going back to basics, he hopes to recapture fans' hearts – and Twisted's faded glory. A risky move? Maybe. But don't be surprised if Dee pulls it off.