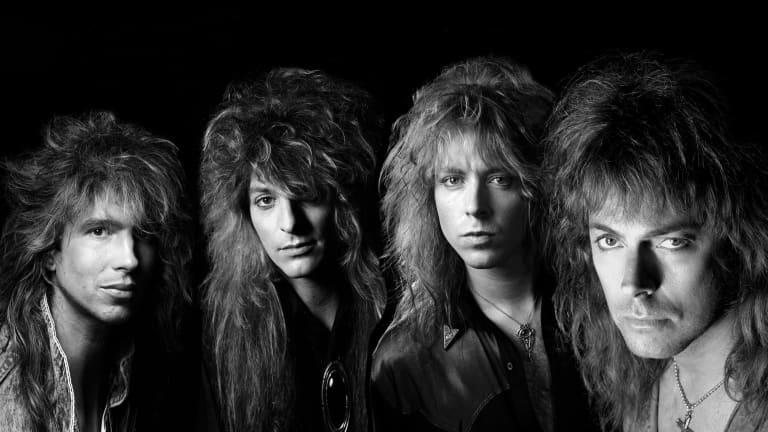 Dokken: Dream Warriors on the attack
'We used to want to write the Big Hit; now we're writing songs that we like,' Don Dokken says
Metal Edge, July 1987
Creating music for the third shocker in the Nightmare on Elm Street series was no problem for Dokken. Chosen personally by the movie's director to write a song to fit the "Dream Warriors" title, they read the script and came up with a tune written mostly by George Lynch, Jeff Pilson, and Mick Brown but featuring the distinctive frontman Don Dokken, who was then asked to underscore some scenes and readily agreed. So far so good. But filming the video as, well, a nightmare.
"The hardest shoot we've ever had," says Don. The "Dream Warriors" clip – mixing movie scenes with new footage featuring the band, actress Patricia Arquette, and the infamous Freddie – is set in a haunted boiler room, but was filmed over two days in a warehouse out in the desert. "It was 25 degrees, this warehouse was freezing cold, and we had to stand around eight or nine hours at a time while they got the scenes ready," Don recalls. "It was hard to perform under those conditions." Making matters worse was thick, acrid smoke needed for the proper atmosphere. "Our eyes got puffy and swollen from it. Then they ran out of the stuff so they started burning coffee grounds and it stunk to high heaven. It's hard to sing when you're choking on smoke." Then a stunt misfired. "George got hurt – he crashed through a wall. It was supposed to be a breakable wall but it wasn't built right so it didn't break away properly and he got caught," Don explains. George suffered cuts on his hands and over his eyes, but "he was so cold he couldn't feel the pain."
Fortunately, there were no further incidents, and Dokken got back to work on their next record, which Don sees as a crucial one for the band. "We're being real careful on this album," says Don, who calls it "a departure from our last three albums," and predicts it will be a bit heavier. "We used to want to write The Big Hit; now we're writing songs that we like," he says, satisfied that the new material is "really killer, the best stuff we've ever written. We have one song called 'The Kiss of Death,' and one called 'Walk Away,' which is a ballad. We have our heavy songs and songs with a lot of harmony." 
With breaks for 15-mile bike rides and car washing, Don had been writing every day in his home studio since the tour ended. His three cohorts did the same, then Don made several trips to Arizona to compare musical noted before George, Jeff, and Mick joined him in L.A. to record. With Neil Kernon (co-producer of Under Lock and Key) at the helm (Michael Wagener, who produced their past efforts, was unavailable till June, and they didn't want to wait), Dokken will take two months to track and mix, and they're aiming for a May-June release.
Don has been approached about other projects, but the record is priority one – and he plans no gigs until it is out. While he enjoyed jamming with Great White a few months back (his first guitar performance in four years), he isn't itching to tour. "After you're home for a while you get antsy," he concedes, but he misses the road less than he misses the fans. Whether Dokken will headline next time or not is up to them, Don says: "If they buy the records, then we'll headline." Responding to one Metal Edge reader's curiosity about his serious demeanor in photos, Don explains, "I'm always deep in thought. But if I have a hit record this year," he adds, "I'll be smiling 24 hours a day."