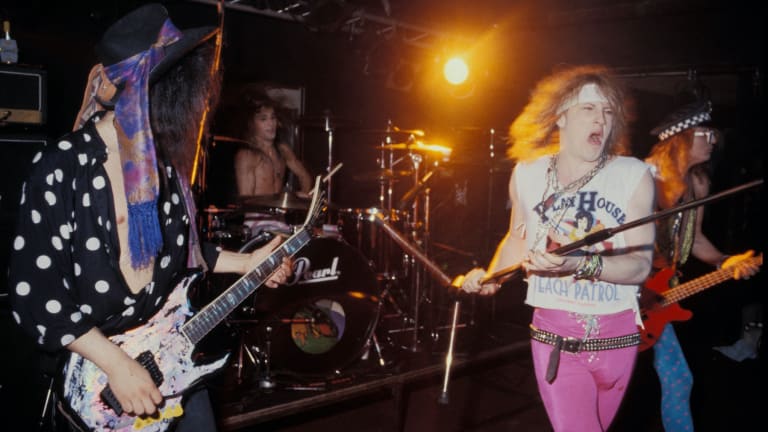 Enuff Z'Nuff: Flying high and showing strength
'We're still into the hippie-peace-sign-paisley trip; we've just toned down the makeup'
Metal Edge, July 1991
They may have toned down a bit visually, but Chicago rockers Enuff Z'Nuff are in high gear musically, topping their impressive debut with a killer second effort that's appropriately titled Strength. The quartet has come up with a sizzling collection of songs that range from driving rockers to catchy radio-ready singles to great ballads, yet bear the familiar neo-psychedelic Enuff Z'Nuff stamp. Metal Edge got an advance earful and talked to the creative team of Donnie Vie (vocals) and Chip Z'Nuff (bass) as they mixed the record with Paul Lani (their co-producer) at New York's Hit Factory and found the duo understandably – and deservedly – proud of their new "baby."
"The songs are much more mature than on the first album," Chip says. "We've grown a lot in the last year. Cohort Donnie nods that road experience "helped us immensely. We knew what to do this time." Agrees Chip, "We were more focused. This time everything was written and ready to go, and went real fast." While there were numerous "detours" during the first albums production, "We had no problems this time. It was much easier, not as much stress," says Chip.
"We were a lot more involved this time, totally hands on," adds Donnie. But they were careful to keep things in perspective. "You can't go from A to C and skip B. We wanted to make a record that was a second record," stresses Chip. But they didn't want to clone the first record either. "We didn't say, 'We gotta write another 'New Thing' or 'Fly High Michelle.' We just wrote songs."
Armed with 20 compositions, Chip, Donnie, guitarist Derek Frigo and drummer Vikki Foxx put most of them on tape at L.A.'s Music Grinder Studio, including standout rockers like "Missing You," "Mother's Eyes," "Something for Free," "World is a Gutter," and the kickin' "Kitty," the first song Chip and Donnie wrote together, which features a rap by Charles Fleischer, the voice of Roger Rabbit. "Coming Home" is dedicated to Vietnam vets (proceeds will be donated to veterans' hospitals) and the ballad "Blue Island" is about an ex-girlfriend of Donnie's. "Long Way to Go" is a boogie rocker ("our ode to Little Richard," says Chip), and the title tune is "a sad song about being happy," describes Donnie. Derek's father Johnny played violin on that track and the ballad "Goodbye."
A trio of un-previewed tracks – "Baby Loves You," "Higher," and "Hollywood You" – were subsequently added to the musical menu. "They're all uptempo. It was turning out too serious," explains Chip, who isn't sure what the first single/video will be, but is eager to play the new material live.
"This band thrives on the road. We love playing bars because you're close to the audience, but we want to reach more people," Chip says, hoping to land the arena tour they didn't get last time around. Donnie was similarly disappointed, but feels that the band is more ready for it now. "The first album established us. We were musicians before we were showmen and it took a while to smooth it all out. Now we can come out and do the big tour," he says, anticipating a possible start in Japan and playing the U.K. and Europe before concertizing here.
Audiences will see a visually changed band. "We're trying to get away from the glam and the makeup. It got people's attention. Now we want them to listen to the music," Chip says, stressing that "We're not changing our image, we're still into the hippie-peace-sign-paisley trip. We've just toned down the makeup." But the music is talking loud and clear – and that's good Enuff.