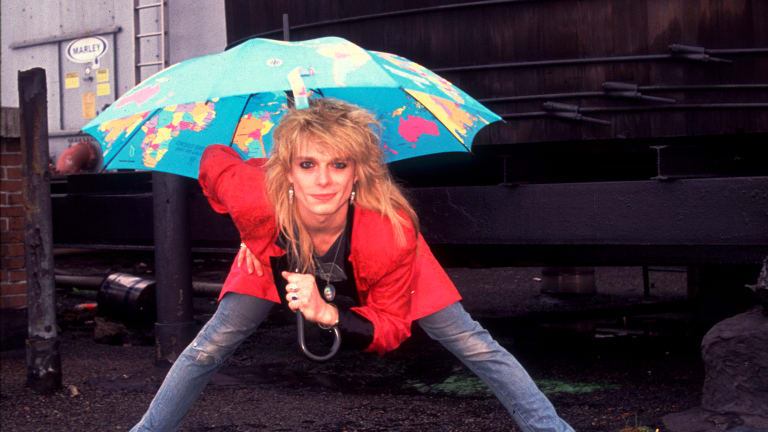 Hanoi Rocks legend Michael Monroe flies solo with 'Not Fakin' It'
'No regrets, no compromises… but I wouldn't want to go through it again!'
Metal Edge, December 1989
As the flamboyant frontman for the pioneer glam rock band Hanoi Rocks, Michael Monroe rocked his way to notoriety, releasing four albums with the band before it broke up following the death of drummer Razzle in a car accident (with Vince Neil at the wheel) on December 8, 1984. The tragedy had a shattering effect on Michael, and the emotional wounds did not heal quickly. But by 1986, he'd recovered enough to record and release a solo album in his native Finland, Nights are So Long. Later that year, he moved to New York to make a fresh start, and the musical results are now audible on his newly released album, Not Fakin' It, a killer LP that's packed with kickin', catchy rockers. He talked about the album – and more – in this candid interview.
What was your approach to doing this record?
Michael Monroe: I wanted to make the kind of music I'd listen to. I wrote about 25 songs, but I didn't record more than I needed. I was going to use part of the solo album I had out in Scandinavia, but there were all sorts of legal problems with the record company so I just wrote new songs.
You collaborated with Little Steven, Martin Briley and the guitarist on the record, Phil Grande.
Monroe: Yeah. I like to work with other people. I think it's a better result, you get more perspective.
What inspires your songwriting?
Monroe: Everything I see or hear. The world. It's mainly feelings, not actual incidents.
How long did it take you in the studio?
Monroe: Actual recording, two months. We worked hard, it was no drugs or fucking around. It was a good feeling. We had to pace ourselves. We worked days and finished fairly early – if you go too late, the next day you're dead. Usually we did around three or four takes, but sometimes I did it in one. Rock 'n roll is attitude, it doesn't have to be exactly perfect. I go for the feeling.
You must have some veteran musicians playing on the record.
Monroe: Yeah. Anton Fig and John Regan played on the early basics, Ian Hunter is on "She's No Angel" – he worked with me on my solo record. Kenny Aaronson and Thommy Price played bass and drums.
Will they tour with you?
Monroe: Probably not. Phil's playing with Joe Cocker and Kenny's with Bob Dylan. The all have other gigs. I'm auditioning guys now.
How long has it been since you played live?
Monroe: Two years, since I did the Hell's Angels Block Party. I was going crazy for a while but I learned to channel my energies, get into writing. I'm dying to go out there.
The album's title track is an old Nazareth tune.
Monroe: Yeah. Nazareth was one of my favorite bands when I was a kid. I just changed a couple of names in it.
Which song has the most personal meaning for you?
Monroe: Maybe "Smokescreen," it's about being an individual. All of them really – "Dead, Jail or Rock 'n' Roll," "While You Were Lookin' at Me." Little Steven wrote that.
There's a cynical edge to a lot of the songs. Do you feel that way?
Monroe: Maybe a little. All these years of frustrations, the suffering's coming out. I'm sure people can relate to it – the songs can be taken in different ways.
Have the last few years since Hanoi Rocks broke up been rough for you?
Monroe Yeah. It went from hell to worse! [laughs]
Did you ever consider quitting?
Monroe: No. I had nothing better to do. But I thought I might have to at one point when I was waiting for a work permit. But I know I have a purpose here on this planet.
Did you always plan to be a musician?
Monroe: Since I was about eight.
Were you a rebellious kid?
Monroe: Whenever it made sense. If I didn't like something I spoke up.
What's your family background?
Monroe: Mom and dad got divorced when I was about seven. I grew up with my mother.
Did she approve of your music?


Monroe: She hated it. She wanted me to go to school and get a job. I had to leave home. I left when we moved to Stockholm. I started hanging out on the streets. But I didn't ask for money from them. If I fucked up it was my responsibility.
How did you live?
Monroe: I cleaned toilets, begged on the streets. But it was one of the happiest times in my life. Nothing to lose, things can only get better. If you don't expect anything you don't get disappointed. If you build your hopes too high you're even more crushed when something goes wrong.
Don't you have high hopes for your record?
Monroe: Of course, but to me it's icing on the cake if it does great. I'm happy because I didn't compromise, didn't go against myself. I stand for whatever I say, so I have a sense of accomplishment. Hopefully people will like it.
Hanoi Rocks was a critically praised, influential band, but never did as well – especially in the States – as its imitators have. Do you think the band was before its time?
Monroe: Yeah. I think so. People weren't ready for it. 'Who are these guys? They're faggots, they're junkies, they wear makeup.' People didn't get it till later.
How do you feel about the bands that borrow from Hanoi Rocks?
Monroe: A lot of them are just watered-down versions of Hanoi Rocks. You can try to rip people off but it never works in the long term. But imitation is the best form of flattery, right? Now the Hanoi catalog is coming out on Geffen, it's only right that people should know where the original idea came from. They'll learn a bit more about the band's they're into now. But my stuff is different than Hanoi's.
Was that intentional?
Monroe: I just wanted to make a killer rock 'n' roll album – all killers, no fillers. Just great songs, real unpretentious, straight ahead, no gimmicks. Keep it raw. I grew up with Hanoi, it was like a family, it was a way of life. But we broke up now and I feel like I'm just starting.
What has past experience taught you?
Monroe: The business stinks. If you don't have the right manager and the right people, no matter how great you are you can just fall through the cracks. We signed ridiculous deals and got ripped off. I leaned to think twice before signing my name to a paper.
Would you change anything about the past if you could?
Monroe: No regrets, no compromises. But I wouldn't want to go through it again!
Do you keep in touch with your former bandmates?
Monroe: Almost every day with Sami [Yaffa]. I haven't spoken to Nasty [Suicide] in a while. He's in Finland now. Andy [McCoy] is in L.A.
What music do you listen to?
Monroe: Rock 'n' roll, old blues, Creedence Clearwater. Little Richard is my favorite singer. John Fogerty. Alice Cooper was a big influence. Billion Dollar Babies is my all-time favorite album.
What do you do apart from music?
Monroe: I like to watch movies or videos. I'm tired of the clubs. I don't mind talking to people but it's kind of a drag if you want to relax. I like my privacy. I like to spend time by myself. Friends are really important, but I only have a few close friends.
Any romantic attachments?
Monroe: My private life is nobody's business and it shouldn't make any difference. Actually, I'm not desperately looking for someone in my life. The more people I meet, the more I like my cat.
What's your game plan now?
Monroe: Get the album out and play live, then start working on the next album. I have some songs left over, but I'm not gonna put out the next one until it's the right time.
How important is image?
Monroe: Pretty important. Hanoi, it was more 50/50, image and attitude, attitude and lifestyle. The music is always most important to me, what it comes down to is the songs.
Any advice for young musicians?
Monroe: Be yourself. Just stick to what you are, don't try to be anything you're not 'cause it never works out. And stay away from everything I used to do!