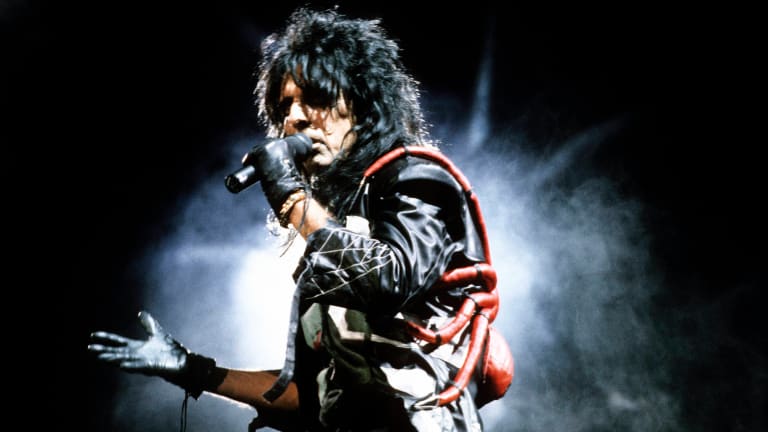 'Hey Stoopid'! Feast your ears on the new Alice Cooper album
'Slash, Nikki Sixx, Steve Vai...'I only play with the big boys!' Coop says
Metal Edge, October 1991
In fine physical, vocal and creative form, veteran rocker Alice Cooper is still strong after 21 albums, the latest of which, Hey Stoopid, hits stores this month as Alice embarks on a co-headlining tour with Judas Priest. Metal Edge caught up with him at the Complex Studio in L.A., where he tracked with producer Peter Collins and such notable guest rockers as Nikki Sixx and Mick Mars, who were on hand that night.
You worked in Woodstock, NY before you came here. How much was done at that point?
Alice Cooper: Bass, drums, some guitars. That was the hardest part, hashing through the songs. Now I go home every night smiling. It sounds better than I thought it would.
After so many albums, you must know some shortcuts.
Cooper: Yeah. I go a lot by instinct. I can feel if a song is right or wrong. We started with 30 songs and narrowed it down to 15. I think we'll put 12 of those on the album. Getting rid of those three songs is going to be like cutting my heart out.
Which one of your previous albums is this one most like?
Cooper: It's much harder than Trash. I wrote some of the stuff with Jack Ponti, and he kind of favored Love It to Death, Killers. I think it's going to be closer to Trash than Constrictor, a combination of Trash and Love It to Death. The fun thing about an album like this is that I don't know how they're all gonna turn out. I'm not sitting here with a master blueprint saying, "This better sound exactly like this." I'm letting the song breathe.
Why did you choose Peter Collins to produce it?
Cooper: He worked with Queensryche and you know what a sound that is. I can work with anybody. It's always gonna come out Alice. The attitude is going to come out. Peter's great. When I first started working with him I didn't think he was going to be aggressive enough. I'm used to Bob Ezrin, I'm used to yelling, bashing it out – he's a great producer but he loves to fight. Peter seemed so polite, sweet and nice but I listened to what we got on tape and he's an animal.
Tell me about the songs.
Cooper: "Hey Stoopid" is an anti-suicide thing. You've got guys saving whales and the forest, and that's great but why not save the rockers, the kids? The worst thing in the world is some 15-year-old trying to kill himself over something that can be fixed. I had a pretty easy childhood, my parents were cool. But there's a lot of peer pressure and drugs. The proceeds from the single are going to a teenage suicide prevention center. I wrote it with Ponti. He more or less took Desmond Child's place on this album, though I wrote two songs with him, "Might as Well be on Mars" and "'It Rained all Night." "Might…" is about a guy that lives next door to someone, this close, but he might as well be on Mars. The line goes, "I might as well be the man moon." There's nothing really scary on this album, not really a horror song. "Feed My Frankenstein" comes as close as it gets. It's very theatrical. I wrote one with Ponti called "Love's a Loaded Gun." Another one, "Hurricane Years," takes on teenage angst. "Feed My Frankenstein" – got a Frankenstein down there, you know. "Snake Bite" is about the ultimate biker, it's one of my favorites. I'm thinking about building a glass cage where I can stand in there with live rattlesnakes. I don't want to do the guillotine any more or the hanging any more. I've done that. I revived it so everyone could see it, now it's gone.
I hear you have a heavy lineup of guest musicians on the album.
Cooper: Yeah, Steve Vai, Joe Satriani, Slash. I only play with the big boys! Nikki Sixx is playing bass on "Feed My Frankenstein," that was co-written with Zodiac Mindwarp. Mich Mars is playing on a song I wrote with Mick and Nikki and Jim Vallance called "Die For You." I picked people for the right songs. When I wrote "Hey Stoopid" I said I wanted Slash to play guitar. I did a thing with GN'R on their new album, "The Garden." It's fun to work with those guys. I could work with my regular band but it's nice to be in the position to call up somebody with a unique talent and ask them to play and they say "sure."
Speaking of your band, who's in it now?
Cooper: I have a touring band and I have a recording band. It's almost like having two wives. I figure, an album has got to stand on its own. I got Mickey Curry on drums, I know he's gonna do it right the first time. Same thing with the bass player, Hugh McDonald. But the band I've got in the studio I wouldn't want on stage. On stage what really matters is that Alice compliments the band and the band compliments Alice. I have to go out there prepared every night to do the best show I've ever done. Every night has got to be like opening night. I don't care if it's 200 nights into the tour.
Are you looking forward to getting back on the road?
Cooper: I really am. Two shows in October aside, I've been off the road since August.
There are rumors you may team up with Ozzy Osbourne.
Cooper: Could be. It would be a fun thing. I can't think of too many bands that can go out on their own and expect to sell out 15,000 seats. You need a co-headlining thing or a triple bill. I like packages like that because you really give them a full show, it makes it really a party.
You talked about retiring some of the old visuals, but what about the classic songs? Will you perform them?
Cooper: You have to do "Eighteen," you have to do "School's Out," "Billion Dollar Babies." If you don't, they'll kill you. I'd like to do a third oldies, a third from Trash, a third from this album.
You're going to be in the A Nightmare on Elm Street movie Freddy's Dead: The Final Nightmare, playing Freddy's dad.
Cooper: Yeah. It comes out for Halloween.
Are you doing the music for it?
Cooper: I don't know. I told them I'd be available. It would be so easy to write for that.
Any other roles in the offing?
Cooper: I was offered something with a couple of big stars but it was so sexually nasty. I said "nah." I don't' want to get into that movie star bit right now. I think it's okay to do [Nightmare] because it's more rock 'n' roll.
What about after rock 'n' roll? What do you want to do later on?
Cooper: I don't know, but it will be something in show business. I think I'll always write – writing is easy for me. I love writing. Producing, if a band came to me and totally gave themselves to me and I had total free reign of it, I could invent something as unique as Alice and I would know how to put them over.
A mastermind?
Cooper: More like a mad doctor!