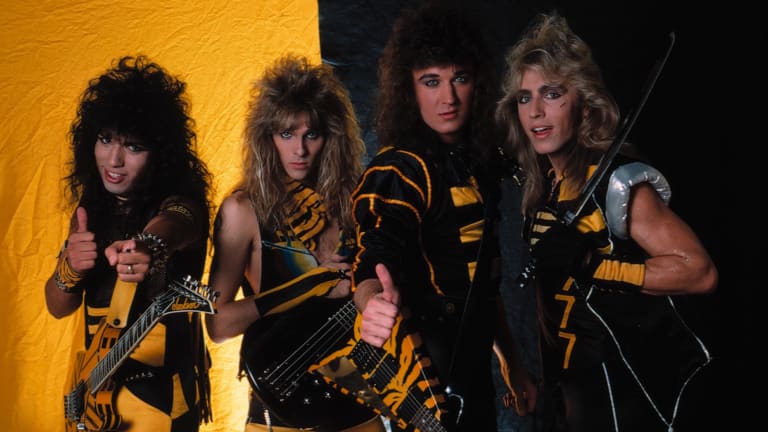 Holy rock 'n' roll, it's Stryper!
Hearing is believing with these Southern California hard rockers
Metal Edge, March 1986
They look like typical spandex-clad, long-haired glam-rockers, but Stryper, a four-man band from Orange County, CA, plays metal with a twist. Their music has a positive message, their lyrics glorify God, not Satan: they're all born-again Christians. "It's kind of an odd mix," concedes Stryper spokesman Robert Sweet, who is also the drummer and "visual timekeeper" of the band. "But," smiles the 25-year-old co-founder of the group, "God works in mysterious ways."
Indeed, Stryper's rare blend of rock and righteousness is a hit: their Soldiers Under Command LP has scored unprecedented chart success for Enigma Records, and they're packing 'em in on tour (after a nine-week leg, they'll return to the road after Christmas and tour in Japan in March). Hearing is believing – no wimpy choirboys these!
But from the start, radio has been wary of them, hardcore metalists skeptical, and fundamentalists outraged. "People would judge us before they'd see us or hear us," sighs Robert. He believes the messages will win the preachers over, and the musicianship will grab the headbangers, even non-Christian ones. "We want the world to know what Jesus has done for us, but we're not gonna push it on anybody," says Robert, who points out that Stryper has Jewish fans and a large following in Japan. Still, they toss Bibles to the audience (and sometimes get lingerie back) with mostly rave results, though Robert recalls a shared bill with Anthrax and Raven where the crowd was decidedly hostile.
A drummer since age 8 and serious about it since 15, Robert was an A-student but lived for music, Kiss and Van Halen especially. He and his singer-songwriter brother Michael, now 22, formed the band Roxx Regime in '81, and after giving up their semi-wild ways, recruited Christians Tim Gaines (bass/keyboards) and high school pal Oz Fox (guitar) and changed their name. Chosen because it rhymed with hyper, Stryper acquired new meaning when Robert saw the Isiah line, "By His stripes we are healed," and thought of the acronym Salvation Through Redemption Yielding Peace, Encouragement, and Righteousness. Their EP The Yellow and Black Attack was released in '84, and Soldiers Under Command in August. The battle imagery – LP cover included – refers to a Bible passage about joining God's army to fight evil. However, within the band, which is managed by the Sweets' mother Janice, peace reigns: "There is no such thing as an ego," says Robert.
With rising airplay, sales, audience acceptance, video exposure (a forthcoming videocassette taped live in Japan), and peer respect, Robert believes Stryper will be a crossover success. They're less concerned with fame and fortune (they tithe to their church and donate to Christian causes) than spiritual reward: "The bigger Stryper becomes, the more the message goes out." Not willing to compromise the music or their faith, they're leaving their mission's outcome up to God. They will help Him along, however. "The eventual goal," says Robert, "is to Stryperize the world."