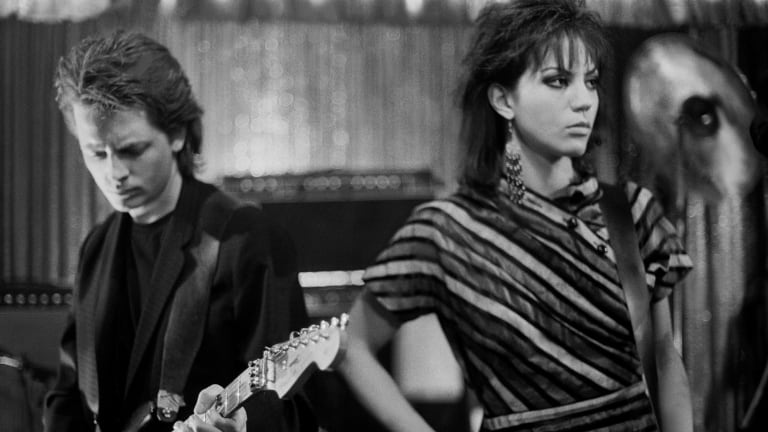 Joan Jett is back in business with Good Music and a hot new movie
Jett takes off with a rockin' new album and a starring role alongside Michael J. Fox in the feature film, 'Light of Day'
Metal Edge, March 1987
After a year-long absence from airwaves and concert stages, Joan Jett is blasting back into audio and visual action with a new record, lengthy tour, and a highly touted movie that will mark her debut as an actress. "I think being away rejuvenates. It makes me want to get back even more," says Joan, jazzed about her return to the rock spotlight. "I never lose my appetite for it," adds the leader of the Blackhearts, who got her first taste of rock fame as a member of the notorious Runaways. Now, she's satisfying her own hunger and her fans with a long-awaited album, Good Music, which she describes as "straight ahead rock and roll, very loud, very guitar-oriented."
Featuring the musicianship of Blackhearts Ricky Byrd, Lee Crystal, and Gary Ryan and backup vocals by Darlene Love and the Beach Boys (on a redo of their song "Fun, Fun, Fun"), the LP is a mix of musical styles and influences. There's a cover of Jimi Hendrix' "Got Me Floatin' "and a rap number called "Black Leather," which Joan co-wrote along with five other tracks. "I think we did a good job," says Joan, pleased with the result despite the difficulty in the creation. Working on her movie simultaneously caused delays, but in the end that turned out to be a plus–Joan had the chance to step back from her work, analyze it, and make changes where necessary.
Filming Light of Day was an equally rewarding, but entirely different experience for the first-time actress. Joan had initially nixed the idea of playing bar band singer Patti Rasnick in the movie because she thought it wouldn't be much of a challenge to play a rocker. "If I'm going to act, I want to act," she said. "But after I read the script several times I realized that it was a real acting part, and the fact that the girl was a musician was a secondary thing–I just happened to be qualified to fill the musician part." Joan passed her screen test with flying colors, and jetted to Chicago to join Michael J. Fox (who plays her brother and bandmate) and other seasoned actors on the set. While she found the work difficult and demanding, her "wonderful" castmates made it easier. "They were really generous. They tried to make me comfortable. Once they saw I was going to give 200% of myself and work my ass off, and that I was not a risk, we worked as a real team," Joan enthuses.
Parallel careers aside, Joan says her character is basically "not the same as me. The only real similarity is that fact that she lives for music and that she's individualistic in the way she wants to do things. But that's where it stops. Where Patti would try any kind of music just to stay on stage, Joan Jett wouldn't. It's rock and roll or nothing."
She has no opinion of her performance yet, as she hasn't seen the finished film and didn't go to the 'dailies' during production. "I didn't want to pick up any bad habits," she explains. Looking back, she says that acting was much like she imagined, though she did learn a lot of things–toning down for the camera, for one. "I'm very animated. I move around a lot, and you can't do that on screen," she says. "I think the hardest thing was keeping the level of concentration up, holding an exact emotional level for 12 hours."
But video veteran Joan wasn't totally unaccustomed to long days of endless retakes. "I'm used to having a camera in my face, and I know how to work with it," she says, crediting clip-making as good preparation. Joan has been fielding new film offers and is interested in acting again, particularly in an adventure that would cast her as a female James Bond. "But I want to get back on the road. I'm a musician first," she insists.
"When you put an album out around the world, you have to play for the world," Joan says, envisioning a road marathon. She believes touring is far more important than videos, though she enjoys making them. "We certainly don't rely on video play. I don't think people know we have 10 clips." She names "Cherry Bomb" as her favorite so far, and plans several more for the album, and likely Light of Day. "We're a live band, but if we can do good videos, that's an extra," adds Joan, who eventually intends to release a cassette containing clips, interviews, and live footage. She doesn't negate the advantages of good visuals, "But you've got to have music to back up the look. With me, what you see is what you get. It's not 'let me put on my Joan Jett face.'"
Down-to-earth Joan cares little for the trappings of stardom. "Material things have never been that important to me. If you can buy it, someone can steal it. Being successful is making people happy," she says. "You don't get into a band to make money, you do it because you love music and you love people." 
With her striking jet-black hair (now back to normal after being temporarily lightened for Light of Day), Joan is highly recognizable, but she enjoys talking to fans on the street and on the phone – she sometimes calls people who write to her. Many of them have been following her career since the Runaways. "They've literally grown up with me, which is amazing when I think about it," she marvels.
Reflecting on her days in the all-girl quartet, she says her memories are "all positive. I had a blast," she says, troubles aside. "The Runaways really took a lot of shit, which is probably the real cause for the split-up in the end. We couldn't get any acceptance. At the time we didn't even realize it, we were just happy to be in a band. But nobody was taking us seriously, they thought we were some sort of sex act on stage. Everybody considered us freaks." By 1979, the bond that held Joan and the bandmates Lita Ford, Sandy West, and Cherie Currie together broke under the strain. "We gave up," says Joan, who remains closest today with drummer Sandy. "If the Runaway's first album was a smash, everything would have been very different," she muses, suggesting that the band might have been ahead of its time. Still she believes that the Runaways paved the way for other female rockers, and feels that the tough times not only prepared her for her solo career, but makes her more appreciative of what she has now.
While her Runaways experience taught her "how ignorant people were about girls in rock," Joan has had no trouble finding musicians willing to work with–and take orders from a woman. "I've never had that problem," she says thankfully "No egos, no anything," she adds. Joan and the Blackhearts first got together in 1981 but faced rejection across the board that forced them to release their debut album Bad Reputation on their own (the video for the hit title track chronicles the saga). Later, Joan & Co. rose to the top of the charts with the smash anthem "I Love Rock and Roll," which neatly sums up her philosophy. "I can't think of another thing in the world that could possibly compare to the feeling that you get on stage when you're playing and everybody is having a good time," Joan says. "There are a lot of things I wanted to do when I was a little kid, everything from being an archeologist to an astronaut, or a baseball player. But being a musician is all I want to do."
Growing up (as Joan Larkin) in Rockville, MD, Joan was raised on radio and sang and played air guitar to songs by Elvis Presley and Chuck Berry. When she got her first real axe at 13 for Christmas, "that was it." Her parents thought it was a stage, but when Joan Joined the Runaways two years later they didn't stand in her way. They remain close. Outside of the band, "The only lasting relationships I have are with my family and a few people from school." She has no plans for a family of her own. "You can never say never, but I don't see that," she says. Joan, who describes herself as "individualistic, energetic, determined, unstoppable, and single-minded," is focusing exclusively on her career. With vinyl, celluloid, and concert success, Joan Jett is taking off once again.