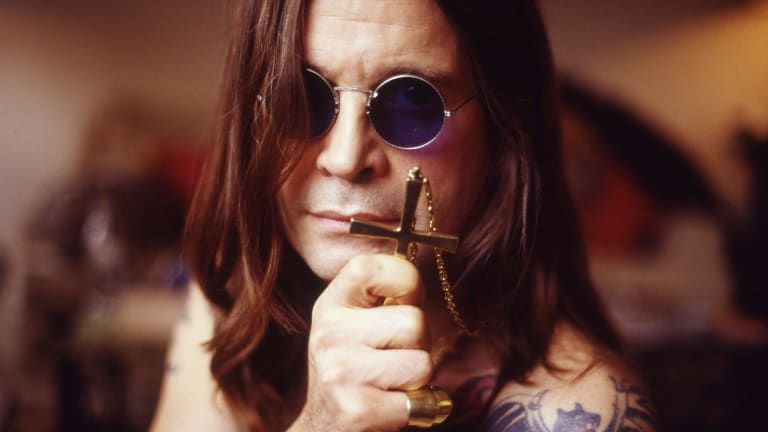 Killer Q&A: Ozzy Osbourne returns with 'No More Tears'
'If it comes to a point where I'm just dragging an old horse, I'd rather get into something totally new and fresh'
Metal Edge, January 1992
Back and better than ever – it sounds like a cliché, but in Ozzy Osbourne's case it's the absolute truth. Last March, we visited Ozzy as he was recording at Devonshire Studios in L.A. and heard demo versions of three songs: the rocking "Desire" and "I Don't Want to Change the World," and the great ballad "Mama, I'm Coming Home." Five months later, we heard the final versions of the latter two plus more awesome tunes, "Mr. Tinkertrain" and "No More Tears" (the title song and first release) before we talked long distance line to Australia, where he was on a promo visit for the record.
Having spent three long days filming the "No More Tears" video, he says, "I finished at five A.M., got three hours' sleep, got on a plane and flew to Japan, did interviews all day long. I couldn't sleep that night because of jet lag and by the time I got to Sydney I was in another world. I must have looked like a fucking corpse because the customs person said to Sharon, 'Mrs. Osbourne, how long has your husband been on methadone?' "
Ozzy loved being back in Australia, where he hadn't been since an early '70s trip with Black Sabbath. "We drank on the way here, while we were here, and on the way back. I couldn't do that now," says Ozzy, whose trip Down Under would be a brief three days. After a few days at home in L.A., he was off to Canada, England, Europe and back to America for more promotion. But he vowed to return to Australia on tour this year.
Ozzy Osbourne: Everybody's nuts about the album here. A lot of people have been comparing it to my first two solo albums, which makes me feel nice.
Was that intended?
Osbourne: No. It wasn't my intention at all. I would never say, "Let's make the album like this." We just write songs and piece it together. It's a jigsaw puzzle. You write the stuff, throw it on the table, fit it all together and see how the picture turns out.
Which album do you think it's closest to?
Osbourne: Diary of a Madman.
You went through producer changes and topped and started a few times. How long did recording take all together?
Osbourne: Working on and off, approximately two years.
How did you choose your producers, Duane Baron and John Purdell?
Osbourne: They were into what I was into. I've been around too long to fuck around. I've spent a year writing this stuff. Either you want me and my music or forget it. Duane and John enhanced the songs. They understand me. It's like a family. They're extremely patient. They really bring out the best of you.
You had two other album titles before No More Tears. Why did you nix Say Hello to Heaven?
Osbourne: It was more of a title for a sloppy love movie or a romantic novel.
Did you know 'No More Tears' is the slogan for Johnson's Baby Shampoo?
Osbourne: No. It is really? Maybe I'll get a sponsorship for them, then!
Did you have any leftover songs that didn't make the album?
Osbourne: There were actually 13 recorded. The other two songs, "Party With the Animals" and "Don't Blame Me" are on the Japanese version.
B-sides here?
Osbourne: Yeah.
Do you have a favorite track?
Osbourne: Each song tells a story. Some songs when we were writing I thought, "This is gonna sound like a bunch of shit." Yet at the end of the day, it turned out great. All in all, I'm very happy with it.
Tell me about the songs.
Osbourne: "No More Tears" is about beyond the other side, a spirit talking across saying, "Don't cry for me, I'm okay." There's a couple of songs about personal things, how I feel. "Road to Nowhere" says, "I was looking back on my life and all the things I've done to me / I'm still searching for the answers, I'm still searching for the key / the wreckage of my life keeps haunting me… the road to nowhere leads to me." There's one about a pervert called "Mr. Tinkertrain." It's a spoof of Mr. Rogers. "Zombie Stomp" is about somebody who's stoned all the time in a disco. "S.I.N." is "Shadows in the Night," but that sounded like a Frank Sinatra song.
How was the writing handled this time?
Osbourne: It was a real band collaboration. Randy Castillo had a lot of input this time. He's got a lot of talent. Zakk, of course, has been wonderful. I don't like writing the lyrics myself. Lemmy worked on "I Don't Want to Change the World" with me. I like his black humor. One of the lines is, "Tell me I'm a sinner, I've got news for you / I talked to God this morning and he don't like you." Bob Daisley helped me out as well.
Was it an easy writing process?
Osbourne: No. At the beginning, they said, "Ozzy, we need some hit singles." I've never sat down to write singles. I've tried but it's a fucking waste of time. I started listening to everybody's advice instead of listening to what my heart was telling me. Sometimes we end up screaming at each other when we write. Zakk will throw his guitar, me and Randy will start barking at each other over the drum kit. It's painstaking. There are so many things you go through to make a record these days – producers and studios and technology and all that.
Did you write in England?
Osbourne: All over – Ireland, England, mainly Los Angeles. I've become a resident of L.A. I spend the majority of my time in America. My band's American. I love America. I feel at home over here. I feel more relaxed in Los Angeles than I do in England. I love the weather. In England it's rain, bleak and gray for weeks. No wonder pubs are so popular.
Did a lot change once you got in the studio?
Osbourne: By the time you get to recording you have the basic skeleton of what you want. It kind of grows on its own, things change all the time when you're recording. I love that, the spontaneous stuff.
You changed bassists – what happened with Geezer Butler, and how did you find Mike Inez?
Osbourne: Geezer has family in England, and we were based in L.A. He was never able to see his kids. One day he said, "I can't do it anymore, I have to go home." He left on good terms. Michael, we found through the auditions. He came in right at the end, so he contributed to "No More Tears." Bob Daisley played most of the stuff. I'm really pleased with the band at the moment. The project's gone like a house on fire. Whether it's a hit or not, I don't care. It's really special to me. I had a great time doing it.
If everything's going so well, why have you said this might be your last record?
Osbourne: If it becomes where it's not a viable situation for me, I'd be stupid to do it for nothing when I could be at home. I'm not saying definitely, and I'm sure I'd always be in music one way or another. The last album, there was a fair piece of criticism in Rolling Stone. It said "If you like Ozzy Osbourne you will not be disappointed, but don't look for anything special. I thought, I've been writing songs for people but not for me. I've living in the façade of Ozzy Osbourne. From now on I'm going to do what my heart tells me and if the album's a big success, then I will continue, but if it does I'm not going on the road for years again – the last one nearly killed me. What I may do is form another band, call it something else, and have other people share the burden. If this record's a success, I'll continue as Ozzy, but if it comes to a point where I'm just dragging an old horse, I'd rather get into something totally new and fresh. I'm going to tour anyway. I'm going to try and pace myself, like six weeks on and six weeks off. The last tour really fucked me up, I was mentally and physically destroyed. I wasn't drinking and I was trying to keep myself fit, but I just caved at the end. The stress was phenomenal.
What's your tour itinerary?
Osbourne: I think we start in Japan, but it could change. I definitely want to go back to Russia but when and where I don't know.
What about the U.S.?
Osbourne: Either just before or just after Christmas. In America, because I haven't played for so long and I love audience participation. I'm doing 20 warmup shows in smaller theaters, 5,000-6,000 seaters. We'll deck out the whole halls, from when you first go into the theater. It'll be like an event, a giant welcome-back party. I'm really buzzed about it.
You have a home video in the works.
Osbourne: Yes. For the last two years this guy Jeb Bryant has been literally traveling the globe collecting footage. I had no idea some of this stuff existed. Black Sabbath and onward. It's got the making of this album, home footage of my family. They've interviewed people who have worked with me, Jon Bon Jovi, Lars from Metallica, Nikki and Tommy from Mötley Crüe. The lawyer from the McCullum case. The title, I think. is Don't Blame Me. I'm very excited about it.
How are your kids? Any of them show musical talent?
Osbourne: They're great. I'd be absolutely honored if one of my kids was to take up where I left off, but if they don't, it's fine. Jack loves to come on stage with me now, he brings me my glass of water. He's wonderful. He's into sharks now. He'll be six in November.
How old are the girls?
Osbourne: Amie's eight, Kelly's seven. Kelly's so much like her mom it's unbelievable. She's in the video for "No More Tears." She's a little angel. She speaks the part in the middle of the song. She looked absolutely beautiful on the set. Now that she's in my video she wants to be an actress.
Are their voices on the intro to "Mr. Tinkertrain?"
Osbourne: No, that's an archives tape of kids on a playground.
What does "A.V.H." mean?
Osbourne: It's one of the puzzlers. I'm not going to tell. I always leave a little bit of a clue on my albums. I like doing that, so kids can say, "What the fuck does he mean?"
Do you think this album will surprise people?
Osbourne: I hope so, pleasantly.
Any parting message to your fans?
Osbourne: Buy my record! [laughs] Just that I'm coming back, and I'll be out there for as long as they want me to be.