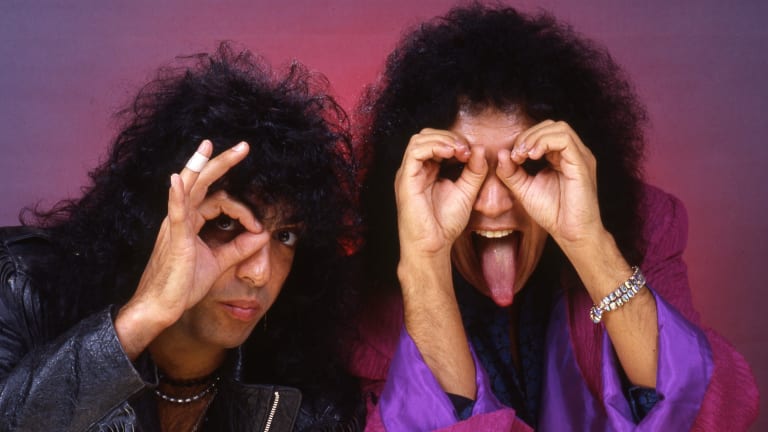 Kiss' Paul Stanley and Gene Simmons: Out of the 'Asylum'
Music, movies and what's next for the band
Metal Edge, October 1986
"We've had a real good time. My biggest complaint is the cramps I have from smiling," Paul Stanley says as Kiss' Asylum tour winds down. 
Kiss had Black 'N Blue, W.A.S.P., and King Kobra open for them this time out, and Paul stressed the importance of harmony between the bands. "Every situation is different, but the ideal ones are where you feel like family and everyone helps each other. We do everything we can to make an opening act come off as good as they can – and we expect the same."
Now that the tour is over, Paul has been concentrating on writing songs for Kiss' 14th studio record, due out this fall. "I'm giving myself a little more time to write," he says. "Each album has to be something new. I really want it to be a little different." He and Gene Simmons will probably coproduce (as they did on Asylum), but "there's a possibility we may do it with a third person." No new live album is planned, at least for the moment.
Kiss will, however, release a new home videocassette "in the next couple of months, with all the videos since Creatures of the Night, plus some fun interviews with Gene and me, and vintage concert clips." That is, Kiss in makeup. "I'm real proud of that stuff," Paul says.
Meanwhile, he's considering an assortment of solo projects. "There's been some interesting offers – it's a matter of the time being right. I turned down a film. I've been looking for one to do but I don't feel like doing The Hamburger Monsters from Mars," he cracks. "But there are other things coming up, films and production." 
Paul is following a path that's parallel to, but won't cross Gene's. "What Gene does outside of the band is totally his, and I don't think it's a good idea to get involved in things with each other," Paul believes. "We spend enough time together – it's the last thing we need to do."
So far, Gene, Kiss' resident workaholic, has completed two movies since the tour wrapped and is juggling several recording projects. Now showcased on screen in Never Too Young to Die as hermaphrodite Velvet Von Ragnar, Gene, who personified evil in Runaway, plays another villain in Wanted: Dead or Alive. As a terrorist named Malak Al Him, he plans to bomb L.A. – unless bounty hunter Rutger Hauer can stop him. It'll be out in the fall, as will Trick or Treat, which mixes the supernatural and heavy metal. Gene plays a deejay named Norman "The Nuke" Taurog. While there's a musical connection to the role, he won't be playing himself. "I don't want to play rock and rollers. I can't think of a worse fate than to strap on a guitar and be Rick Springfield," he says about Rick's flop film Hard to Hold. "I hate that. I'd rather play creeps." Or hermaphrodites. "Actually, I want to play something more interesting. But I'd rather play that any day of the week than a rock star."
Gene has several more films on tap ("one's a late '50s story" is all he'll say), and he's similarly in demand as a record producer as a result of his work with Kiss and Keel. He's producing Black 'N Blue's third album and giving them career guidance as well. "Everything's gonna be all new – music, image, just different," says Gene, who also produced the track B 'N B has on the soundtrack for the movie Out of Bounds. "I don't know where I'll get the time, but at the same time I'll be producing two tracks for Cher's record, and a Japanese group called Flatbacker. I believe in giving new bands shot." While he has no plans to give up performing, Gene's future as an actor and behind-the-scenes mastermind seems assured.