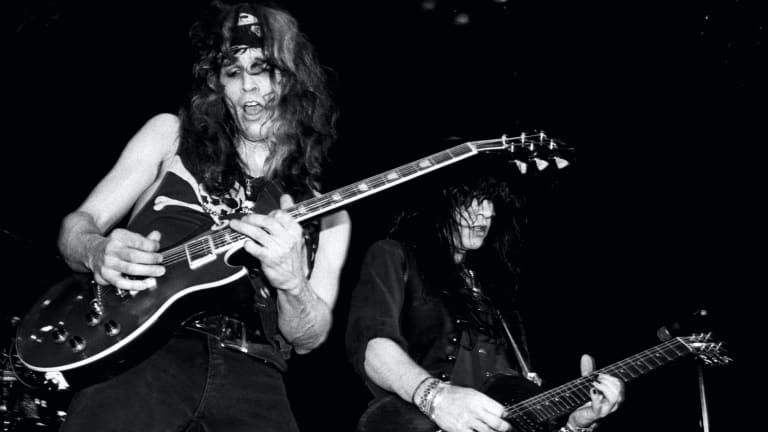 Kix continue to light the fuse
'We just do what we do and hope that people will like it' Steve Whiteman says
Metal Edge, October 1991
After 12 years and four albums, fans know what to expect from Kix: plenty of good time, high-energy, kickass rock 'n' roll, and their fifth effort Hot Wire is no exception to the rule. The follow-up to the band's platinum breakthrough Blow My Fuse, the album is Steve Whiteman, Donnie Purnell, Brian Forsythe, Ronnie Younkins, and Jimmy Chalfant at their rockin' best. The Baltimore boys recorded it with producers Tom Werman and Taylor Rhodes (Donnie's longtime collaborator – they co-wrote "Cold Blood" and worked together on several of this album's tunes) at L.A.'s Sunset Sound, where we visited them in March and heard some album-quality demo versions of the record's songs.
"We do real extensive demos," said bassist Donnie, who wrote or co-wrote all the tracks. "We pretty much had everything down in pre-production." "We're pretty much sticking to the demos because everyone liked them," added Ronnie. After touring for 18 months, Donnie & Co. got to work on songwriting last summer and demo'd 40 songs in a garage-turned-studio in Waynesboro, PA. They played them for management, label people, and friends, then got audience feedback on several favorites at a few gigs last November and brought the best to L.A. in February. "We came here with like 35 songs. We could have done three albums," said Steve. "A lot of good music didn't make the album, but we just didn't have room for it."
The tricky part, according to Donnie, "is try to pick the ones that go together, you don't want too many mid tempo or big chorus songs or fast ones." Most of the songs on the record are kickin' rockers that fit one of those descriptions, like "Hot Wire," "Luv-a-Holic," "Pants on Fire," "Rock n' Roll Overdrive," "Girl Money" (the first single/video), and the amusingly titled "Bump the La La." "Every good song I've ever written started with a title", noted Donnie. "I've got books of notes and I go through them and pick out my favorite titles and lines. (That's how "Luv-a-Holic," written in'92, ended up on this album.)
The songs cover familiar topics of women and the pursuit of them in clever ways. "Girl Money," explained Donnie, "is the money you put aside for females." "Same Jane" according to Steve, "is about a girl on the rock scene, a party animal, had everything she wanted, and met a guy who took her away from it all. She's not the same Jane now," The only ballad, and a phenomenal one, is "Tear Down the Walls," a very simple story about a girl that fucked up a relationship," Donnie summed up. Kix's last ballad release, "Don't Close Your Eyes," went gold and helped the veteran band break through to platinum success for the first time, the irony of which is not lost on Donnie. "We've has slow songs on every album since our second record, but that's one tenth of every album. It's not what we're about. We're 90% this amazingly fast, energetic, electric rock 'n' roll band. But nine chances out of ten, it's the slow song that a radio station will play."
Nevertheless, the Kixmen insist that they don't write either with the radio or the cash register in mind. "We just do what we do and hope that people will like it," said Steve. "Loving what you do is the main thing. Obviously, we're not in it for the money because we've yet to see any!" Continued Donnie, "If it makes money, that's good, but if it doesn't, die proud. I'd much rather die proud than cop out like many bands have." Pointing out that Blow My Fuse allowed them to break even after sales on their three previous albums of around 100,000 each, Ronnie added, "We'd be liars if we said we didn't want to make money. But we want to make good records," he stressed.
By now, Kix has learned what works and what doesn't. "We're getting this down to an art. We're on our fifth one now and it gets easier, I think" opined Steve. "The songwriting is getting better, too." "After working together for 12 years, I know how to write for what everybody does best," agreed Donnie. "I know what Steve's range is. I write two guitar parts. The strength of the band has always been hard rock with a lot of energy. That's all we did and we will ever do. If it's in style, that's great. If it ain't, we'll suffer the consequences."
Their if-it-ain't-broke-don't-fix-it philosophy extends to their choice of producer – they picked Tom Werman for the second time and found it ""easier, because we knew how to work with each other," said Steve. "Tom's got a helluva god ear. I love the way he does vocals. He just knows how to get a good performance out of you.
Kix has built their reputation on their live shows, and they're already back in action – they're playing east coast clubs, will hit western states this month before heading overseas to Europe and Japan, and will return to tour here in late August. "But if a tour comes up that we can't refuse, we'll drop everything," laughed Steve. "It's still fun after all these years," he reflected. "I want to keep playing for a dozen more." Keep making records like Hot Wire, and it's a sure thing.