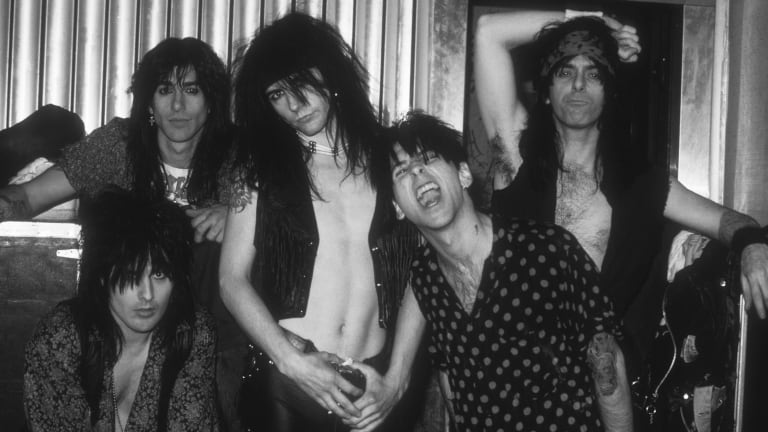 L.A. Guns: Out for Blood with 'Hollywood Vampires'
Lead gunner Phil Lewis talks new album, touring with AC/DC and 'not dwelling on the past'
Metal Edge, October 1991
Rockin' the road since May 24 with AC/DC, L.A. Guns just released their third album, Hollywood Vampires, and this time they're going for the throat – the record rocks hard with cuts like "Over the Edge," "Dirty Luv," and "Big House," but has big-time grooves ("Wild Obsession," "Koo Ka Choo") and killer hooks ("Some Lie 4 Love," "Kiss My Love Goodbye"), and pushes all the emotional buttons on ballads like "Crystal Eyes," "It's Over Now," and "I Found You." In short, it's a tasty musical menu from Messrs. Phil Lewis (vocals), Tracii Guns and Mick Crips (guitars), Kelly Nickels (bass), and Steve Riley (drums). 
Metal Edge caught up with Phil via phone on a May morning as he sat on his balcony playing bongos, listening to a Ginger Baker tape, and preparing to do an acoustic set for Woodstock One radio with Kelly and Tracii.
Phil Lewis: We're gonna do a couple of songs we didn't put on the album.
Did you have a lot of leftover tunes? Will they be b-sides?
Lewis: We have about five. I hope they'll be b-sides, not on the next album. I want the next album to be completely fresh. It's not that they weren't good enough to make the album, it's just that we had too many songs of the same type, and they have to fit together.
Let's talk about the songs. Did you write all the lyrics?
Lewis: 99 percent. "Over the Edge," I did everything, music and lyrics. It's kind of a bleak and scary prospect for the future. It's a song about reluctant superstars, people who don't want to be famous. Steve Clark, Jimi Hendrix, but not just dead people. There are people who are really suffering with the effects of success. We are all pretty much working class kids, the all of a sudden with success, we are bestowed with all of the fame and fortune and it can be kind of hard. It's the American dream and it's what we all want, but sometimes it's a bit hard to deal with. I was very inspired by The Wall, when Pink is freaking out during "Comfortably Numb." I love that movie. I think it really hit the nail on the head so many times. I had my guitar cranked, up on 11, I wanted this hypnotic riff with this severe drum beat. One I had what I wanted some really angry blood-wrenching words. 
"Some Lie 4 Love," Mick came up with that riff. He's really good at the crunchy hooks. He also came up with the riff on "Rip and Tear." We had three different choruses on "Some Lie 4 Love," At the last minute we decided to go back to our original idea. Unless you feel strongly about changing something always stick with your first instincts. The first thing you come up with is always the best. 
"Kiss My Love Goodbye" was originally called "Biggest Breasts in the West." Mick wrote the music and finished it with Steve Diamond. They came up with a great song. It doesn't matter who wrote it. If the band plays it and it feels right, I'm happy with it. "Here it Comes" was me and Tracii. That was our desperate attempt to be black. We like soul music like James Brown. I just wanted something that was killer groove-y, I wanted a cool song. "Crystal Eyes," that one of those agony songs. I brought that in. It was agony for me to bring in a song of that sensitivity. When we get together we are loud and crazy and noisy, we shout and scream. I try to get the, to concentrate and be quiet and it was really hard, but they did a great job. I don't really want to interpret what it's about because I like people to have their own interpretation of songs but it seems to be something like how a person would feel on delivery of their first child. For me, it has this childlike innocence, like a father looking at his perfect daughter growing up. It's a very pure song. 
Mick and I came up with "Wild Obsession." "Dirty Luv" was always called "Fire," and that was the first song we wrote for the album, while we were on tour. It was Tracii's riff. "Koo Ka Choo" came in real late. Mick went up to Canada and did some work with Jim Vallance, and came up with this piece of music that I thought was incredible. It reminded me of Free, "All Right Now," a summer Venice Beach kind of song. 
They also wrote "It's Over Now." I like it now, but I fought like a tiger not to do it. I've never been this weepy guy. I couldn't relate to it. I thought it was so beneath me. But I'm glad I tried it. Now I think it's a cute song. 
"Snake Eyes" is Kelly's tune. He came in with the riff and we wrote the words together. It's a fun song, a gambling, sex kind of song. "I Found You" is a love song, about people that have found their partner in life. "Big House" is Iggy Pop meets Velvet Underground, dark and gloomy, one for the Scrap Bar. I think we have tons of singles. If it was up to me I'd put out "Over the Edge." I hear every single track on this album as a potential single.
There's a lot of variety, certainly.
Lewis: When I work on an album I always envision people listening to it in their car, and I want it to be interesting for the whole tape. I wanted it to have highs and lows. We did that on Cocked and Loaded too, we can basically put anything on an album because no one expects a certain thing from us. We are not a progressive band, we just experiment.
Did you feel pressure to have to top Cocked and Loaded?
Lewis: Yeah. I didn't think too much about it when I was working on my music, but when they started bringing in the Jim Vallance stuff it got really tough. We had so many good songs of our own, and everyone kept coming up with that magic word "variety." Time was getting short, and I just wanted to concentrate on our own stuff. I'm happy with it overall and I hope it doesn't come across like our arms were twisted to do these songs. In any piece of work, you always think about what you could have done. One of the things they taught me in art school is that you never finish a painting. If you are a real artist you can just go on forever. They snatched my tapes away. I would like to still be working on it right now. But in this business, and making this album, I've learned there are a lot of compromises, and if you're smart about it you can generally be happy with the end result.
Does the recording process get easier each time you go into the studio?
Lewis: I think it does. You know more of what you want, you have more confidence, you can trust your instincts more. I know my way around a studio and a song so much better than I ever did. On the first album we were so unsure. We had this attitude and a handful of songs and that was about it. We were so easy to manipulate. "You should do this one." "Oh, okay." Now it's like "This is the way we want to do it."
You worked with Michael James Jackson this time. What did he bring to the band?
He's a very cool person, a very bright Renaissance Man. He knows the best studios, engineers, and equipment and really made us sounds as good as we possibly could. He'd let us get on with it. He had his opinion, but he didn't interfere. When you have a song and you know how you want it to sound, any sort of interference is just a distraction. We put him through the wringer.
Will he ever work with you again?
Lewis: I hope so. I'd like to work with him again. He's a very understated guy, a great guy, and a very good producer.
What goals do you set now?
Lewis: I've had to concentrate on what's happening right now. I try not to dwell in the past too much and I suppose I should think more ahead. I would just love to continue to be creative. I'd like to write books. I'd like to act. I was kind of a troubadour/actor when I was a kid. I was in a troupe and we went around Europe – France, Holland. I did that for a while and it was quite easy. I had to play a druggie rocker from L.A., ironically enough. I'd love to do a movie. I'd love to play a psycho. I've always taken photographs and I'd like to put them together in a book with poems and songs, and some illustrations by Maxine Miller, who does illustrations for our albums.
You're touring with AC/DC until mid-July, then with Ratt, MSG, Vixen and Contraband.
Lewis: Yeah. I really want to give people good value, and it's very creative marketing. I don't know if we have that many comparisons with the other bands on the bill, but I have to stop thinking that we are unlike anyone else and just get out and play.
With three albums how do you pick a setlist?
Lewis: If it was up to me I'd do the entire set of new stuff. But obviously we can't. It will be pretty much the set we did last year until we're out with a couple of singles. I'm really looking forward to getting out and playing again.
With so many bands vying for airplay and the concert dollar in a tight economy, it's tough out there now.
Lewis: Yeah, but I love music, and I couldn't care less whether I sold a hundred thousand or a hundred million records. I just want to play. It's tough. I see bands that were really big this time last year really struggling. But I think at the end of the day the kids see what a good album is. If you make a good album, you have nothing to worry about.