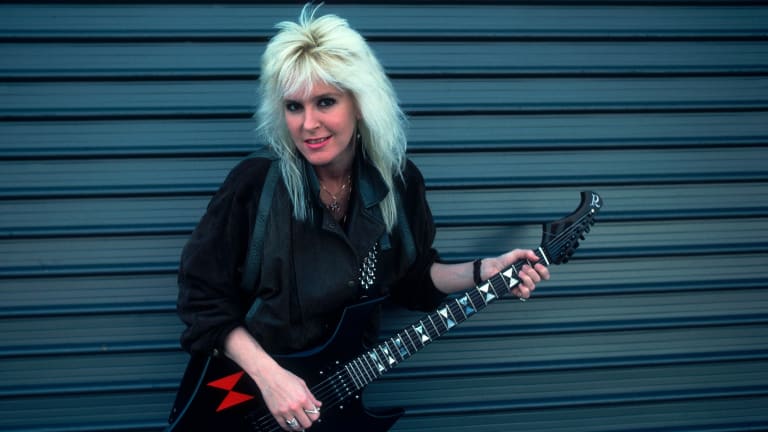 Lita Ford on touring with tough bands and her unreleased album, 'The Bride Wore Black'
'You gotta be good or you get slaughtered'
Metal Edge, July 1986
"Girls can't play heavy metal", the unenlightened insist, and Lita Ford has spent most of her life doing her damndest to prove them wrong. Formerly one-fourth of the pioneer all-girl rock band the Runaways, Lita launched her solo career with Out for Blood in '83, and has managed to achieve success in the almost exclusively male domain of heavy rock. As you might expect, it hasn't been easy.
"I got discouraged sometimes", Lita admitted as we talked in the Los Angeles rehearsal studio she used while working on her latest album, The Bride Wore Black [Ed note: this album remains unreleased to this day]. "It's so hard to get people to believe in you. Everyone says, 'She's a girl, there's no way she's gonna be able to do that.' You have to be twice as demanding." So, Lita asserted herself – and was called a bitch. Some guys, including ex-managers and band members, couldn't handle taking orders from a woman. "That's why they're not in the band anymore", says Lita, who sighs, "I'm not a bitch, not to my band members anyway. I treat them like they treat me."
Producer and band personnel changes delayed its release, but Lita was confident about The Bride Wore Black. "Some of the songs are a lot lighter than in the past, more melodic," she says, citing the anthemic "Screams of America"- inspired by people she's met on the road – as a favorite. "So many people in America really have nothing, but they have a dream to be something," observes Lita, who relates to that 100%. Growing up in Long Beach, CA, she set her sights on a career in rock 'n' roll at 13, after seeing a Black Sabbath concert. Three years later, she was playing guitar with the Runaways, and ironically enough, later became romantically involved with Black Sabbath leader Tony Iommi. They recently broke off their engagement. Lita can't wait to tour, as she thrives on live performance. "It's exciting being in the studio, especially after we've finished, but I prefer playing on stage. It's the best. It takes you hours to come down."
Lita has paid her dues playing for tough crowds as an opening act for Twisted Sister and other rowdy bands. "You have to be twice as good as the guys to prove yourself. We toured with some of the toughest bands – you gotta be good or you get slaughtered," says Lita. "We can stand up to just about anything now."
As competitive – and chauvinistic – as the music business is, Lita believes she can make it without having to exploit her undeniably sexy looks. But she doesn't deny that her appearance is a definite asset, "But I'd rather be known as a guitar player and a performer," she says. Lita has moved away from the sex symbol image used to market her debut album and has turned down offers from magazines like Playboy. "I don't want to be known for stuff like that. I want people to recognize me as an artist. I'm not about to show people my lingerie." Leather and suede are more her style (shopping tip: "Germany has the best"), and she places more emphasis on the music than on flashy presentation. "I've never gone for theatrics," she says.
Lita is, however, interested in drama, "I've never acted but I'd love to do it. It would be a blast. I've got a lot of personalities inside me," she says, imagining it would be fun to play a Conan-type warrior woman, "or the girl in Raiders of the Lost Ark that drinks the guys under the table." No sweet ingenue parts for feisty Lita, who's half Italian on her mother's side (her parents met in Italy during World War II.) "My mom kicks me in the ass if I get lazy, Lita laughs. "She says [mimicking Italian accent] 'Lita, go play your guitar!' "
Ford feels fortunate that her parents have always encouraged and supported her, and she's similarly boosted by the encouragement she gets from her concert audiences and fan letters. She loves hearing from aspiring female musicians and hopes they'll have it easier than she did. Lita laughingly admits that she's "a wimp" in the physical strength department, but she can handle an axe. So what if she's no match for Rambo? The lady sure can rock!