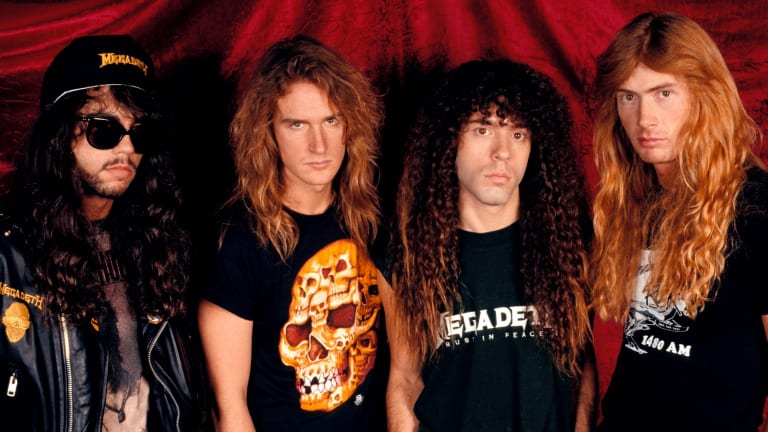 Megadeth are mean, clean and ready to thrash again with Rust in Peace
'We're not going to be able to make the best music we can if we're high all the time," Dave Mustaine says
Metal Edge, December 1990
A lot has happened in the two years since Megadeth last toured in support of So Far, So Good… So What!, including personnel problems and drug dependencies that threatened the band's existence. This month, a cleaned up, revamped Megadeth returns with Rust in Peace, which founding members Dave Mustaine (vocals, guitar) and Dave "Junior" Ellefson (bass) and newcomers Nick Menza (drums) and Marty Friedman (guitar), recorded in L.A. with producer Mike Clink. During tracking sessions last June, Metal Edge got a sneak preview of the song "Tornado of Souls" (it shreds heavily), met the new guys and had a very candid conversation with the Daves.
Dave Mustaine: We started pre-production on this, demo taping, shopping for producers around Christmas of last year. Theoretically, this album was supposed to be turned in two Octobers ago.
What took so long? Was it the music itself, you couldn't find a producer, or were there personal reasons?
Mustaine: All of the above. We had some problems with the lineup we had before, there were chemical problems, and once we got past that we started to piece together the band. I'd always wanted to have the heaviest, ultra-furious band and I wanted to be able to express my music without having to sit there and tell everybody how to eat their food and cut their meat. Dave and I were trudging through all these auditions and videotapes.
How did you find Nick and Marty?
Mustaine: We located Nick before we found Chuck Behler. We knew Chuck's days were numbered. With Gar Samuelson and Chris Poland, the chemical dependency was so bad, and we started doing the same shit. It got to the point where Dave and I just said, "Fuck this, we're not going to be able to survive or make the best music we can if we're high all the time."
How did you quit?
Mustaine: I think the two of us are a really unique breed when it comes to willpower. We had willpower but we had to realize that this is our mission and we weren't going to be able to carry on if we kept at it. We were really stressing, straining the relationship between the two of us because we knew what we wanted but couldn't find the right people and because of being upset, frustrated, lonely and hurt and angry and tired. We kept regressing and it got to a point where we said, "Fuck this stuff. Let's go back to what we do best." We'd toured a year and a half for Peace Sells, went right into the studio for So Far, So Good… So What and toured for about another 10 months. We needed to stop and focus on ourselves again. The lineup with Gar and Chris, we felt really good but because of personal and chemical problems that caused it to fall apart, we needed to stop and clean up our acts, take time off from the band to pull our personal lives together so we could go back to making music.
So back to how you found Nick…
Mustaine: We've known Nick for about two years. He'd been suggested to us by a soundman we had at the time. We realized when we got off the So Far tour that it was time to make the change. We jammed with him at soundchecks and I said, "Just hang out," and when Chuck blew it, he came in. He completely changed his style of playing to fit the band. Then we did the "No More Mr. Nice Guy" single, which got us a lot of acclaim. We did that as a three-piece. We knew we had to get serious and locate a guitar player. We looked, we stopped, we started looking again, and Marty just popped out of nowhere. When we heard the CD of some of his solo stuff, the vibe had the right feel for us.
David Ellefson: We jammed with Marty in rehearsal maybe two months before we came in here and started making this record, and it was amazing how fast we jelled. Dave, Nick, and I had been rehearsing and working on these songs for like eight months or so, and we'd demo'd up songs around Christmastime – one of the first times we'd ever done that.
Mustaine: We got a few songs on this record from like 1983. There's one song which is pre-Metallica, "Rust in Peace."
Ellefson: There's also a song we tried for Peace Sells that didn't quite click. We tried it on So Far and it still didn't click. Going in and demoing it gave us the chance to work with it. It's called "Poison Was the Cure."
What else did you do differently this time?
Mustaine: We've tried to pay a little more attention to the arrangements. A lot of my songwriting is simple in a sense because I'll go with the structure of writing a couple riffs, doing a bridge, doing another riff. I run it past Dave and he tells if he likes it or not. It's important to me that I get feedback. We're partners in slime.
Ellefson: It takes a while for this band to get songs together. We've always had a saying–nothing is permanent until it's actually on the record. We want to make each song the ultimate song it possibly can be.
Mustaine: Sean Harris of Diamond Head said, "There's only one right way to do it." I learned that real quick. But it's not necessarily my way. I used to think it was my way or the highway. Now I realize.
Are you more open-minded now?
Mustaine: Well, I'm willing to take direction. I'll hear you, but I don't necessarily listen.
Ellefson: Being in the studio before, we have a way of doing things. Since we made three records, we kind of have a formula. Every album, every tour, there's always something to be learned.
Mustaine: We had to find the right producer that would jibe with us in the studio.
You picked Mike Clink.
Ellefson: Yeah, it came together really fast. You always look at someone's track record, but it doesn't really matter if the person's good and you can jibe with them. Mike is a real easy guy.
Mustaine: His hair is shorter but he's definitely got the same attitude.
Ellefson: This time, working with Clink, we've got a system down. It's taking a long time–we started the last week in March, over two months ago, but we're getting a lot of work done and it's consistent.
How many songs are on it? Can you give us some details?
Mustaine: 8 1/2. "Rust in Peace" is a two-part song. Less is more. We could write filler tracks. But I look at it this way, if the music is good it doesn't matter how long it is. There's a song called "Hangar 18" about alien spaceships that are being harbored at Hangar 18 in Nevada – it's something not too many people know about. "Take No Prisoners" is like an American viewpoint of how Adolf Hitler wanted to fuck everyone's life up, how we're coming in to abolish his super race plan. "Tornado of Souls" is about the fianceé I had. I realized I couldn't carry on with a relationship with someone I'd been involved with doing drugs with, so I called her up and said, "See ya." It starts off, "This morning I made the call, the one that ends it all, hanging up I wanted to cry, the dam of this well's gone dry." I cried over her, jumped out a second story window to get away from her, fell on a brick planter and busted my ribs. It's the fanaticism that goes along with a relationship like that. It had gotten past love into complete obsession and lust, and I'm out of that.
What other experiences inspired songs?
Mustaine: Just life. Things we're attracted to, things we're opposed to. Not to jump on the nuke bandwagon, but the world leaders out there are as evil as they come, they're talking double talk out of the side of their necks and we're the ones who are going to have to pay the price. It's been prophesied and foretold that all the stuff that's happening right now was supposed to happen and it's scary. But I'm most concerned right now with four people–me, Dave, Nick, and Marty. As long as the four of us have an amicable relationship and we're cohesive as musicians we'll be able to bring what we do best to the lives of other people. I used to think that I was the only one with a rotten life, then I started talking to a lot of people and they have the same problems that I do. There are so many kids out there that respect us and if we can step into their world and help them get rid of some of the dust and cobwebs, make things easier–I'm not gonna say that I'm the Messiah or that we have the secret or anything like that, butg I've been there, I should be dead, theoretically. But I have a purpose. Somebody won't let me die.
Is this album more optimistic as a result?
Mustaine: It depends on how people decipher the messages of the songs. It could go either way. A lot of people think I'm Satanic. I'm not.
Ellefson: I think there is a more optimistic attitude in our band now. We don't want to be in the state of mind we were in a year ago, with the problems and chemical things. That would be sour, narrow-minded, and right now life is fucking good. '
Mustaine: I used to lay in the gutter and still look down on people. Now I'm just Dave. I'm no longer this rock god that thinks it's cool to fuck people over. I would make myself appear bigger by belittling people.
Are you less angry now?
Mustaine: Sometimes. I can get angry real fast, but I know how to deal with my feelings now. I'm very satisfied with my life right now. But I know when I get out onstage that there's going to be a transformation from Dave the nice guy back into the Mega-brat.
Ellefson: But at this moment the most important thing is finishing the record. I think it's important to take one thing at a time. If we start worrying about the live show, this record's going to suffer. When we're in the studio our minds are totally concentrated on this. Right now, things are moving along very good. Life isn't so bad after all.