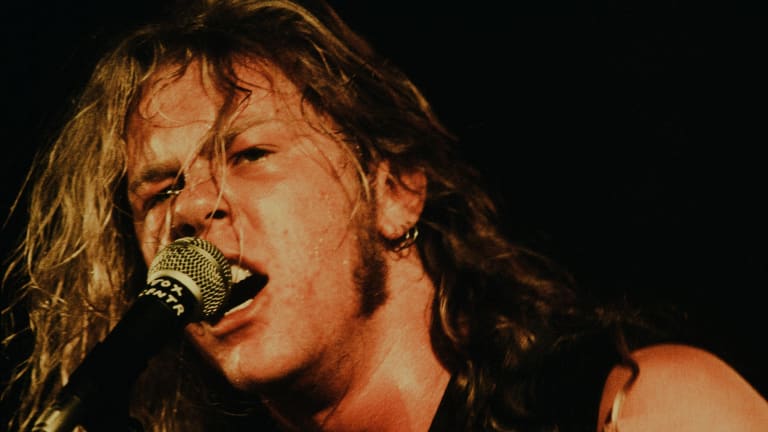 Metallica: Puppet masters on the road to glory
With a hit album, 'Master of Puppets,' and a hot tour opening for Ozzy Osbourne, James Hetfield gets candid about his band's future
Metal Edge, March 1987
Ed Note: This interview took place before the tragic accident that claimed the life of Metallica's bassist, Cliff Burton. Devastated but determined to go on, the band planned to continue touring here and abroad with a bassist not yet chosen at press time.
"I'm not feeling so happening today," James Hetfield groaned into the phone, suffering the aftereffects of a double celebration the night before: his birthday and the last night of Metallica's tour with Ozzy Osbourne. But hangover aside, James has had a lot to feel good about lately, given Metallica's blitzkrieg success on record and the road.
Masters of lightning fast, aggressive, mega-power speed metal, the Bay Area thrashers have made it without airplay, video play, or a flashy image. They've moved up from underground without selling out, and have paved the way for other speed metal outfits. "We're kind of breaking through in getting this type of music noticed," says James, who isn't bothered by imitators. "Some of the bands are definitely ripping off some of our riffs and stuff, but it's kind of a compliment. People realize who the originators are," he believes. "You've gotta have something original for people to grasp onto it."
Metallica follows no set formula in creating their music, and they don't worry about trying to top their previous efforts with each album. "We just write what we can and just try to make it the best. If it's good, it's good," says James, who anticipates starting the next album in January, after a Japanese tour. So far, they've written "a few riffs here and there, but nothing major yet. We can't really write on the road." While James hates the gig-to-gig drives ("I don't sleep in the bus too well"), they're somewhat easier now that the band has upgraded from a crowded Winnebago to a well-equipped bus: "That makes touring a lot more fun." James does get bored sometimes, but he keeps busy by partying, skateboarding (his accident hasn't cooled his enthusiasm for the sport), and listening to music "different bands for different moods." James avoids what he calls "mainstream metal"– he likes Hüsker Dü and R.E.M., and "older stuff like the Turtles, the Byrds, and the Monkees."
James' interest in music dates back to his childhood. "My brothers were always into music and they were in bands, so I was always around music," he explains. Unlike the junior metal maniac you might expect, young James was "pretty quiet, not too obnoxious– not a Dennis the Menace" while growing up in Downey, CA. He was into sports, but not as much as he was into long hair, verboten in jock circles.
He had a tough time of it when his family moved to Brea, CA when he was in his junior year "It was a really preppy school. I hated it. I never hung around with anybody there," he recalls. "I just went home and dove into my guitar. That's when I really got into it."
James, who played in several garage bands, met Danish-born drummer Lars Ulrich in 1981, and by late the following year the present Metallica lineup completed with the addition of bassist Cliff Burton and guitarist Kirk Hammett, who replaced Dave Mustaine (now in Megadeth). Originally signed to Megaforce Records, they were snapped up by Elektra, and to date have released three albums, "Kill 'Em All, Ride the Lightning, and Master of Puppets. "We're lucky to have great management and a great record company. It's a real family type of thing," says James. "They let us do it our way, and they're totally behind us," he says, glad they have an "if nothing's broken, don't fix it" attitude. "Things are going great," he enthuses, pleased with Metallica's rate of progress. "It hasn't happened too quickly," he states, aware that meteoric success can mean "here today, gone later today. I think we've built it up pretty well."
As for the future, Metallica aims to "just keep playing, bash it out. I don't think ahead too far," admits James. So far there are no plans for a concert videocassette and no time for James to accept offers he's received to produce other bands, though he'd "like to try it some time," he says. Fame and fortune haven't changed Jame's outlook–material things still don't mean very much to him. "I don't have a car. I'm saving my cash. I'm not out to get fancy stuff," he says. "Success means being able to live the way you want." James says he'd be a bartender if he wasn't a musician, but Metallica's success should guarantee he'll be ordering drinks instead of pouring them for quite a while to come.