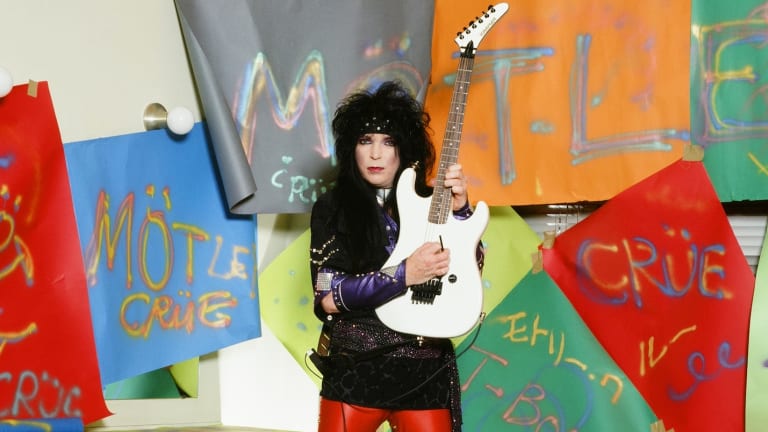 Mick Mars on the line!
Metal Edge catches up with Mötley Crüe's six-string madman
Metal Edge, December 1986
"We always make a conscious effort to make everything better the next time. I believe this next album will be another step better," says Mick Mars about Mötley Crüe's latest effort, Girls, Girls, Girls. 
Mick, the winner of Metal Edge's Readers' Choice Award as best guitarist, says that production on the LP has been going amazingly well. "A lot of bands struggle, but the way we work together, it goes real fast. It feels like a new band each time," he enthuses. "All the guys get along so great that it's unreal." Mick asserts that his presence will be prominent on the record. "Sometimes I come in with something that I don't think sounds like a Mötley song, but I'll definitely be contributing," he says.
For Mick, Mötley Crüe's success is the fulfillment of a childhood dream. "I always wanted to do this, absolutely – even if it took me 'til I was 56." Influenced early on by Keith Richards and George Harrison, Mick picked up the guitar and hasn't put it down since. He worked as a security guard and repaired motorcycles while pursuing his career, which had the blessing of his minister father and mother. "I fooled them," says Mick of his parents. "They didn't think I'd do something this big."
After five years and three albums, the Crüe has become the most popular band in metal, but Mick insists success hasn't changed him. "I just go along with the flow," he says. Asked to pick favorites of the Crüe's output to date, Mick names the "Home Sweet Home" video, Theatre of Pain LP, and two songs from it, "Fight For Your Rights" and "City Boy Blues," plus "Take Me to the Top" from Too Fast For Love and "Knock 'em Dead, Kid" from Shout at the Devil. 
As for non-Mötley music, "I listen to just about everything – I don't want to be one dimensional," says Mick. "It's easy to fall into that. Tommy got me into jazz and funk, and Simply Red." Mick is also a longtime fan of guitarist Jeff Beck: "He's about the only guy doing something different."
Whether Mick will follow Jeff's example in doing solo projects or get into other areas of music biz, like production, is still open to question. "I've never really given it much thought," he admits. "I'd have to learn a lot about it. I don't see it real soon." Mick pictures himself as a member of Mötley for another decade at least. Ten years down the line, he expects to be working "hopefully on out 12th album and another tour," continuing to wreak havoc worldwide. 
Will the Crüe ever settle down? "Maybe when we're together as long as the Stones," Mick laughs. In other words, don't bet on it!