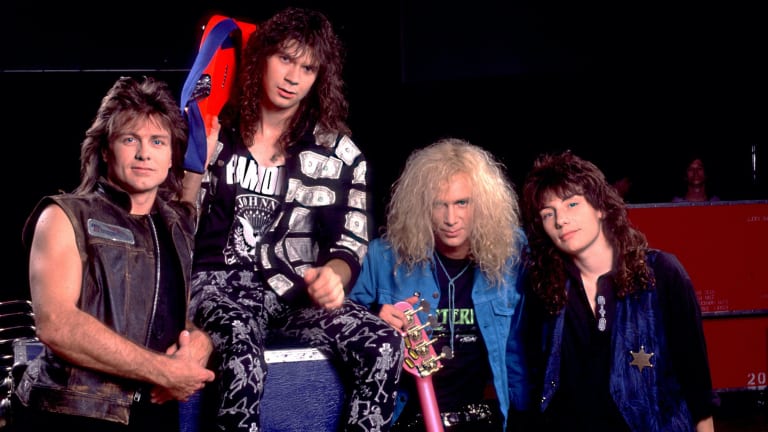 Mr. Big hit the big time
Metal Edge hops into the Corvette with bassist Billy Sheehan as the supergroup prepares to 'Lean Into It'
Metal Edge, July 1991
"Every song you write is like your kid. Must be what it's like to be a dad," muses Billy Sheehan as he popped a cassette into his Corvette's tape deck and introduced his newest offspring, the dozen tunes on Mr. Big's second effort, Lean Into It. As we drove around L.A. and listened to the rockin' yet varied musical menu, it was clear that Billy and his bandmates Eric Martin (vocals), Paul Gilbert (guitar) and Pat Torpey (drums) have reason to be proud of their progeny.
"We're everything from blazing metal to singalong at the barbecue. We're trying to buck the system a little," says Billy, noting that the new album features plenty of heavy rockers like "Never Say Never," "Love Makes You Strong," and "Daddy, Brother, Lover, Little Boy…," bluesy groovers like "Voodoo Kiss" and "A Little Too Loose," the retro "Green-Tinted Sixties Mind," and the singalong-style "To Be With You," which Billy describes as having "a sixpack on a Sunday afternoon" vibe. "It's very much like the first record, but it sounds bigger," he compares. "Overall, I loved our first record, but you play 120 or so shows for almost a million people and it makes a big difference. Everything falls into place."
Billy maintains that he's "not a big fan of the studio or the recording process. But with us it's pretty easy. We know what we're gonna do before we go in. We gear all the songs to be played live." The band tracked with producer Kevin Elson at Rumbo and Cherokee in L.A. and Fantasy in Berkeley, CA over a two-month period: "We're pretty fast in the studio. We spend a lot of time working it out in advance. This time, "writing was a breeze," says Billy. While there were some collaborations with outside writers (Jeff Paris contributed "Lucky This Time" and co-wrote "Road to Ruin" with Pat, while Jim Vallance co-wrote "Never Say Never" with Eric), most of the songs were penned in various combinations by the band members.
"Eric is the blues maven. I do the manic stuff," Billy differentiates. "Paul is one of the most creative guys I've worked with and he's a great guitarist. He co-wrote 'Alive and Kickin',' one of my favorites on the record. He came up with the lick when he was tuning up. That's our favorite way to write. It's a lot more natural than sitting down and scheming," he says, noting that one song by Paul and Eric, "My Kinda Woman," was originally intended but not finished for the first record.
"Daddy, Brother…" had a similarly spontaneous birth: it started with the title, which occurred to Billy one night at L.A.'s Rainbow Bar & Grill, where he wrote it on a napkin. "It's the first known use of dual bass and guitar and electric drill," he notes. Paul once got his hair caught in the power tool during a gig (his tech had to put it in reverse to free him) but the unusual pick holder remains in the show: "We're gonna try to get a Black & Decker endorsement," laughs Billy, whose other out-of-the-ordinary instrumentation is a six-string bass, used on the ballad "Just Take My Heart." "It sounds so big, so deep and low, like you've got a grand piano in your arms," he describes.
Some of the titles are equally unusual. "Little Too Loose" arose from an encounter between a band member and a female in the titular town; one line goes, "All that little girl wanted was a slippery souvenir" (use your imagination). The harmony-laden "Green-Tinted Sixties Mind" is about an actress who can't let go of her past and wants to relive her former glory, as in the lyric, "Hanging out with Janis, moving to Atlantis, and tell the press you died."
As for the album title, "Paul saw a plane crash at an air show on TV and pieces flew at the crowd. What do you do in a case like that? Lean into it," says Billy, who's looking forward to getting back on the road. "Once we start we won't stop until they pull the plug on us," he vows, projecting tours of Europe and Japan prior to launching a U.S. swing. "I miss playing a lot more than I used to," he muses, adding that he'd like to tour with Guns N' Roses, "but we don't care, we just want to play in front of a lot of people." Last time around, they opened for Rush, "and the audience was tough – it was not easy to win over the crowd. But we did it," he says with satisfaction.
The overabundance of bands doesn't faze Billy. "When our first record came out 10 million bands came out and not all of them succeeded. I'm not really worried about it," he says, pointing out the versatility of Mr. Big. "We don't want to just be known as a metal band. The bands whose music has endured, like the Beatles and Led Zeppelin, had many different styles. We all have different tastes and all of us are legitimately metal freaks but we like other things. I like Harry Connick Jr. The broader-based music, the better it is for everyone. Except for Vanilla Ice, M.C. Hammer, and Tone Loc, who are talent-free. MTV has broken a lot of bands, but I wish there was less emphasis on just dancing around. It pisses me off," he sighs. "We work hard at being the best we can be, and it's disheartening to see so many people into something so phony."
Mr. Big, on the other hand, is as real as it gets.