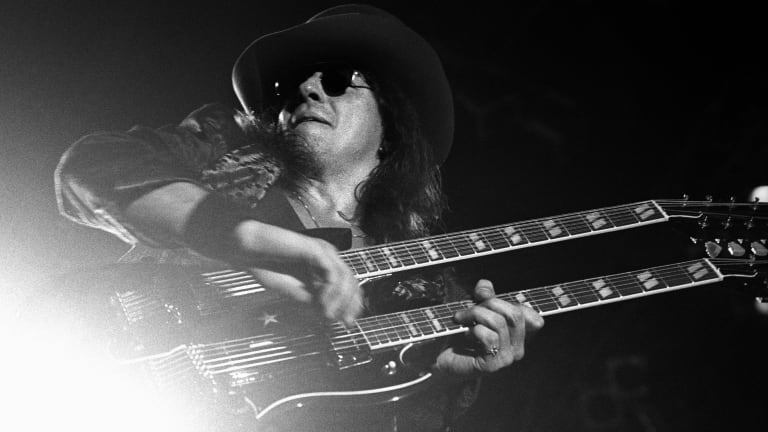 On the 'Slippery When Wet' road with Bon Jovi's Richie Sambora
The Bon Jovi axe master checks in from the biggest rock tour of the year
Metal Edge, February 1988
Eight times platinum on Slippery When Wet, two #1 singles, and hundreds of sold out shows,- you've had one phenomenal year. What moments stand out in your mind?
Richie Sambora: Every day. That two hours on stage is the ultimate.
What part of the show did you look forward to most every night?
Sambora: There were a few, like when I came out to do "Wanted Dead or Alive."
Any memorable disasters?
Sambora: Yeah, but nothing we couldn't fix. There were malfunctions all the time, between monitors and amplifiers blowing up because of the pyro. You can't blame anybody – things happen. There's so many variables at a concert – wires, lights amps, power supplies, generators. Batteries go dead. There are bugs everywhere but luckily there are backup systems.
Playing over 200 concerts, how did you avoid monotony?
Sambora: By tailoring sets. We've changed it around since the beginning anyway to keep from being bored. When we play multiple nights in one place and the kids come back, we throw in two or three different songs, switch the order of arrangements.
Are you glad it's almost over?
Sambora: Yeah, I'm looking forward to taking it easy, but it's been a fine year. Couldn't have written the book better myself.
How have you changed over the year? What have you learned?
Sambora: It's our first headlining tour so there's a lot you learn about pacing a two-hour-and-15-minute show, how to deal with everything that goes on. You learn every day, you learn about people, that's for sure. You see right through them. You see who your friends are. The playing's easy. The traveling's gotten easier for us. But the hustle-bustle, the time you can't spend with people… when we were a band coming up, we used to able to talk to the kids more. Now our lives are just too fast-paced. We've kept ourselves busy even on our days off, working for other people – Cher, Loverboy. We haven't had a chance to step back.
Will you have that chance now?
Sambora: Yeah, about a week, maybe two. I'm not the kind of guy that stays away from rock and roll for too long.
What's the first thing you want to do that you haven't been able to?
Sambora: Sleep!
Now that you can afford it, do you plan to make any major purchases, like a house?
Sambora: I've got a place now and I'm looking at one on the West Coast, too. But I'm not going to change things too much, switch my focus, worry about being a homeowner. I'm a kid, man. I've been running away from that stuff for years. I'm not worried about it. I can live any place and be happy as long as I play music. I'm flexible. I like New Jersey because I grew up here, I'm comfortable. It's an attitude. I'm sure I'll stay here for a while. Wherever the guys in the band are, I'm gonna be.
So much has been printed about Bon Jovi – is there anything that people would be surprised to learn?
Sambora: That we're all just regular guys, the success hasn't really changed us too much. Jon is such a hounded individual in terms of publicity and privacy – he has none. He's probably the biggest star in rock and roll at this point, but he hasn't changed – in fact, he's gotten more regular. We're still best of friends and still totally honest with each other about everything.
Have the outside pressures brought you closer together?
Sambora: Absolutely. I agree with that wholeheartedly. I think we've actually gotten closer than we ever were, and we were damn close before.
With the kind of life you lead, is it hard to balance your career and personal life?
Sambora: Absolutely. It's basically no contest – the career wins. Rock 'n' roll prevails.
Can you see yourself settling down in five to 10 years?
Sambora: I can't see that far. [laughs]
Can you imagine yourself at 50? What do you think you'll be doing?
Sambora: Doing the same thing I'm doing now, probably. I'm sure I'll be involved in rock 'n' roll in some way. If not performing, I'll be a producer, a writer – I'll still be making records.
You played guitar onscreen in Staying Alive. Would you consider other film offers?
Sambora: Not at this moment. I'm a rock 'n' roll musician, not an actor. I don't really… maybe when I'm 50! [laughs]
We get a lot of letters form fans that mention your appearance as often as they do your playing. How do you feel about being a sex symbol?
Sambora: Oh Christ! I consider myself a musician and anything else… I can't comment on that. It's unreal. If I make people happy, god bless 'em, but I hope the music's doing it.
Can you see a shape for the next record?
Sambora: It's too early to tell, but we've written some stuff that we're pretty happy with, the beginning of some real good stuff. Put it this way, I'm not worried about the next record, as far as the material. I think there's a large potential for growth. When you've done as many dates as we have, been to all the countries, seen as much as we have, you get educated.
Are you writing for anyone else as well?
Sambora: We're gonna try to retard that a bit, we did it enough. People are calling us and it would be easy for us to do, but we thought about it and decided we don't want people to be overflooded with Bon Jovi material.
Will you record in Vancouver again with Bruce Fairbairn?
Sambora: Absolutely. Vancouver is a great place; we had a great time. We have a lot of friends there.
When is the earliest the album could come out?
Sambora: September of '88 maybe, late September.
Are you prepared to tour as extensively again?
Sambora: Sure, it's our life. That's what we do.
Do you recall the first time you ever played live? Were you nervous?
Sambora: Yeah, but the nervousness was over as soon as we started to play. In a band you lean on other people. They come through for you and you come through for them. It's the same kind of exchange of energy that goes from band to audience.
Does it feel different playing to small and large crowds?
Sambora: When there's more people you have to approach the show on a different level – "How am I gonna reach the kid that's 1,000 yards away?" Your movements have to be bigger physically to show emotion. It's harder to do that, but I like playing big areas a little bit better.
What do you think about when you're out there? Does your mind ever wander?
Sambora: If you don't think about playing when you're playing, something's wrong.
How do you feel afterward?
Sambora: Exhausted. That two hours is a total focus of all energy and body functions – you feel pretty drained.
How long does it take you to recover?
Sambora: About 15 minutes, then I'm back to normal.
Of all of Bon Jovi's videos, which is your favorite?
Sambora: The three that came out this year are the ones I really like because they captured us honestly. I guess "Wanted Dead or Alive" is the one that brought the fans closer to the band, the behind-the-scenes look – that's the way we really are. The kids know us a little better from that video.
Will there be a new home video?
Sambora: Yeah, there's gonna be a home video out for Christmas, and it's gonna have a couple of videos not available in America – "Never Say Goodbye" and "Wild in the Streets."
Why weren't they released individually?
Sambora: There's no need. It's something for our fans, so they can have something people can't get.
Are they live videos?
Sambora: There's live, backstage stuff, a potpourri of the year.
Something like "Wanted Dead or Alive"?
Sambora: More up-tempo. In "Never Say Goodbye" there's shots of us as kids, kind of cool.
When you were a kid, did you ever think you'd come this far?
Sambora: You never know. I knew we were gonna be successful, but I didn't know we'd be this successful. There's been a lot of firsts for us this year. It's all been damn exciting.
With so many goals achieved, is there anything you haven't yet fulfilled?
Sambora: Not much [laughs]. We just want to make some more good music and sell some more records next year. That's all, I guess. Everybody's paying a tremendous amount of attention to the success and forgetting about what counts – the music. Playing music and having fun, that's the most important thing. What happens around it is still secondary.