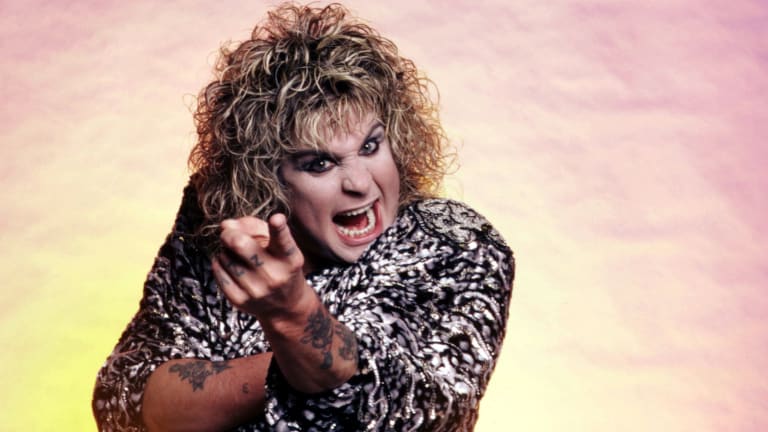 Ozzy Osbourne: Outrageous as Ever!
'I am a little bit crazy,' the Ultimate Sinner admits
Metal Edge, January 1986
"I am a little bit crazy. I've always gone over the top with everything," Ozzy Osbourne admits. "I haven't been out on the road for a while, so I've got so much outrageousness stored away. I might just go bang! on the first gig.
"Lock up your dogs, cats and daughters, Ozzy's coming!" he gleefully announces about plans to hit the road again this winter on a year-long tour to support his new album, The Ultimate Sin.
"It has some political overtones," says Ozzy, citing such tracks as "Thank God for the Bomb." "It's a real rock album, there's no ballads." Less than satisfied with his previous Bark at the Moon LP, Ozzy opted to relieve himself of producer duties this time, which took some of the pressure off him. Guitarist Jake E. Lee, who contributed to the writing, is the only returning member of the band, but Ozzy believes frequent personnel changes are good: "The hungrier player is always the best, the kid off the street really wants to go for it."
"I'm itching to get back on the stage again," says Ozzy who last performed (somewhat miraculously, considering a tangle of lawsuits) with Black Sabbath at Live Aid after a six-year hiatus. Seeing the chance to support a good cause and show the world "we're still not at war," Ozzy sailed over on the QE2, celebrating his wedding anniversary. Parents of Aimee, two, and Carly, one, Ozzy and his wife (and manager) Sharon have another baby due any day. "My little girls are so precious to me. It's really fun to watch them grow," he proudly says, revealing the tender private side of the public wild man.
Actually, Ozzy's not quite as wild as he used to be. He's off drugs and though not totally dry, has learned to handle booze. But it's full speed ahead, and soon on screen — Ozzy has a cameo as himself in The American Way with Michael J. Pollard, and he hopes to take on larger roles later. Watch out, Hollywood!