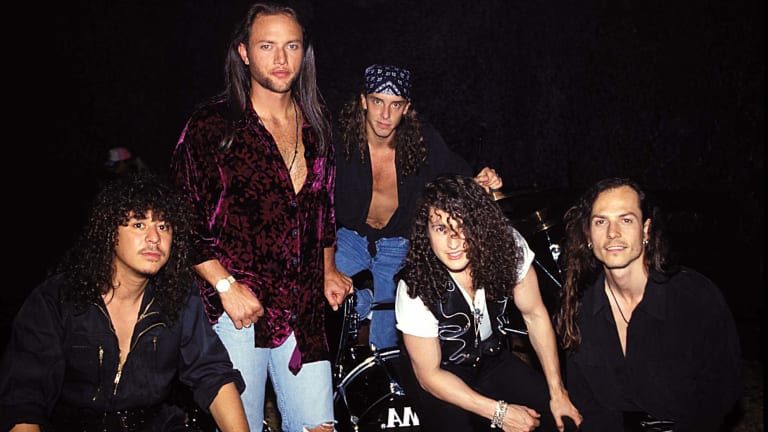 Queensrÿche build an empire
Up front and on the record with Geoff Tate and Chris DeGarmo
Metal Edge, December 1990
Seattle metal masters Queensrÿche won well-deserved acclaim and a growing legion of fans with their adventurous, impressive concept album Operation: Mindcrime, and are assured of nothing less on the phenomenal followup, Empire, a fascinating collection of massive-sounding songs that rock hard and explore some serious, thought-provoking subjects. The non-concept album, featuring the leadoff single/video "Empire," was produced by Peter Collins at Vancouver Studios in Canada and mixed at Royal Recorders in Lake Geneva, WI, where we talked at length with vocalist Geoff Tate and guitarist Chris DeGarmo about the music and more.
When did you start writing songs for Empire?
Geoff Tate: Last August, that's when we buckled down and got it all together. Everyone writes on the road individually but we never really get together to work on things. When you come off tour the last thing you want to do is hang out. So we go our separate ways for a couple of months.
Chris DeGarmo: It was really like six weeks.
Tate: It was, "Guys, we need an album now!"
So how did the writing sessions go?
Tate: Same as usual. Heartache. Self-denial. Pain.
You didn't have to make the songs fit a concept this time. Did that make it easier?
Tate: It was more difficult because we didn't have a theme to write on. When you have a theme it gives you a little bit of an outline of what to do. This is just a collection of songs.
Who wrote most of them?
Tate: We have a writing core of Michael [Wilton], Chris and myself, and that's where the basics of most of the ideas come from, but everybody throws in their stuff.
Where did you get your inspirations? What are the songs about?
Tate: This album is sort of diverse in that it touches on a lot of areas. We have some relationship songs, some social issue songs, like the crack issue. "Best I Can" touches on gun control, how a young child finds a gun in his parents' room, maims himself with it and becomes handicapped but doesn't give in to his handicap. He keeps pushing ahead to be a better person and achieve his goals.
DeGarmo: It's generally a more positive record. Mindcrime is a pretty cynical tale of twisted imagination. This record is more personal. A lot of it is in the "I" form whereas Mindcrime was more of a third person observation. "Empire" is not really a positive song, but it's realistic and addresses decisions young people have to make.
Tate: Like slaving away at school and working a minimum wage job or making $500 a day selling crack.
DeGarmo: It's sort of an analysis of our instant society – everything has to be now. A young person thinks they need to have all these material things and have their life together by 16, and it leads many of them on what appears to be a road to success from a money standpoint but from a long-term standpoint it's a path to hell.
Tate: "Della Brown" is about a homeless woman that lived in a doorway, we'd see her every day on our way to rehearsals. It addresses the idea of how women get so programmed that beauty is what makes you special, that it's the most important thing. Personality and having interests and goals is what's important. Your face will go after a few years. Della always believed that beauty was the most important thing. Once she got older she had nothing to fall back on.
DeGarmo: "Resistance" looks at the fact that we're raping the planet – it has to do with the environment. It's not Queensryche jumping on the environmental bandwagon because it's a popular issue right now. We are concerned with it and expressing it on record, and we can reach a lot of people, so we'll take advantage of that.
Tate: Music can change people's awareness. A lot of people listen to a record rather than turn on the news.
DeGarmo: If it makes somebody take a little extra time and think about what they're doing, then it's worth it. "Silent Lucidity" is about lucid dreaming, dream control – being aware of the fact that you're dreaming. Dreams tend to recur. Very often you have the same images, and it's being used in therapy, to confront the image in your dream. In a lifetime the average person spends about 4 ½ years in a vivid hallucination of the subconscious. You're doing things like flying, walking through walls – it's so intense. People can experience incredible physical sensations during dreaming. We created a very real dreamlike landscape for this song. Everything from the vocal delivery to the orchestration, to the melody, the instruments, it's all trying to create this very lush landscape. It's a huge-sounding track.
Was it a tough track to record?
DeGarmo: It was from a guitar standpoint because we used an acoustic 12-string and everything is so exposed when you use acoustic instruments. You hear everything. You can hear my breathing on the track.
Tate: That track for me was particularly hard to do.
Which other ones were?
DeGarmo: "Della Brown" from a groove standpoint. We were going for a vibe, so everything had to relax. Different songs require different delivery. Geoff prepared different for "Della Brown" and "Best I Can." But that's the challenge of recording.
Do you enjoy the process?
Tate: I enjoy it more after it's done. There's a lot of pressure on you to perform, you gotta be on your toes, and some days no matter how much you try, you just don't have it.
Which songs came easily in the studio?
Tate: "One and Only," it's a straightahead rocker.
DeGarmo: It's got a great swing to it. You blazed on that. Scott [Rockenfield] and Michael did as well. We try to prepare the record beforehand. We analyze everything and map out a plan of attack when we're writing and make sure the parts are working together. All that preparation really helps when we actually go in. We finish each one about 75%, though "Resistance" developed in the studio. "The Thin Line" was written out of a jam session, and it got mutated pretty heavily in the studio.
Tate: It started out laidback and ended up being very upbeat and progressive.
DeGarmo: "Hand on Heart," Geoff, me and Michael combined on that. It's a relationship song about promises.
Tate: "Jet City Woman" is about a woman from Seattle. "Anybody Listening," as the title suggests – people don't listen to each other, they just talk.
What had previous studio experience taught you?
DeGarmo: Be prepared. We know what's possible when we're writing and we can envision things. When we do a demo everyone can see the big picture from a very skeletal arrangement. I think we've improved on our communication, the vision of what we're trying to do.
Tate: We used to go in with an idea and when we finished it in the studio it was different than what we set out to do. Now it's pretty damn close to what we visualized in the beginning. We know what we can do and how to do it.
You're working with Peter Collins and engineer James Barton for the second time. Does that make it easier?
DeGarmo: It worked out really well for us. You don't have to go through the acquaintance scenario. There's a trust. We know we accomplished something last time on schedule and we creatively clicked together so it relieves some pressure. If we have a vision we know we can achieve it with Peter and James because we've been through the experience of doing that together.
Tate: Peter's a great performance motivator. He can crack the whip when you're not getting enough done, keeps you on schedule. That's what we need. You need to have that pressure.
DeGarmo: We work really well under pressure. We discovered that as much as all of us dislike having pressure put on us because it can be so stressful, we all realize that we function well under pressure, and we tend to deliver under pressure. It's a great challenge when you're under the gun to bring it home.
Do you keep the live performance in mind when you're recording?
Tate: No. We get done with the record and then we have to figure out how to play it. It's just another challenge that we like to present ourselves. It would be a shame to say, "I can't think of a way to do it live so I won't do this part." The record will outlive your live performance.
DeGarmo: We're confident we will figure it out. We've worked on developing the other voices in the band. None of us can sing like Geoff, but we can cover the harmonies. I think that using triggering to help a performance is allowable to an extent, but there won't be masses of things coming in from nowhere. We take incredible care and pride in the concerts. We've worked hard to establish a live rapport and we want to be recognized as a band that pulls off their material live. But records are forever. There's a freedom in the studio – we have no limits.
Chris, how did you and Michael divide the guitar parts?
DeGarmo: Generally whoever's tune it is, they'll do the solo on it, but I wrote the music to "Rainy Night" and Michael plays the solo. It depends on what we're going for. Sometimes a song requires double leads so we'll share.
Do you have a favorite track on the album?
DeGarmo: It depends on my mood. I really think it would be a bummer if I can look at the record and say, "That's my favorite song." I'd rather be confused. "NM 156" off The Warning is one of my favorite songs from the chaos point of view, and "Chemical Youth" from Rage for Order, "Screaming in Digital"– we were shooting for chaos and we got it. Songs like "Lucidity" or "I Will Remember" or "Killing Words" invoke a different side of Queensryche. We have a lot of different sides to us so it's tough to call a fave.
You have a great song on the Ford Fairlane soundtrack, "Last Time in Paris." How'd you get involved with that?
Tate: They needed a band to fill up the amphitheater at Red Rocks in Colorado for a scene in a movie so we played, and then they asked us to be on the record. We wrote the stuff for our record and let them pick two songs.
When are you going on the road?
Tate: Probably this winter.
Any warmup dates planned before then?
DeGarmo: We might appear as Rash of Stabbings. If you see that billing at some club, odds are it's Queensryche.
Any hints on the setlist?
Tate: We will be performing Mindcrime in its entirety.
DeGarmo: We'll probably do a lot of the new album, rotating tunes.
Tate: It's our own tour. We're not going to support anymore.
Any support act ideas?
DeGarmo: Not yet. Preferably someone similar enough so the audience isn't turned off but different enough that it's an interesting show.
What new bands do you like?
Tate: Faith No More. Slaughter. Baton Rouge have some good songs. The Dan Reed Network.
What moments stand out from your last tour?
DeGarmo: Irvine Meadows. It was the next to last show, and the first real headlining show we'd done. It really summed up the year.
Tate: Everything worked. But the last one, in San Jose, we had all kinds of problems.
DeGarmo: It was pandemonium.
Tate: We've had problems with audiences being negative to some bands that open for us, like Underneath What in England. One of the guys got hit with a tennis ball with nails sticking out. I couldn't believe someone who follows our band and our music would be that violent. That's not what we're about. It's only 45 minutes, have a little patience. We've been booed, had things thrown at us in the past. We heard Metallica's audiences were very diehard but we hardly had any problems with them. A couple of songs in, they're tapping their feet and by the end of the show their fists are in the air. We've been on some varied tours – Kiss, Iron Maiden, Ratt, and Bon Jovi in Europe.
Looking back, are you pleased with the progress of your career?
Tate: We never got into this with expectations of being superstars. We just wanted to make music. We were overwhelmed by the fact that we were signed at such an early age. Since then we've been trying to make the best of it. In every career you have ups and downs, sidesteps. I think we've had our share of that. It's all part of the game. You just gotta keep going, and have your priorities right. We're just involved in writing albums and touring. Everything else is icing on the cake.
DeGarmo: Some people get into this business for the attention, they want the babes or the money or the Porsche, but when we first got together we didn't know that this was going to become a business. We were just friends who wanted to jam and it's turned into something we make our living at. Certainly we like to sell records but everything doesn't revolve around strategy, formula.
Tate: Because at the end of the day, if you make a record you don't believe in and it flops, what do you have to feel good about? But if you make a record that you love and believe in and it flops, you can still believe in yourself. And if it takes off, you can pat each other on the back and say, "Yeah, we kicked ass, we did it together." The band takes pride in knowing we write our own material.
DeGarmo: At the end of the day, we did it. We didn't get into the business to get up and pose and have someone else write songs for us. Whatever level it is we get to, we'll know we got there because of the talents within the band. We keep trying to challenge ourselves with a new record, not retread the same thing we've done before. It's really exciting for us to watch the band progress as time goes on.
Are you interested in writing or playing with or producing other artists?
Tate: Not right now. We have too much going on. You can't be working all the time. You have to have time to smell the roses.
How has the band changed over the years?
DeGarmo: We've become better players. I think we've come a long way from where we started. I think we are communicating better than ever, our vision is more focused than ever. We've got years of shared experiences.
Where do you think you'd be if you weren't in Queensryche?
DeGarmo: We'd probably be in jail. It's just energy – everyone gets very intense, which can be a little dangerous. This has been a great release for us.
Is the band going to remain based in Seattle?
Tate: Down the road who knows what's going to happen, but for now that's where we are and we like it there.
DeGarmo: This record has a Seattle vibe to it.
Has the rock scene there changed, improved over the last few years?
Tate: Definitely. There's more bands coming out, more places to play.
DeGarmo: There's more record company interest in the area. We probably contributed to it, but we won't take credit. It's the talent that gets noticed. Not everybody lives in New York or L.A. – people elsewhere are capable of being artistic and bright.
Which is harder, when you're starting out and struggling or maintaining success now?
DeGarmo: There's a phrase that goes, "You're only as big as your last record," and unfortunately it's true. People have short memories. There is a pressure on you to always be moving forward and I think it's a healthy pressure. Fans deserve well-thought-out records. It's very hard to get started, we had to try to break in and get people to notice us, but we set standards for ourselves now. There was talk of us going into the studio by last fall but we weren't ready and we wanted to wait until we felt strongly enough about it as we did about Mindcrime. Hopefully this record will attract new people, but for the people who have been into Queensryche we wanted to make a record that is our 150% effort. You're gonna get your money's worth. We spent time on it and we feel really good about it. It's like a child – you create this thing, raise it up to a point, and then you have to let it loose.
Tate: All the time you're working on it you're wishing it was over. When it gets done, you're sad it's over. Now we're going back home to write more songs.
DeGarmo: We're gonna chill for a while. But over the next few months we'll get back into it. There's always the next album. You can never get started too soon.