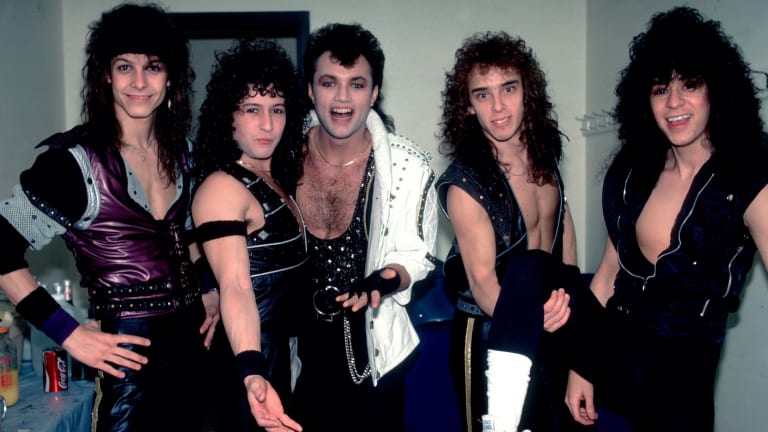 Queensryche take 'Operation: Mindcrime' to the screen
'With a concept album like "Mindcrime," we wanted the visual side of it to be interpreted right,' Chris DeGarmo says
Metal Edge, November 1989
Queensryche waited six months to do a video for their Operation: Mindcrime LP, but critics and fans agreed that the stylish, rivetingly intriguing "Eyes of a Stranger" was worth waiting for. The band is now visible in a second Mindcrime clip, "I Don't Believe In Love," and will soon release a home video that conceptualizes five more of the album's songs. Guitarist Chris DeGarmo filled us in on the details.
Why did Queensryche wait so long to do videos for Operation: Mindcrime?
DeGarmo: We felt if we released the video when we released the album, it wouldn't do much. We never really got any video play until now. We know our core of fans would pick up Mindcrime anyway and with the shows with Def Leppard and Metallica word would spread. To be honest, we couldn't afford to do the video when the album first came out. We spent a lot on the album, it was all digitally recorded. That was our emphasis, to make the best record we could. If we made "Eyes of a Stranger" back then, it would have been less. This way, we had the resources and we got to work closely with the director to get it the way we wanted it. With a concept album like Mindcrime, we wanted the visual side of it to be interpreted right. It was a strange way of doing things, but in the end it's worked out for us. Good things have happened, a snowball effect. The album went gold, a major achievement for us, and we're heading toward our first platinum record. We're really happy about it.
You've been shooting for three days here in L.A.
DeGarmo: Yes. We actually cut five videos, for a home video, and we're in the process of shooting a lot of footage – we're gonna make a movie. The home video is a compilation of the two main videos and other songs from Mindcrime, "Anarchy X," "Revolution Calling," "Operation Mindcrime," "Speak," and "Breaking the Silence."
When will it be out?
DeGarmo: August is a good estimate. It's gonna be good. We had fun doing it, but we're wiped out. We're taking a bit of a break, then we'll go into pre-production for the next album in August.
Will it be another concept album?
DeGarmo: We're not saying. But at the very least it will be a theme-oriented album. That's the way we write. We're using the same production team as on Mindcrime. We've been writing on the road, it's going well. Got some good stuff. We'll actually start recording in September.
When it will be released?
DeGarmo: The beginning of 1990. Then we go back out on tour.
Will you headline?
DeGarmo: Yes. We did a sold-out headlining show at Hammersmith Odeon in London, and headlined the Aardshok Festival in Holland, played with Ozzy at Dortmund, and then we did five headlining shows in Japan and headlined on the west coast. We waited for a tour this year, but the next time out, it's our own gig. Now it's on to the next level.