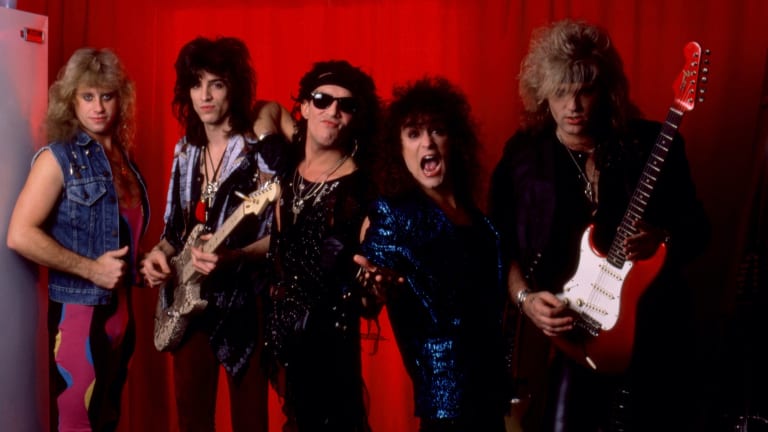 Ratt: Rockin' Undercover
With a new album, 'Dancing Undercover,' and a spot in the upcoming Eddie Murphy flick 'The Golden Child,' Ratt is poised for superstardom. 'I want us to be huge,' Stephen Pearcy says
Metal Edge, March 1987
Last year Ratt invaded your privacy with a platinum second album and wildly successful world tour. Now the five raucous L.A. rodents are getting ready to rock arenas once more in support of their latest vinyl effort, Dancing Undercover, on a tour lead singer Stephen Pearcy says will last "forever" – or at least, almost a year. Kicking off in Canada ("we haven't been there in two years," Stephen explains), the road trip begins this month and will wind up in Japan or Europe after the U.S. jaunt ends. Stephen hopes the itinerary will include Australia, Bora Bora, and Zimbabwe, places Ratt hasn't yet played. He promises a long set that will include all the songs Ratt fans want to hear, and "the biggest show they've ever seen," but prefers to keep the details undercover.
Despite the record's fall release, Ratt opted to delay the start of their tour, citing crowded road conditions. While his bandmates used the time off to relax and vacation when not promoting the album, (and in Juan Croucier's case, write new songs), Stephen trekked to drag racing competitions as the sponsor of a winning "funny car." Visits to his family in San Diego aside, vacations bore Stephen. "My vacation is to go on tour," he says, itchy to begin. "I always go out there with the attitude that I'm going to have a great time. I see it like a big party," he says. "It's great to go out there and have thousands of people singing along and yelling." He concedes that long tours can be tiring, but nomadic Stephen adjusts easily to the pace, and finds his voice holds up rather well. "It goes into tour mode. I never really have problems. Even when I'm sick I can go out there and sing," he claims. Sometimes, however, he forgets where he's singing. "They tape the name of the city on my monitors," he reveals.
Each arena is typically filled with enthusiastic yet non-destructive Ratt devotees. "Our audience is as crazy as the next, but they learn to control their energies," says Stephen, who characterizes the band's fans as "nice, nasty, oversexed people." Many send or bring offerings to the show. "We get so many wild things, from fake rats to real rats. You name it, we've got it," says Stephen, adding that the band occasionally writes or calls to offer thanks.
Ratt's look has changed slightly this year. Their clothes "have a new attitude," says Stephen, but he ranks sound over style: "Clothes get old quick but music is there forever." Similarly, he emphasizes live performance over videotaped. "Video can help to a certain extent but you have to go out and play for your audience. It all boils down to how you are live." Nevertheless, the Ratt pack is ecstatic about their forthcoming appearance in the Eddie Murphy movie The Golden Child – the Christmas flick includes a performance of "Body Talk," Stephen's favorite Undercover track.
"Everything went so smooth this time," marvels Stephen, explaining that the recording process took two months instead of the expected three. Written largely on the road, the album reflects personal experiences ("the secrets we tried to hide are all there") and Ratt's evolution as musicians. "This is probably our best record to date," Stephen opines, but he has a soft spot for their raw, independently released debut EP, recorded while the band was in a state of starvation. "We're still hungry, but we're not starving," he says with relief. He remembers the tough times all too well – the band rehearsed in rodent-infested basements and had an ever-changing lineup. "People just came and went," especially guitarists – Jake E. Lee and Chris Hager (Rough Cutt) were briefly in the band. But then as now, what held Ratt together was the friendship between Stephen and long-time buddies Warren DeMartini, Robbin Crosby and Bobby Blotzer, which has withstood the pressures of success. "It's easy to get there, but it's hard to stay on top." You have to give 100%," says Stephen. "We are not anywhere near where I would like Ratt to be. I want us to be huge, a supergroup. That's what we're working for."
But Ratt's success so far is nothing to sneeze at. It's bought Stephen a Porsche and a Hollywood Hills house ("my dogs see it more than me," he jokes), the guest room of which displays his gold and platinum albums. Not surprisingly, Stephen spends most of his time in his bedroom. He doesn't lack for company, but admits that "a solid relationship" is missing from his life. "I'm not the easiest person to be involved with," he concedes. "It takes a lot to keep my interest. Somebody would have to work very hard at it." Stephen, who considers himself a romantic person, says a woman with attitude turns him on. "Somebody doesn't have to be beautiful to have sex appeal. When she plays hard to get, that's fun."
As a youth, Stephen says he was "always with the girls and looking for the next party." He remains true to form, prowling L.A. hangouts with "Bordello Brother" buddy Vince Neil, checking out women and new bands–he wants to try producing (as do his bandmates) eventually. Stephen says he'd also consider acting offers (particularly a James Bond-ish role) and a solo project, "six or seven albums down the line." But Ratt remains priority one. "I think we're a little nastier, a lot better, more in control of what we're doing than ever before," Stephen enthuses. "We know what direction we're going to take. There's no more experimenting. We're definitely finding out where we belong."