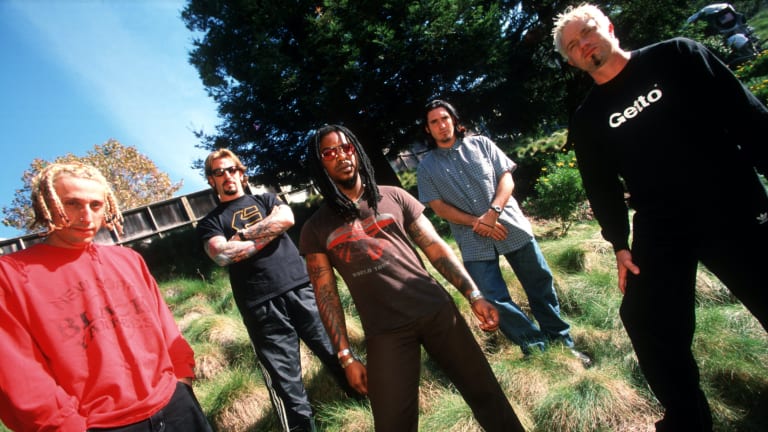 Sevendust are shredding the metal competition
Fast-rising Atlanta rockers have that 'soulful feel'
Metal Edge, October 1997
Without the help of radio, MTV, or any of the commercial outlets that seem to exist with the sole intention of breaking more commercially targeted bands, Sevendust are left with only one choice – pound the pavement for as many miles as they can. Talking to lead singer Lajon Witherspoon before a recent stop on the band's tour with Ozzfest alums Coal Chamber and Powerman 5000, the frontman for the Atlanta quintet summed up the five months since the release of their self-titled debut April 15: "We just got another RV," he said, referring to the band's upgrade in transportation from the van that they criss-crossed the country in before earning a spot on the summer's ROAR tour, the sole metal outfit on an ill-fated package headlined by the once-great Iggy Pop. "We trashed the other one. Those things aren't made to travel three times around the country in three months."
If Mad Max set his sights beyond the Thunderdome, Sevendust are heading straight into the eye of the storm, with every show furthering their reputation as one of the most intense and power-packed live acts on the road.
Musically, Sevendust solder the molten crunch of Prong with the unrelenting slam and hard as nails punch of Pantera, a sound that capitalizes on the layered guitars of Clint Lowery (brother of Stuck Mojo's Corey Lowery) and John Connolly to rattle the foundations of their songs and steer clear of replicating today's disparagingly commercial, more hollow bodies of work. But the real kick in the teeth is on vocals, where Lajon Witherspoon–whose background is more seeped in R&B than it is rock and metal–flips from melodic intros and segues into fiery blasts from the throat that hit hard and leave their mark.
Whether he's delivering the ominous rampage of "Born to Die" – offering a refined take on standard death metal vocals–relaxing the nodes for the more easy-going stretches of "Prayer," or summoning an inner madness in "Speak," his voice is one of the best in the business of molten metal, utilizing a range that could soothe a savage mind or incite chaos at the drop of a fitting chord. His presence is twice as strong onstage, as his clenched throat muscles flex, and a hoop through the center of his nose likens him to a pint-size bull unleashed in a china shop.
But that's only onstage. Offstage, the 25-year-old frontman couldn't be any more amicable and approachable. His only complaint about life on the road? "People can't get my name right! They call me Lusion, Lathan, Lathon, Liken… Why can they say Clint, Morgan [Rose, drummer], Vince [Hornsby, bass player] and John, and they've gotta fuck my shit all up!" he beams with a laugh, still unable to fathom the success that lies ahead.
With sales of their TVT debut approaching 50,000, and the album ruling metal radio charts for an unprecedented and record-setting 12 weeks at No. 1, is Lajon comfortable with the level of success the band has achieved in such a brief time? "I don't know, what level are you talking about?" he asks. "Does it feel like things are getting big?" I counter. "What big? Magazines and stuff? It's crazy, I don't even believe it," he enthuses with wide eyes. "I don't even sleep well because I'm so excited. It's a blessing, and I thank God for all our friends out there that sing our music with us every night. It's just the beginning… It's not even the beginning yet, it's whatever comes before the beginning, whatever that is. That's where we are now. It's the set up. Hopefully it's setting us up for longevity in the music business."
And they've made some very important friends along the way, one of which is their manager, founding Twisted Sister guitarist Jay Jay French, who produced Sevendust with fellow Twisted-mate Mark Mendoza. "It appealed to me at a time when I wasn't looking for anything," said French, who had his hands behind Atlanta's music scene for 10 years before Rose and Hornsby approached him with what would become Sevendust. Whatever requirement I needed to disrupt my life, and take precious time away from my family, they had. It doesn't matter how heavy you are, as long as you have redeeming value. They understand the structure of a song. They're just a super-heavy rock band who share a vision of the style of music they like. No one has to be talked into anything."
Where many of today's younger bands take the bottom end of their sound to oft-annoying dimensions, thumping and plunking to bludgeoning extremes, bassist Vince Hornsby and drummer Morgan Rose settle comfortably in the mix, stepping into the spotlight long enough to prove their mettle and fading back before the feel gets tedious. It's rare that you can experience a band's chemistry on CD, but Sevendust teach a class on the subject, constricting their sound into a tightly strung epicenter that beckons listers in, lets them open their arms, then explodes in their faces with a sonic fury. And ask anyone who's seen them, you'll get the same response–"They blow themselves away live."
After wrapping up the ROAR tour, where they evolved from the opening act of the day to the second stage headliner, they headlined a few shows in their biggest markets, notably Las Vegas and New York City, en route to a month of dates with Powerman 5000 and Coal Chamber. They headlined a showcase at the CMJ Festival in the Big Apple September 6, and joined ROARmates the Nixons September 10, in Denton, TX, for a tour that will keep them in clubs at least through mid-October.
All that considered, you'd never guess that they formed accidentally, but that's practically the case. It started as an outlet for Connolly, who, frustrated by his then-band, Piece Dogs, decided to get a few of his musical thoughts out of his system. "Piece Dogs started to take on water and sink, and I decided that I wanted to start writing some songs. I was drumming at the time, so I went out and bought an acoustic guitar and pretty much sat down and started four-tracking, never figuring that it would get any further than that," he explained. Having never played guitar, his initial recordings focused more on style than technique. "I just learned how to play a bar chord and pretty much ran it all over the map," he laughed.
With the writing bug twitching, and the goal of getting full songs out of his system, Connolly called local friends Rose, the drummer of Atlanta's Snake Nation, who in turn brought bass player Hornsby into the fold. "The three of us went in and put three songs down, and it turned out that they just said, 'fuck it, let's do a band!' " he said. And the search for a singer was on…
They say hindsight is 20/20, but in the nonchalant manner Rose recalls the addition of Lajon to the mix, you'd never imagine that they then-tinkering trio would soon evolve into the latest focus of attention for indie juggernaut TVT – the same label that launched Nine Inch Nails into the national spotlight, turned Gravity Kills into one of the last year's most amazing success stories, and is now nurturing Sevendust's ascent to the top of the heavy metal market.
"We thought that if we could find a singer who could sing over the heavy music, it might sound original," Rose explained. What Sevendust got was more than a singer, it was the element they had been seeking that could take an already musically dynamic assault to the next level. "Morgan told me about him, and when we went to see him, I looked at him onstage and said, 'He's a great singer, he's got great stage presence, and there's no way he's going to want to do this,'" Connolly recalled of watching Witherspoon front Body & Soul, and R&B, funk-rock flavored band–nowhere near the league of music they were looking to forge ahead with. Much to their surprise, Lajon was more than interested–he seemed to revel in the opportunity to bring his vocals to a new level.
And that's where French came aboard. Having known Rose and Hornsby for years, and aware of Lajon's work with Body & Soul, he had more than a passing curiosity in the new union. "I was really curious how that would graft itself, the R&B over the Metal, and when I heard it, I thought it sounded like they said, 'We're gonna make Pantera look like the Monkees, that's how heavy we're going to be.'" said French, who recalled telling Lajon, "Guys who can't sing do the Cookie Monster thing. You can sing."
"He actually went a little overboard in the beginning–he went completely death metal and was really angry, we had to tell him to do a little more of what he was doing before, that he didn't have to go completely apeshit, but he was cut loose and having fun–it clicked," remembered Connolly of their initial sessions together. The eventual result is a vocal depth-charge with the potential to shake the most stable foundation, swirling subtle melodic forays and jarring, punchy blasts with an uncompromising musical arsenal that out muscles any of today's heavy-music contenders. "Body & Soul was laid back and soulful, but Sevendust is my serenity," said the singer, who began practicing with Body & Soul when he was in high school, sneaking out of the house for rehearsals because his mother didn't approve of the Living Colour song she had heard him sing on their first tape together.
The final step was adding Lowery, one of the band's top choices for the second guitar slot, but an unlikely pick, since no one expected to pry him away from the local giants Still Rain, which featured both Lowery brothers. But once again, the unlikely unfolded as Still Rain started to dissolve and go off in different directions, with Corey leaving to join Stuck Mojo, and Clint finding himself the final addition to the band, then called Crawlspace. "Morgan's the one that broke up all the bands and formed the band, he's the devil behind it," Lajon chuckled, recalling the splintered bands that laid in the wake of Sevendust. "I figured it out, he's sneaky as hell!"
"His lucky ass got signed to the deal six months after he joined the band," joked Rose, commenting on how quickly Sevendust found themselves on TVT after solidifying their lineup. "It just lets you know my power," Lowery countered with a growl, which quickly turned to laughter all around.
The "power" seemed more of a curse at first, as the quintet's first show might have broken the spirit of many young bands. "The first show he ever did with us was a disaster," said Connolly. "It was a packed house, everyone was excited, and we only made it through three songs of a one hour set – all the amps blew on the first song, and it was terrible, the absolute worst… Actually, the first three or four shows were pretty rough." But things got better, leading to the fateful show that got the quintet noticed by TVT – another accident.
"We were playing a run down, tiny place during the Gavin Convention in Atlanta (February '96) and we never expected anyone to see us there, but it was a show,'' explained Rose of the brief set that a few TVT employees stumbled upon en route to an area strip club. Ironically enough, months later, it was also the band's live show that sealed the deal with TVT. As French tells the story, the label, upon hearing Sevendust's demo, faxed him a final contract offer, hinging only on seeing the band perform live. French told the band little more than that the label would be there, and was showing interest, knowing full well that with their explosive live shows, he'd be working with a signed band by the end of the night.
Even then, as successful as the night was (they got signed, obviously), the show wasn't trouble-free. "The first note of our first song, 'Bitch,' my guitar strap breaks and my guitar slammed onto the floor," laughed Lowery. "Then, they give me a strap that's like three inches long." "We had like 74 people on our crew," added Connolly dryly, "but none of them knew how to do a thing – they were all our friends who wanted free beer."
While all eyes and ears were focused on Atlanta's quest for gold during the Olympics last summer, the hard-hitting band quietly retreated to a local studio and recorded their debut for TVT Records. That's the last time you'll hear the word "quietly" anywhere near their name. As Crawlspace, the band contributed one of the more outstanding tracks to the platinum More Mortal Kombat soundtrack, the innocuous "My Ruin" – catchy, but hardly a hint of the fury their infectious blend of metallic fury can incite. With the name change (another band held the rights to Crawlspace), they have begun the latest chapter in what is sure to become one of the year's breakthrough success stories. With band influences and taste that away from the coffeehouse soul of Maxwell and supergroup Earth, Wind, & Fire, to traditional metal and "good ol' boy rock," there's more than your standard metallic grind being churned out by Sevendust, graphing the dual guitars over an adrenalized answer to the Atlanta Rhythm Section. "We're an alternative to metal that's melodic," offered the drummer. "We all love metal, but we're not only a metal band, we've got that soulful feel. We're all just fans of music, we listen to all kinds, from Sam Cooke to Ministry. I think that's what ties us together, we know what sounds good to us."
However, French observes: "Say what you will, but when you're No. 1 on every metal radio chart for 12 weeks straight, you are what you are, and you can't say you're not metal."