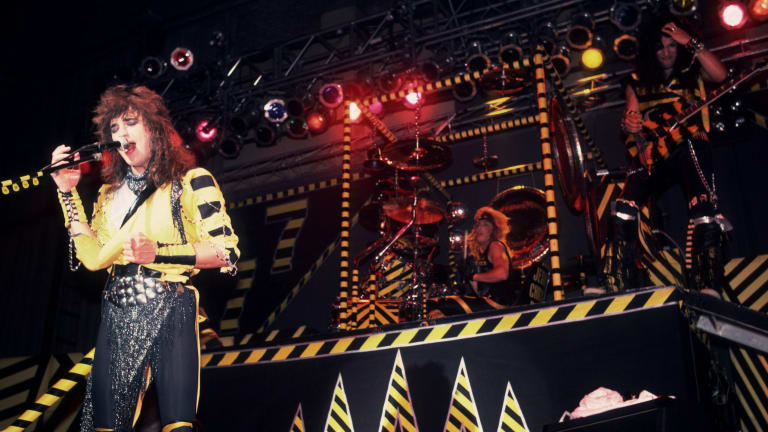 Stryper: Rockin' the world with a passion
Metal Edge catches up with the yellow and black attack in New York City
Metal Edge, October 1986
Heavy metal musicians who sing about God? A gimmick, right? Skeptics scoffed at Stryper's bashing brand of referential rock. But while some laughed, others listened – and liked what they heard. So while Stryper spread the Word, the word spread about them: they're four kick-ass players who can hold their own with the best of them.
Just ask any of the kids who crammed into the club L'Amour in Brooklyn, NY, where over 500 people had to be turned away from the sold-out concert. They didn't see the fully-lit or amplified show that Stryper brings to arena gigs, complete with drum riser and ramps, 28' logo sign, and a giant suspended cross [see photo above], but they didn't seem to care – the faithful, who sang along to songs from The Yellow and Black Attack and Soldiers Under Command, definitely got off on the music and the message.
Afterward, in the club's cramped dressing room, drummer Robert Sweet felt equally good about the show, but lamented the bare-bones presentation. "On a small stage you can only do so much," said Robert, who hopes to play Radio City Music Hall on Stryper's next trip to New York.
The band is spending the summer in the recording studio, working on To Hell With the Devil. "It's gonna be the best Stryper album yet," promises Robert. It's slated for release in September, when they'll launch a tour of Japan and Europe before playing another round of U.S. dates.