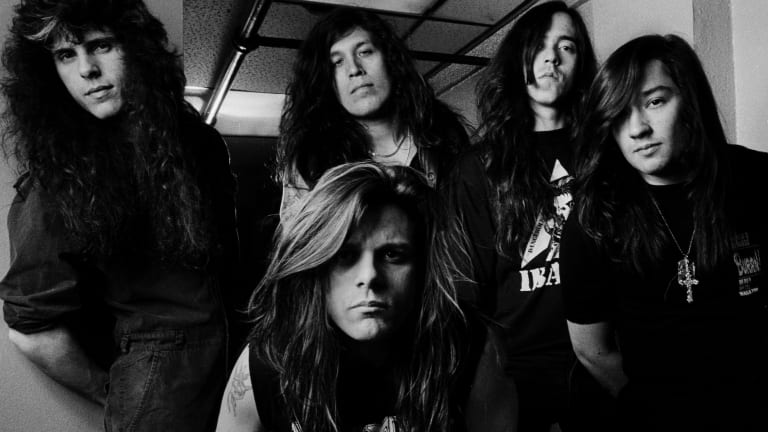 Testament: The Ritual unleashed!
Alex Skolnick takes Metal Edge deep into the band's creative process
Metal Edge, September 1992
Fans of San Francisco crunchmeisters Testament may be a little surprised by the band's recently released fourth album, but it's a safe bet they won't be disappointed. The Ritual – while still boasting heavy, heavy grooves and Chuck Billy's trademark powerhouse vocals – is a much slower, smoother ride than previous efforts. Production is fuller; songs are way more intricate. According to guitarist Alex Skolnick, "We had more time on this record, I think that's one of the main reasons it sounds so good. Some of the riffs started out the same way as previous records where the bass and drums were pretty much copying the guitars, but we had so much extra time that we did a lot of experiments with different bass lines and different drum patterns, and everything was recorded with a metronome so it would be more consistent."
The band's recent move from independent Megaforce Records to major Atlantic was one of the reasons they could afford more studio time. They also didn't have a headline tour deadline hanging over their heads as with 1990s's Souls of Black. Though used to working under pressure, recording in the face of a fast-approaching European Clash of the Titans tour immediately followed by a U.S. tour with Judas Priest couldn't have been the ideal situation. "It was necessary," reflects Alex, "and it wasn't a big deal at the time because the band had always written that way. However, I think that this time it clearly proved to be worthwhile to put more time into it."
For one, the band had more than enough songs before entering the studio. "It was a lot different than in the past where we've gone in with about eight songs knowing we'd need ten and just having places for the other two." Although they all agreed on which songs would grace the album, "We had a couple of extras just in case anybody changed their mind," says Alex.
The band began writing last August when Alex was still on tour with bass ace Stu Hamm. The previous May, Alex had gone directly from Testament's last tour dates in Japan to rehearsing with Stu, so once he got home, "I took a couple of weeks off just to get my head together." Not idle for long, "I wrote a few songs with a drum machine and a four-track tape recorder; 'Deadline' was one of them," he says of an obvious album standout. The infectious, fiercely grooving tune "wound up pretty unchanged because everyone liked it."
Generally, the process was more collaborative: "I brought in a bunch of other bits and pieces and gave it to them to modify and I took home a lot of their ideas and just rearranged the drums and bass, so it ended up working out pretty well. Eric [Peterson, guitar] and Lou [Clemente, drums] work really well with my drum machine," he laughs.
Several of The Ritual's tracks contain lyrics co-written by Del James, who's worked with Guns N' Roses, among others. Says Alex, "Basically, in the past, a lot of my lyrics were written at the last minute because everybody figured I was the best with words because I read a lot and write for Guitar for the Practicing Musician. However, I really don't know often what dark, heavy lyrics should sound like, especially because I don't think that way. Really, it's more Chuck's department. I don't think about the imagery and stuff, I think about the key changes and the modes of scales. With Del, Chuck had a partner who could help bring out the imagery that Chuck wanted to project, but still made sense from a writer's point of view."
When asked about his favorite tracks on the album, Alex naturally points out "Deadline," because, he says, "it really comes across the way I'd envisioned it. But I'm equally proud of 'So Many Lies' because the melody in that song is very haunting and powerful." As for his best playing, "I don't really know if I have a favorite guitar solo; in fact, I'm so self-critical. I don't know what I like and what I don't like!"
Obvious at first listen is The Ritual's full-bodied production, due in large part to veteran soundman Tony Platt (Iron Maiden, AC/DC). "Not every established producer is up for working with a band that's so heavy and not a guaranteed commercial success, but he was very into it," notes Alex.
One of the first things Platt got the band to do was record with a metronome. "It had been tried before, but it had never worked. First couple of times, everyone's mood was pretty much in the ready-to-give-up mode, but he kept everybody going. It's really good to have a producer who's that encouraging," Alex says. As an added plus, the album was mixed in London by Nigel Green, "Who got that enormous 'thank-you' on the Def Leppard Hysteria album," Alex chuckles. He's generally quite pleased with the outcome. "I had always wanted a sound like that even before the first record, but there were very few harder acts with a big production. It was before Metallica got into big production; groups like Motorhead and Slayer were always recorded with a pretty raw sound. This is the first time I think the production actually captures the ideas the way they were meant to sound."
These new songs should sound amazing live, and the band are definitely looking forward to playing them. Look for Testament on the road this summer.