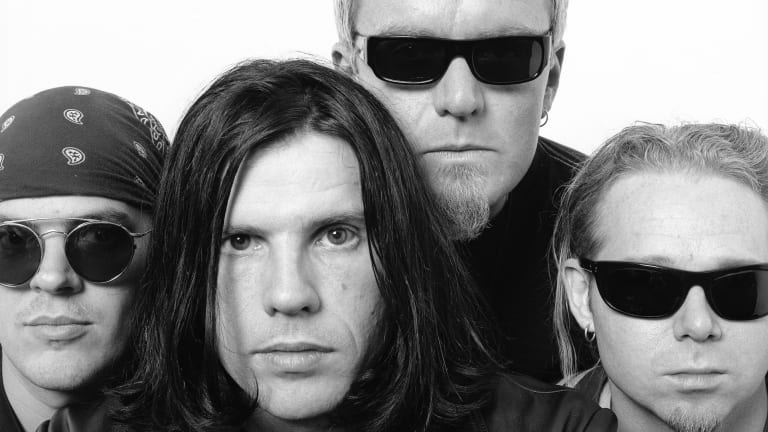 The Cult are standing on 'Ceremony'
'This is what I am and this is what I do, and here's my energy in your face,' Ian Astbury says
Metal Edge, March 1992
"We just went in and made a great record. We didn't try to make a grand production," says Cult leader Ian Astbury of the band's fifth and latest LP, Ceremony. "With Sonic Temple, I think we had our backs against the wall to come up with something commercially successful, which is why it got so cluttered sounding."
Ceremony, co-produced by the Cult and Richie Zito, is a simpler, more low-key affair than its Bob Rock-produced predecessor. "We let the character and the strength of the songs speak," explains Ian. "I don't think rock music sounds very good with too much production; in its earthy, rawest form, it's always best." First single off the new album is a classic Cult rocker "Wild Hearted Son." The video, which premiered on both Headbangers Ball and 120 Minutes – testimony to the Cult's diverse audience – features images of John Bonham, Sid Vicious and John Lennon among others. "They're all wild hearted sons," confirms Ian. "I just wanted images to project what I'm talking about; being constantly misunderstood and feeling alienated and saying to hell with it. This is what I am and this is what I do, and here's my energy in your face!"
Songs like "White" and "Indian" are "full of symbolism," according to the spiritually inclined singer, who believes his unique lyrical perspective comes from "having moved around a lot when I was a kid, constantly on the outside looking in and always observing." "Full Tilt" is "just about the adrenaline of physically doing it, playing music" while the ballad "Sweet Salvation" is "truly a love song." Ian describes its inspiration, his girlfriend Heather, as a "beautiful girl, a wild one. I have so much fun with her."
A lot has happened since the Cult got off the road in April of 1990. Immediately following the tour, long-time bassist Jamie Stuart quit, citing desire to explore other musical territory and spend more time with his family. "Haven't seen or spoken with him since," says Ian. "Then Matt [Sorum] decides he's going to a session with Guns N' Roses!" he laughs. "When I saw him, I said, 'It's cool, whatever you want to do is fine with me.' So, he's happy and they're happy and I'm happy they got what they wanted, got their shit together and got their record out," says Ian of his Guns pals. He has to chuckle about the irony of Ceremony's quiet release in the wake of the major Use Your Illusion hoopla. "They've always been omnipresent in our lives. Their first American tour was with us, they took our drummer…"
Ian spent the summer of 1990 organizing the original, highly acclaimed "Gathering of the Tribes" festival, which featured rock, rap, folk and American Indian dancers. It was the prototype for last summer's very successful Lollapalooza tour and several other eclectically billed tours. "I thought it would be nice to have a day where you could meet loads of new people, see music you'd never originally see, get turned on to something new… people went away with a good feeling," he recalls.
In November '90, Ian and guitarist/partner Billy Duffy started laying down demo tracks for the new album and looking for a rhythm section. After seeing Keith Richards in concert, they immediately contacted his bassist, Charley Drayton. "He's beyond talented," raves Ian, "I've never met a musician of his caliber." For the drums, they enlisted Mickey Curry, who played on Sonic Temple. The two provided what Ian was looking for. "I had a vision from the very beginning of putting together a major rhythm section, something we had never really consolidated in the Cult." He feels that "the songs are a lot looser, a lot more relaxed," as a result.
Neither Drayton nor Curry are touring with the band, however. Official new Cult members are ex-Lord Tracy bassist Kinley Wolf ("He's a monster, he plays with his fingers and that gets the shit happening") and 21-year-old drummer Michael Lee, formerly with Little Angels ("really young but he's got quite incredible talent"). "We're quietly confident," says Ian about playing live with the new lineup.
Ian's also happy about a personal victory over alcohol that's left him looking and feeling younger and healthier than he has in a long time. "For me, drinking was escapism; I think a lot of people get caught up in the fact that drinking is such an important part of the rock 'n' roll lifestyle and so is doing drugs and so is being promiscuous, and nobody else says otherwise." He's certain that he'll stay off the juice while on tour. "Nobody wants to see a fatty onstage anymore, the drunkard rambling about French symbolist poets."
In October, the Cult embarked on a 30-show European tour and had tentative plans at press time to play Brazil following that. As for the States, "It's either going to be December or January," says Ian. With four popular albums released stateside, the band is in the enviable position of having to pick and choose a setlist. "We've got a body of work, we really have," agrees Ian. "Hardcore fans want to hear 'Sanctuary' and 'Rain' and 'Revolution.' We'll probably do a load of stuff like that. I think we'll wind up being onstage for at least an hour-and-a-half, two hours."
Although eager to play the new material live, he admits that the audience reaction to old favorites like "Love Removal Machine" and the abovementioned oldies is a major rush. "That's the payoff for starting off in America in 1984 on a shitty bus with a heroin addict for a tour manager, getting left in airports, flying People's Express. It was worth it… We've grown with our audience, there's a relationship there and you can't buy that. The reward is that when you hit the stage, there's that communication there." He compares the Cult's success with that of bands that have come up more recently. "The whole thing with us is we're slow but sure, we're gradually developing. Each record reaches more people. It's a word-of-mouth thing with us, it always has been."