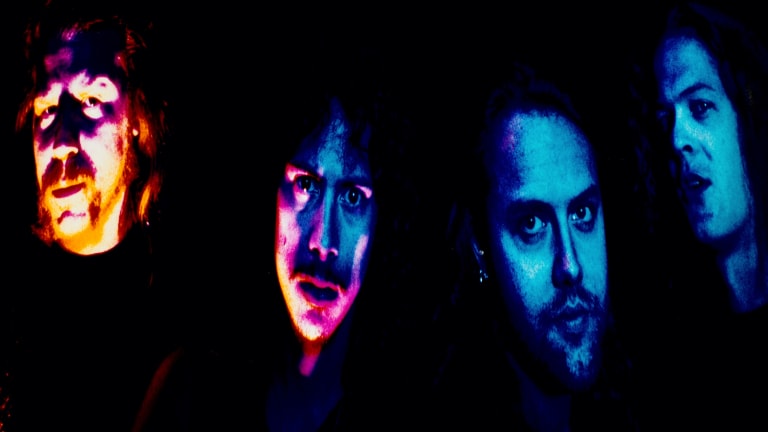 "The making of 'Metallica'? The making of hell!"
James Hetfield and Lars Ulrich open up about the year's most anticipated metal release
Metal Edge, January 1992
Undoubtedly one of this year's most eagerly awaited metal releases, Metallica's self-titled new LP has finally arrived. Less than 24 hours after the last track was mastered in mid-July, Metal Edge got to hear the finished product at Elektra Records' New York offices. The next day, we talked with the exhausted but elated James Hetfield and Lars Ulrich, both clearly and justifiably pleased with the Bob Rock-produced album. Metallica is a giant step out for the band, exploring previously uncharted musical territory while retaining power and heaviness synonymous with Metallica.
Although the plan was to spend less time recording than on the previous records, it didn't quite work out that way. Says Lars, "We were going for a looser thing, a little rougher around the edges, not so perfect. In theory, that would mean making a quicker record, but theories and Metallica don't go hand-in-hand; it took us twice as long as expected. It caught us by surprise how much more time-consuming it is to loosen up… we basically recorded in a whole different way."
From the start, the band valued Bob Rock's ideas and were willing to experiment for the kind of sound they wanted. "We were open-minded," says James. "We said, 'Suggest anything you want.' At the start Bob was a little hesitant: 'This is only my opinion…' but towards the end he was like, "Kirk, that solo sucks! Do something else!' "
It's obvious that Rock was the right person for the job, as according to Lars, "All the things we set out to do, Bob has definitely helped us with, and beyond that. He brought so many things out of us that I never thought we'd feel comfortable letting out, some of those more emotional things… there's a lot more emotions on this record, both kinds; not just in a sappy melodic way but also the angrier stuff has a little more weight behind it."
One of the album's more intriguing tracks is the ballad "Nothing Else Matters," featuring some seriously soulful singing on the part of James and a full-blown orchestral arrangement. "I wrote that on the road, actually, just me and my guitar," says James, "and it evolved into a pretty huge song." Lars remembers the song's genesis: "Last summer we did four weeks of touring in Europe and split up after that, but we all exchanged song ideas [on tape] that last day. I went back to Copenhagen and I'm sitting in the hotel room and the very rough demo of 'Nothing else Matters' comes on, just James and his guitar. I almost fell off my chair! 'What? Where did this come from? Is that Wayne Newton singing?!' The first thing I said to him when I saw him was 'This has got to be a fucking song, it's brilliant, I don't give a shit what people are going to think.' "
Did Lars know James could sing like that? "I don't know where he's kept that stored up, he never told me about it, and I know him better than anyone else!" As for the song's string arrangements, "I'm really big into giant orchestrations," says James. "I've always wanted to do that. Michael Kamen, who does movie score arrangements – he did stuff with Pink Floyd on The Wall – did it. We told him, 'Don't be nice with it, no little pop strings.' No, he went full on, fucking big brass, woodwinds, a 30-piece orchestra playing a Metallica song, ha ha."
First single/video "Enter Sandman" is very atypical for Metallica in an entirely different way. "It probably defines all the shit I've been saying about shorter songs, simpler stuff," declares Lars. "It's basically a one-riff song and every part of the song is derived from the main riff… if you had asked me a few years ago if I could imagine playing a song without a drum fill I would have thought you were on smack or something! [On this album] I think I finally felt comfortable enough about my drumming ability to simplify things."
Although the band hadn't yet seen the Wayne Isham-directed video in its entirety at press time, they were confident it would fit their specifications. "We want it presented like the 'One' video where you leave enough to the imagination so people can deal with it the way they want to. I think that's the scary thing about videos, when they're too direct." Says James about the "Sandman" clip, "It could have easily been very corny with a kid in a bed and his toys come alive. We're more into the mystique kind of thing, disturbing stuff; it's going to deal more with real dreams, recurring dreams that people really have."
Another definite standout it the Eastern-flavored "Wherever I May Roam," featuring road-inspired lyrics and an Indian sitar. Which guitarist played it? "Me, me, me!" claims James. "Kirk plays solos and I do all the other goodies on the album. It wasn't an actual big one, but an electric sitar made in the '50s or '60s." He laughs at then image of himself playing the real thing, "Yeah, I put on a towel, 'Where's the bedsheets? James has 'em on!'" The atmospheric mood of this and other new songs enables the band to "put different instruments on the album. I've always wanted to," admits James, "but we never had the right songs for them. 'Hey! Let's put a banjo in "Blackened!"' (laughs) It wouldn't have worked."
Lars and James anticipate the obvious question regarding the pounding "Don't Tread on Me." No, it's not about the Gulf War," explains the drummer. "It was written last August before Iraq and Kuwait even existed in the newspapers. In its own Metallica subtle way, it's about being proud of being American. It just seems we spent the better part of the last two records just bad-mouthing everything in this country…" Lyricist James has his own explanation: "It's basically telling a story about this flag became our logo for the Revolutionary War." So is James into American history? "Nah, I was never good in history, I'm awful with dates. I can't even remember when we did the Ride the Lightning tour! Those keen of ear will recognize the "America" theme from West Side Story that opens "Don't Tread on Me." Acknowledges James, "Leonard Bernstein's on our album!"
Although Lars and James are the main songwriters and arrangers, the move toward a livelier, simpler sound required the entire band's efforts. "Getting Jason to lay back as much as he has, that was a real triumph for him and for us; getting him to simplify wasn't something that he was too sure about right in the beginning because it's difficult to tell someone who can really play this all this incredible bass stuff to just play straight eighth notes…" In the end, though, "We just did what's best for the band. We're all pretty egotistical, believe me," Lars laughs, "And putting your ego on the shelf is not the easiest thing to do, but when you hear how much more in place everything sounds, it feels fucking great and we're all thrilled about that." According to James, simplifying actually resulted in an expectation of sorts. "There was a lot more room to get what we've learned in the past year out. With Kirk, I kind of simplified some of the rhythms so he wasn't chasing me all over the place. He does some lead work that stands on its own."
Another first for Metallica was the presence of a video crew in the studio during the recording of the album. The making of Metallica? "The Making of Hell!," jokes James. "300 rolls of film or something; I'd rather not sit and edit that! It's just something to kind of document things on down the line, 'Oh, that's how they did that,' seeing who played what parts. They basically took six songs and went start to finish with them."
Metallica have just finished up a 20-something date European Monsters of Rock tour and plan to start touring state-side later this month. Lars isn't looking forward to choosing the set list, a task that gets harder with the release of each new album. "It's so fucked because there are 12 new songs on the album and I like all of them. I don't know where to start! We can't play the whole album, so we gotta pick six or eight songs… what four or five do we leave out? It gives me a headache just thinking about it!" Regarding the songs he looks most forward to playing live, he chuckles, "I think the first time wherever it be that we play 'Nothing Else Matters' live, that is going to be a pretty interesting moment for a lot of reasons… I just love the look on people's faces when they hear that song because it's usually one of amazement!"
America's most uncompromising metal band has done it again. Never ones to play by the rules or take their cues from other artists, Metallica have released a surprising record that should only broaden their fan base. Congratulations, guys!