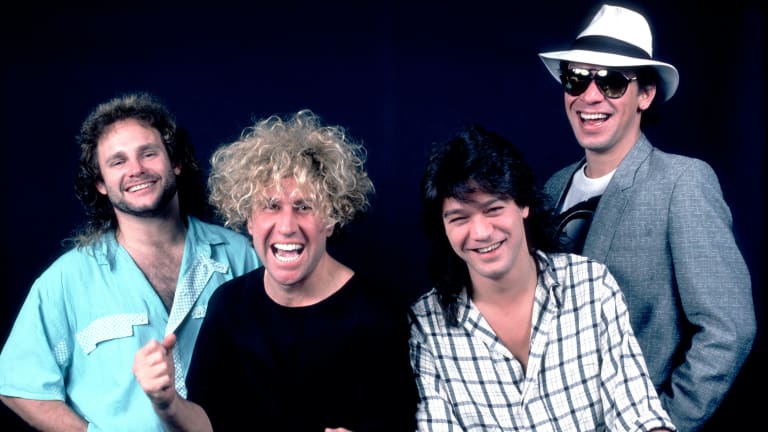 The new Van Halen: Revamped, revitalized and ready to rock
Eddie, Alex and Sammy say hello to Van Hagar
Metal Edge, May 1986
Rumors had flown wildly for months, but last October suspicion became fact: Sammy Hagar had replaced David Lee Roth as lead singer of Van Halen. It's no secret that in the past year, the rocky relationship between Dave and his bandmates had deteriorated past the point of no return. They'd tolerated the flamboyant frontman's spotlight-hogging antics through eleven successful years, but Dave's increasing emphasis on his solo career was the last straw. It was time to regroup and go on. But would the new combination work? Six multiplatinum LP's, including the seven-and-a-half million seller 1984 (including the #1 single "Jump") is a lot to live up to. Would Van Halen still be Van Halen without Diamond Dave? These questions were on my mind as I parked my rented Camaro next to a line of shiny Maseratis and Lamborghinis at Eddie Van Halen's house in the Hollywood Hills. After a photo session in the exercise room above the recording studio Eddie built in his guest house, we convened poolside and I got some answers.
"This is the real Van Halen," says drummer Alex. "It's something that's bigger than life, and we're fortunate that the four of us can make great music together. There's a certain magic amongst the four of us, something that's never happened before." But when asked to detail the differences between the old vs. the new Van Halen, he declined to elaborate (though there's no love lost between the veterans and Dave, who they refer to as "the other guy"). "There's one thing we don't do, and that's look at the past," says Alex. "Who cares? We're going toward the future."
While Van Halen can't stop critics from comparing – as they'd do with a new release in any case – the band is confident: "There'll be no comparison, as soon as people hear the music," says bassist Michael Anthony. True enough. They played two cuts from the album, "Love Walks In," a power ballad, and a burned called "Get Up," and I was blown away. 5150 (police code for the criminally insane) is due this month. "I write most of the music, Sammy does the lyrics, and we all piece it together," offers Eddie.
Sammy, who calls their sound a hybrid of his and old-Van Halen styles, believes "It is better than anything any of us has ever done. The music is kicking my ass. I play it and I go 'Damn! It's really, really good." I'm real excited about being part of it." Sammy who'd done two albums with Montrose, recorded three solo LPs (Standing Hampton and Three Lock Box, both gold, and the Platinum VOA), and was one quarter of the HSAS project, was doing fine on his own when Eddie called him in July. "I had just finished the tour and I was going on vacation. Then the phone rings," Sammy recalls. He came down from San Francisco and met with the guys to discuss legalities and logistics. "Then we played some music and that was it. It was so special and unique that I just said 'I gotta do this, I don't care if it's for ten times the money or half the money, ten times the fame or half the fame' – none of that even came into consideration." At the time, Sammy and his band were about to record a new album, and the guys "weren't thrilled" with Sammy's decision. "It came as a shock," he admits somewhat guiltily. "That was a drag. But they're great musicians and they'll do okay," he says.
Sammy has no doubt he'll be accepted in his new role. "People know who I am, what I do. It's not like they got some new guy no one has ever heard of." He's had no trouble adjusting to being an equal partner. "I had more trouble with my old band when I wrote the song and said 'do it like this' than here, with everybody contributing equally," he says. "It's really jelling great."
The new combination seems to be working on all levels. "The reason we get along is because we are so much alike. We laugh at the same things," Alex says. "We have a good time – hell it's all we do," adds Sammy, whose musical roots parallel his bandmates. "Eddie says his favorite album is Disraeli Gears, and I go 'Yeah, me too!' That's important."
"We all come from musically-oriented families," says Alex, whose father, a professional musician, raised them on the classics. "I think Ed and I were influenced first by the Beatles and the Dave Clark 5." For Sammy, "It was the Stones more than the Beatles. Later on I became a fanatical rocker – Cream and Hendrix all the way." Similarly, Michael progressed from his sister's Beatles albums to Hendrix, and hooked up with the Van Halen brothers in '74. They kicked around the bar circuit until they got a record deal in '78, and they've been filling arenas ever since. They'll be back on the road in March. "We want to solidify the fact that the four of us are Van Halen," says Sammy, who is "jacked up out of my mind" about this tour. So are his cohorts. All are married and have beautiful California homes, but "For us home is behind our respective instruments," says Alex, "weather it's on stage in front of 20,000 people or in the studio, as long as we're making music."
Beyond the tour, Van Halen isn't making specific plans. "When you set a goal and achieve it, suddenly you get bored: 'I've reached the plateau, now what?' We just go with the wind and see where it takes us," Alex says. Although the guys would individually consider guest musician gigs, and Eddie would like to do more film scores (he scored The Wild Life) Van Halen comes first. "It's full time fun," says Eddie. "We do whatever we please. Kids forever. Peter Pan." Adds Alex, "There are so many people who do not live their lives the way they want to. We do." Nevertheless, he discourages would-be rockers from going into the business just for the lifestyle and the stardom. "Your heart has to be in it," he warns. The moment you start losing that is the moment to go sell used cars." However, Alex says he still hopes to be at it in 20 years, pointing out that Buddy Rich is still banging away at 68.
In any case, Van Halen looks solid for another decade at least. They're not the same, but they just may be better. Energized by new blood, Van Halen is ready to burn.