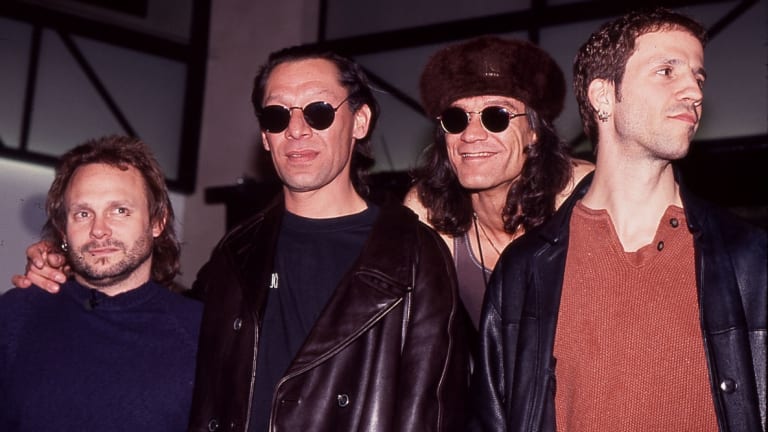 Van Halen go to extremes: Roth's out (again), Gary Cherone is in
Eddie, Alex and Mike reveal how it all went down
Metal Edge, February 1997
When Van Halen parted ways with singer Sammy Hagar in June and extended an olive branch to original front man David Lee Roth to record two new songs for the Best Of Van Halen album, ecstatic fans took that as a sign of a more extensive reunion, especially when the foursome appeared together on the MTV Video Music Awards on Sept. 4. But by the time of the event – and possibly because of what transpired there – it became clear to Van Halen that the underlying animosities that caused the initial rift hadn't gone away, and that the relationship was not going to continue.
Roth, who sources say irked the band – Eddie Van Halen in particular – with his spotlight-hogging antics and comments backstage at the VMAs, was devastated to hear he was the odd man out again, and issued a statement on Oct. 2 giving his side of the events. The next day, Van Halen issued this response:
"We parted company with David Lee Roth 11 years ago for many reasons. In his open letter of October 2, we were reminded of some of them. The intention all along was to do two new songs with Dave for the Best Of Volume 1 package. He was never led to believe anything but that. When the four of us were asked by MTV and Warner Bros. to present an award at the 1996 MTV Music Awards, the four of us agreed. Dave was never an "unwitting participant." We appeared in public just as we do before releasing any other Van Halen record. For the last two weeks we have been working with someone who we hope will be part of the future of Van Halen, although no final decision can be announced until contractual considerations have been resolved. Van Halen will go forward and create the best possible music that we can."
However, on Oct. 4, Van Halen confirmed what had been rumored for a few weeks and alluded to in an Oct. 2 press release announcing the breakup of the band Extreme: Gary Cherone, front man of that Boston-based outfit – which has been managed by VH manager Ray Danniels – had been tapped as the band's third singer. In an L.A. radio interview that morning, Eddie called Dave's "open letter" contradictory, stressing that he was never told he was back in the band, and that Gary, who he described as having "the balls of an elephant and the voice of an angel," was not officially chosen at the time of the VMAs.
The following afternoon, Eddie, brother Alex Van Halen, and Michael Anthony appeared at the F Music Fest to accept awards for Outstanding Contribution to Music, for the 10 million sales certification of their debut Van Halen album, and a plaque set to inaugurate the Star Walk on Hollywood's Sunset Strip, and afterward held an invitation-only press conference in a private room of the Hollywood Palladium, which Metal Edge was cleared to attend.
When we mentioned the furor raging on the Van Halen bulletin board of America Online, Ed said, "unplug it," prompting much laughter. But we persisted, asking why if David Lee Roth was not in Van Halen they appeared on the MTV awards with him. "Because Warner Bros. and MTV asked us to and we did it like we would [for] any other record. We agreed to it and we did not tell him he was in the band before we went, and he goes on Howard Stern four days later and said he was in the band, he's contradicting himself." (In actuality, Metal Edge heard that it was more coercion than request on MTV's part, that the channel had threatened to boycott Van Halen videos unless the foursome showed up.)
Alex, chronicling the steps to Gary joining Van Halen, noted that "Ed and Mike and I decided we'd spend a week with a number of different people and see what the chemistry was like, and it didn't take long to figure out that the chemistry with Gary, not just artistically but in every way, really worked." But fans of Extreme may be in for a surprise, as according to Eddie, Gary may sound different this go-round. "We don't have any preconceived ways he's going to be or sing with Van Halen. The music will speak for itself. The collaboration and who you're working with dictate how it's gonna sound and with us it's going to sound different than Extreme. In the last week we've written seven songs," added Eddie, but he stressed that Gary had come aboard only "about a week and a half ago."
The band planned to record with Gary up to and after Eddie's Dec. 15 hip replacement operation, which will require three to six months recuperation. "But I will be able to write and record, laying on my back in bed," he said. "If everything goes according to plan we should be on tour in springtime," added Alex.
As for the Best Of compilation, Eddie said revisiting the old songs brought back "a lot of memories, lot of good times. I think part of the music is how you remember what your life was like at the time. I'm sure everybody has a memory of where they were the first time they heard a certain song, whether it was the backseat of a car at a drive-in or… There are also fans whose first exposure to the band was the Balance record and we have 10 other records, so we're giving them a taste of each one," he said. "I think it's important for people to have some sort of chronological sense of where we were in 1978 to where we are now in 1996," Alex noted.
Van Halen had planned to shoot new videos for "Me Wise Magic" and "Can't Get This Stuff No More," "But Dave didn't want to be involved, the ball was in his court and he didn't hit it back," said Eddie, who had no regrets about working with Dave on these songs. "We made a lot of good music together and had a lot of great times," he summed up the past, and Alex concurred, "I prefer to remember the good years that we had. There isn't a single record that we ever made with Dave or with Sammy that we're embarrassed or ashamed about. I want to say that Ed, Mike and I have nothing but the utmost respect for Dave and for Sammy, all the best to them from our hearts, and it was just a situation that stopped working. In a marriage you'd say it's irreconcilable differences or whatever, it just didn't work anymore. People change over the course of time, it's that simple. What I don't understand is when somebody leaves all of a sudden they have to become angry." "And contradict themselves," Ed chimed in, expressing his relief that Gary showed no sign of LSD – Lead Singer's Disease. "If he ever does I'm going into movie scores," he cracked.


Will the public accept yet another singer in Van Halen? Some cyberfans, protesting on principle, have organized a boycott, complete with website. Others are open-minded enough to reserve judgment until they hear the music that the new lineup comes up with. And it's probably not the last time we'll hear from Roth, now getting a boost from the sympathy factor. We'll keep you posted.