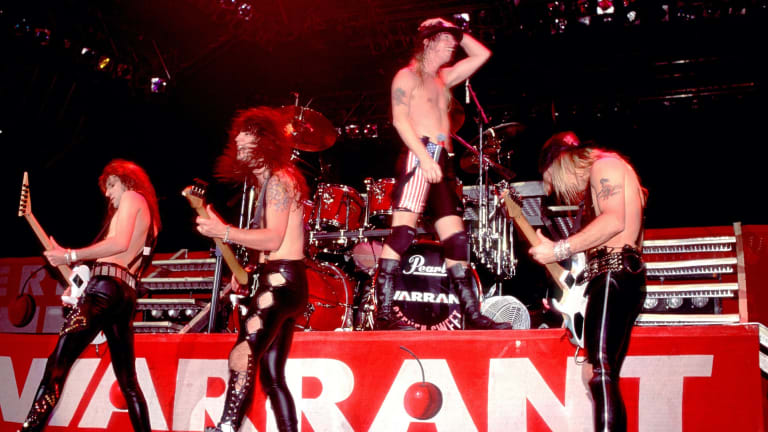 Warrant talk life on the road, extracurricular activities and… fatherhood?
"We've overdosed on 'Cherry Pie'!" Erik Turner says
Metal Edge, April 1992
ROAD RECAP
Erik Turner: We had a great time, but after 13 months, I'm so happy to be home. We've overdosed on Cherry Pie!
Jani Lane: The best thing was that we had a tour. We always looked forward to headlining. We had industry people and fellow bands saying, "You're crazy, you'll never pull it off, it'll flop." I think we proved ourselves to a lot of people. It wasn't an easy summer to tour. But there wouldn't have been any tour at all without the fans. We did 86 shows, never had a bogus crowd. Cleveland, OH was great, I had my whole family there. Red Rocks in Denver, awesome crowd, awesome amphitheater.
We did leave the stage early in Lubbock, TX. It started with them throwing stuff during Firehouse, and then somebody threw a Jim Beam bottle at P.J. [Farley]. Then we got on stage and halfway through the first song I got hit in the eye with a quarter. Later in the set I got hit by a buckle in the forehead. I put my guitar down and walked off stage. I told the promoter, "I didn't come here to be a target." So for the first time in 400 shows I walked off in the middle of a set. It was a real shame. Five-thousand people want to see the show and half a dozen assholes ruin it for everybody.
Otherwise, the crowds were great. We jammed a lot in clubs with bands, hung out quite a bit with Firehouse and Trixter. We got along great. We had no disputes over stage room or anything. Everything went smooth. Everyone treated each other with respect, like friends.
EXTRACURRICULAR ACTIVITES
Turner: I'm going back in to do some demos with Shake City, and I've been taking Swingin' Thing's tape to the labels. Several people are interested.
Lane: I sang on a couple songs on Roy Blue's record ["Too Hot to Handle," "Rob the Cradle"]. I wrote one of the singles on Fiona's record, "Life on the Moon." I'm singing on a song I co-wrote on Risqué's record called "I'm What you Need," a duet with Dave [Brooks]. I also did some writing with Queen Anne's Revenge. I wrote a song called "The Power" for a movie with Brian Dennehy. The tentative title is Gladiators. It's about gangs and illegal boxing. We may do a cover of "We Will Rock You" for it. I executive-produced Risqué's record, co-wrote with them and introduced them to the labels, took them on tour. I'm partially responsible for getting them signed but I believe they would have been signed anyway. They're a great band. Queen Anne's Revenge is signed to my production company. They're gonna be huge. I can't imagine anyone who likes hard rock not liking this band. They have a real cool groove. They kick ass, but I don't know if I have the time to produce them.
I get offers all the time to write, produce, do more movies, but I feel if I got too involved I wouldn't be able to put 100% into Warrant, and that's my primary objective. I'll save the other stuff for when I'm too old to rock 'n' roll. Right now, 99% of my time and 110% of my effort goes into Warrant.
ALBUM #3
Lane: I have lots of stuff written. It's pretty groove-oriented. This time we're going almost immediately into the studio when we finish demoing.
Joey Allen: The stuff I'm writing is along the lines of "Sure Feels Good to Me."
Turner: It's gonna be exciting – new songs, a new producer, Michael Wagener.
Lane: Michael and I vacationed together in Hawaii, and we hung out and got along great. He lives down the street from me. We've kidded around about doing a record together for a while. Beau Hill is very busy with his label and doesn't have time to do the outside projects he used to. We also wanted a change. I don't want anybody to misconstrue this. I think Beau Hill is one of the best producers in the world for rock 'n' roll, but there are times you have to make a change. It's part of growing. Michael is a little heavier producer. He's a little more guitar- and vocal-oriented. I think he'll bring a whole new vibe to the band. You'll know it's Warrant but It'll have a little different texture this time around. I feel it's gonna be a heavier record, a lot more groove-oriented, which I dig.
FATHERHOOD
Allen: It's different. I'm into it. It's probably the only thing that'll teach me patience. She [daughter Kylie Jo] loves drums and bass, pounding music. She falls asleep to it. She's a cutie.
Lane: I'm psyched! I can't wait. Her name is gonna be Taylor Jayne Lane. I'm looking forward to it. But marriage, the fact that I'm gonna be a dad, none of it has made a major change in me or anything. It's not like I don't go out and party. I still have fun, I still rock and I still get drunk and shoot pool. I'm the same person. I still dig going out to clubs and seeing bands and jamming with them. Everyone thinks, "Oh, he got married and he's gonna have a kid, he's gonna turn into a fuddy-duddy wet blanket," and that's not what it's like at all. I like not having to go out and screw everything on two legs to validate myself as a human being. I like knowing I can concentrate on music and partying and I don't have to worry about getting laid every night because I have a wife and I am happy with her.
FUTURE KIDS
Allen: We're not ready for a second one yet.
Lane: This is the only one we're thinking about now, the only one we're planning on having for the next few years. I don't want to get in over my head!