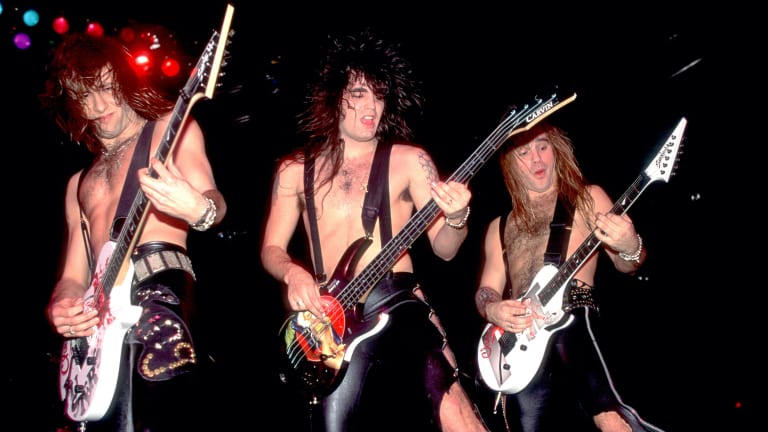 Warrant throw 'one big party from hell'
Rocking and rib-breaking on the road to 'Cherry Pie'
Metal Edge, October 1991
"One big fuckin' party from hell: Big stage, big lights, big explosions, and big guitars" – that's Erik Turner's description of Warrant's first headlining tour, which is rocking the country this summer as "Blind Faith," the latest smash Cherry Pie single, climbs the charts and rules on radio and MTV.
"It's the first time we get to use pyro and effects and have a big stage," says Jerry Dixon, noting that it requires four semis to move all the equipment (including a huge metal W acquired from Whitesnake) and three buses for the personnel (one band bus, two for the crew). "You know how much we run around. Wait till you see us on a big stage," says Joey Allen. "We're concentrating on making the show the best it can be in each city," adds Erik. With Trixter and Firehouse opening up the triple bill and ticket prices reasonable (average: $12, less for lawn seats at amphitheatre shows), this concert is maximum bang for the buck.
Warrant warmed up for the tour with concert trips to Japan and Australia, which were a complete success – they sold out four shows in Tokyo, one each in Osaka and Nagoya, and four more in Australia (Adelaide, Brisbane, Melbourne, and Sydney), where they went platinum and got a gold single for "Cherry Pie," which hit #1 while they were there. Fans followed them everywhere and showered them with gifts in Japan, where they shot a new version of "Cherry Pie" to test out a new 3-D video system. "It was fuckin' great. We all got extremely rotted," recalls Joey. "We drank seven cases of sake in two weeks and 10 cases of Foster's," adds Jerry. "It was pretty much a blur."
On the down side, Joey got the flu and suffered with it for five days, including the 15-hour flight home., and Erik broke two ribs on their last night in Australia in a wrestling match with roadie Donnie Hulett. "I get more aggressive when I drink," Erik explains. "The next day, I was in pain. I thought I'd just pulled a muscle but it didn't feel right. I went to the doctor and he said, 'How could you do this and not know it?' 'Cause I was fucked up! But when I was sober I was in hell." Now, fortunately, the ribs are "healing fine," he says.
Otherwise, the trip was "fuckin' awesome," all three agree, and great preparation for the current tour. They played a 15-song set (including some not previously performed like "Rainmaker" and "Thin Disguise"). It definitely gave us confidence. We did 6,000 seaters, all sold out. We knew we could come back here and kick ass," says Jerry.
On the personal front, Joey and his wife Kathy are excitedly awaiting the birth of their first child in September, and Jerry's still cozy with actress Susan Ashley (who shot a pilot for a Candid Camera revival with Dom DeLuise), ditto Steven Sweet and his sweetie, Kathy Rabil. While Erik broke up with girlfriend Kim Williams, Jani Lane and Bobbie Brown are now engaged, though no wedding date has been set. Right now, the tour is priority one. "We just want to get out there and play for as many people as possible, so come on down," invites Erik.