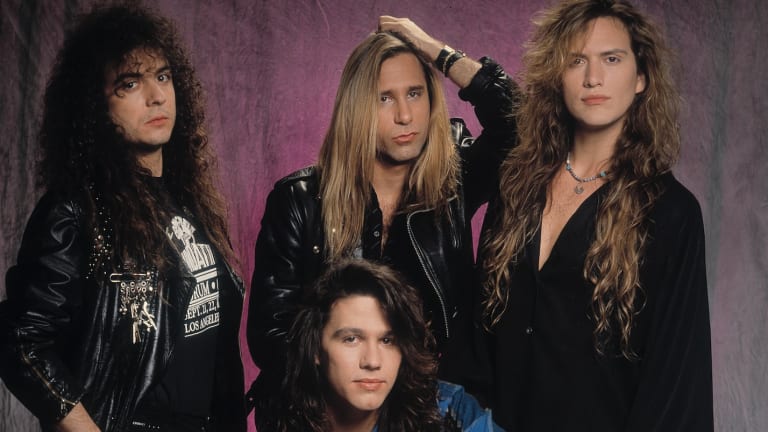 'We rolled ourselves into a big snowball and hoped that the snowball wouldn't melt': Slaughter fly high with 'The Wild Life'
Mark Slaughter, Dana Strum and the boys go deep on their second album
Metal Edge, July 1992
Two years ago, Slaughter mined double-platinum success with their debut album, Stick It to Ya, which propelled then to stardom on the strength of songs like "Up All Night" and "Fly to the Angels" and kept them touring for over a year. Later this month, the band makes a bid to do it all over again with second record The Wild Life.
Based on several studio visits, we can assure you it shreds. No sophomore slump here. Mark Slaughter, Dana Strum, Blas Elias and Tim Kelly have surpassed their first effort with this 12-track menu of monstrous rockers (CD buyers get 14) and beautiful ballads, which was produced by Dana and Mark and recorded at Red Zone studios in L.A. (as Stick it to Ya had been). We spoke with them at length – as you'll see, Dana and Mark did most of the talking.
Did you have a strategy going in to make the album?
Dana Strum: Let's start out with a bang – let's let people know we're back in a different way than a lot of them expected. Make a great record, not be scared of anything. Listen to what the kids we met on the road had to say.
How would you compare The Wild Life to Stick It to Ya?
Mark Slaughter: This is more of a live record.
Strum: I think the energy level of this record is much more in agreement with the live vibe. We hope we can take people on an interesting journey.
Slaughter: It is definitely nastier, but it still has ballads. It has every element of emotions.
Strum: We could have done a record that was sappy and glossy just to guarantee us airplay but we wouldn't want that. We always want people to go, "Oh God, have you heard this?" crank it up and have a good time. I want someone to tell their friend, "You gotta fuckin' hear the new album, you're gonna die when you hear this," rather than "This is a good song, it'll be on the radio."
Blas Elias: It's definitely a growth from the first record, where we basically had to prove ourselves musically. A lot of times we had to lay back, hold back, not experiment or go off on weird tangents. Now we have the freedom to do that. Dana says, "All right Blas, this time we're going to go for it, go ahead and be wild, be sloppy, let's just get the attitude, get the feeling." We went in a lot more for that this time and I was able to bring back a lot of my real influences, like Neil Peart from Rush. There's some complex drumming on here. I made some additions to the drum set – more toms, different types of cymbals for different sounds, special effects. We're bringing some of what we learned on the road back into the studio.
Strum: Our first record was written in two-and-a-half weeks. This one was too, except we spread it out. We write, arrange, go and record so we can hear it, then do it. We went in and tried to put the vibe and the attitude of the songs down. The demos are very good representations – we try to improve on those for attitude and execution. We got very lucky again. Fate was definitely on our side.
Elias: Drumming-wise, we worked in pre-production, getting the parts together, arranging songs for about a month. Then it took about a week to do all the tracking – a couple of days choosing instruments, getting sounds and laying it down, which was the easy part. I was there when Mark and Dana wrote the songs in Mark's living room. I made notes and when I found that something wasn't working or could be improved upon, I definitely put in my two cents. I'd take the notes back and work on the drum parts by myself, and when we went into the studio, I was prepared for it.
Is it easier in the studio the second time around?
Slaughter: Yes, I think it gets a lot easier, but when you have a band full of perfectionists it makes it harder because we're always very meticulous in trying to find the best possible way of playing it.
Elias: Yeah, definitely, because we're more at home in the studio. It wasn't that hard on the first record because we'd done demos in a real studio, but definitely this time we're familiar with what we're aiming for. Back then, we didn't have a real solidified target to shoot at. Now we've been out in the world, we've met the people we're playing for firsthand, and we got to understand what they like, what they grew up on, and what they wanted to hear. When you're putting together songs, I think it's a lot easier to have an idea where you want to go. Because we had more freedom this time, we're not so worried about pleasing the record company, pleasing anyone else. We have sales to back us up.
Strum: Part of what makes our records our records is that they're done with good spirits and good feeling involved. You have to be serious about time deadlines, but you can't let them govern your life.
Not many bands did as well as Slaughter did the first time out of the gate. How do you account for your immediate, widespread success?
Strum: We went out and met people, we went to the streets. We rolled ourselves into a big snowball and hoped that the snowball wouldn't melt. We got very lucky – it didn't. We did some unusual things. We made a real effort to meet people one-on-one. Our meet-and-greets were huge. We had cafeterias full of people. We made meet-and-greets an everyday occurrence. We were in people's faces.
What else?
Strum: I hope the music, the uniqueness of Mark's voice, the face that we wrote what we felt and talked openly in interviews. No, we're not writing about political world issues, we're writing about good times, about things that can happen in your life. We're writing about ways to make it easier to deal with the things that affect your life, and hopefully when you go see Slaughter it's going to be loud, fun, a good time, and you'll leave energized. We're also a self-produced band – that's something else that makes us different.
These days MTV isn't supporting a lot of bands they did in the past. Concerned?
Strum: MTV is America's biggest radio station and there's a lot of reasons to believe that they'll play more rock. I hope we're one of the bands they'll play. If not, we'll go earn it. They did embrace the band, which added incredibly to our success. If we're lucky enough to get that again, cool. If not, we'll go earn it. We'll take our music to the streets.
With the bad economy, people have less money for records and concerts.
Strum: I wish people would have their jobs back, and things they had when the economy was good, but I think for us not to put out a record full of good times in a bad time would be a real mistake. Give people something positive. I believe there's always a market for guitar-oriented rock that's got songs, value, everything America stands for. We wouldn't run from the times – we challenge the times.
Stick it to Ya was a double platinum success. If you didn't match or top that this time, would you be disappointed?
Strum: If we did half of it, I wouldn't feel disappointed. A million records is a million records.
Slaughter: To think that two-and-a-half million people actually took the money out and walked up to the counter or ordered it through the mail, that's great.
What are your tour plans?
Strum: Looks like stadiums with Kiss in Europe from May 15 on, starting in England. Then Japan on our own. I don't think we'll be playing the U.S. until summer, end of June at the earliest. We want to give people a chance to hear the new album.
Plan to headline?
Strum: It depends on what we're offered. If there's a lot going on out there, I'd rather do 3,000-5,000 on our own.
Have you thought about the set list?
Strum: You'll definitely hear "Times They Change," "Days Gone By," "Reach for the Sky," "Wild Life."
Elias: There's a lot more depth to the show in general, and we're planning a lot bigger of a production. The live show is going to improve immensely and we're really looking forward to playing again. This time we're really focused. As far as my drum set goes this year. It's not going to be the biggest production thing, but it's definitely going to be different.
Details?
Elias: Not yet, but it's going to be cool.
Slaughter: This is going to be an exciting year for us, no doubt about it.
THE WILD LIFE – TRACK BY TRACK
"REACH FOR THE SKY"
This heavy, massive-sounding lead track was almost the album title – until Slaughter was reminded that Ratt used it first. "It has the edge, the attitude," says Dana. "It's the hardest-edged thing we've done thus far in our career. We wanted to hit people with impact, let them know we're back. The message is there's nothing you can't do. It's very positive. It's saying, 'Go for your dreams, go for anything you can and you'll probably achieve it if you keep fighting.' "
"OUT FOR LOVE"
A four-on-the-floor rocker, this song "went through several incarnations. It was on a tape Merk sent in before joining VVI," says Dana. "It's resurfaced, and quite a bit different. None of the lyrics are the same, just the title and the original idea. Obviously, everybody's out for love at some point in their life, as in having sex and good times." Adds Mark, "It's an all-out party concert tune."
"SHAKE THIS PLACE"
"It's true Slaughter," says Mark of this up-tempo song, deeming it perfect for "hopping in a car and driving to a party." Dana says "it has a double meaning – it can refer to movement of a building, but also the expression, 'We gotta shake this place, get out of here.' It's a good driving tune."
"DAYS GONE BY"
This great ballad was demo'd for, but not used on Stick it to Ya!, and was restructured in the interim. According to Dana, it's a mirror of lifetime milestones like graduations, moving out, getting a job, good times and bad times. "It's definitely a reflection of times, friends, events, the things that have happened in your life and people who have been there by your side through thick and thin," Mark describes.
"DANCE FOR ME"
"It's about getting away from your day job, going to a rock 'n' roll show, and going backstage – but when all is said and done, backstage is not really that glamorous," says Dana of this catchy, cool rocker. It includes crowd screams taped at Slaughter's first sold-out show at Hammerjacks in Baltimore in Summer, 1990, and Mark singing "The Stripper" a cappella in response to some backstage ecdysiasts in Kalamazoo, MI.
"TIMES THEY CHANGE"
An epic rocker that runs the gamut in terms of tempo and mood, this song "goes through a roller coaster of emotions. It's different from what anyone would expect to hear from us," says Dana. "It takes you from the lows of 'Fly to the Angels' to higher than the highs we've ever done in one song. When you leave home, it's always a real scary feeling. We wanted to tell people to hold your head up and keep moving on. There's a lyric about how simple life is and sometimes you might not grab it, and you look back and realize you missed it." Adds Tim, who shreds majorly here, "We're really excited to play that one live."
"THE WILD LIFE"
A killer rock tune with a great groove, this song "is in the spirit of 'Up All Night," Dana compares. "I think everybody wants to live the wild life. For a super-straight person, that may be going out and having two cocktails, and for a wild person, an entire night of craziness. We met so many people that were completely out of hand, and we wanted to write a song about them. It's the fans more than the band living the wild life," he observes.
"REAL LOVE"
This tune, a likely single, "is the story of a person who goes in search of the perfect relationship and asks the question, 'Is there a perfect relationship?' " says Mark, noting that it was inspired by the idea that post-success, it is very difficult to tell weather women are interested in them for themselves, or because they're rock stars.
"MOVE TO THE MUSIC"
Concertgoers will recognize this song which dates back pre-Stick it to Ya but has "totally changed" since, says Dana. "It's the most re-recorded song we've ever done. We did it for the first album and didn't like it. We redid it on the tour, rearranged it, and recorded it again." Adds Mark, "We made it a little bit stronger. It's basically just a straightforward rock 'n' roll tune."
"STREET BROKEN HEARTS"
This is the poppiest tune on the album. "We like the Beatles. I know that sounds weird coming from a band called Slaughter, but we like to do the kind of songs that are emotional, that have true meaning," says Dana. "A lot of people will identify with the line, 'Those are empty promises.' A lot of people get made empty promises, whether it's girls that go out with guys in bands that are told, 'Don't worry, I'll marry you,' or guys that go out with girl and think they have career aspirations, but they say, "I'll do it later.' Empty promises both ways."
"HOLD ON"
This great ear-pleaser is 'the 'Desperately' of the record." Describes Dana. "It's a straight-ahead rock tune that had gone through transformation – it used to be a ballad but we turned it into a rock tune. It's a relationship song.
"DO YOU KNOW?"
A guitar-heavy cruncher, this song was inspired by people the band met in both daytime and nighttime situations. "They're dressed one way, and you see them again and they're 180° the opposite. The question is, which is the truth? Which person are they, the day version or the night version?" asks Dana. "Everyone asks the question, 'Do you really know who you are?' especially in what we do – we live almost double and triple lives," Mark reflects. "One second, you're a normal private person, the next you're up on stage and it's mayhem. Then all of a sudden you're by yourself."
CD BONUS TRACKS
"DAYS GONE BY" (ACOUSTIC)
A beautiful and simple tune, "it's not like 'Fly to the Angels,' where we just stripped down the same track, it's a completely separate, replayed track," says Dana. While the original version of the song has "a fairly involved arrangement, a lå early Queen, 'Days' acoustic is more like Beatles-type approach. It doesn't even sound like the same song, he differentiates.
"OLD MAN"
This bluesy song features slide guitar and was inspired by Mark's father, Ed Slaughter. With a swamp feel and "the equivalent of four or five songs' worth of lyrics, it's one of the most unique things on the record," says Dana. It's based "on things my father would say – he's a guy who's seen World War, worked in a coal mine. He's a true cowboy. But it's not just about him. He's the reference point," says Mark. "He's an outspoken person, he's definitely not afraid to speak his piece about anything," says Dana. "But people might not even give him a chance or listen to him because he's older or looks different. We're saying, 'You'd better give some of the older people a shot because they've been there, they've been everywhere you want to be and they might be able to tell you how to get there."