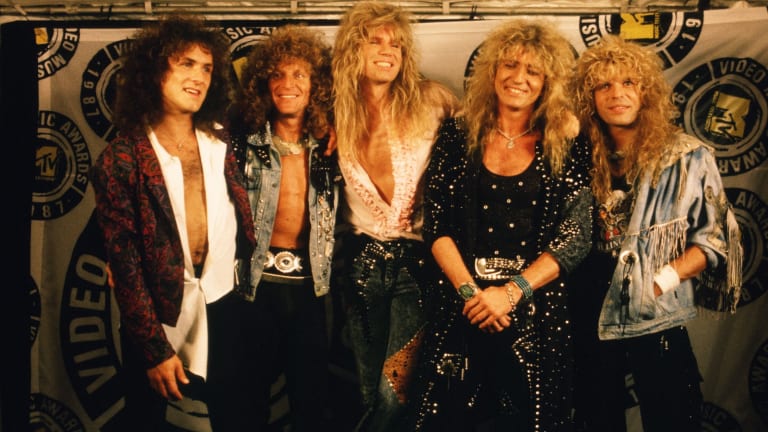 Whitesnake slides into America
'A lot of people believe Whitesnake is a new creation,' David Coverdale tells Metal Edge
Metal Edge, February 1988
Out of sight in the three years after Slide It In, Whitesnake returned to action with a vengeance this spring, rising to the top of the rockpile with a triple platinum (so far) comeback album that's a multimedia smash – the international supergroup is an unstoppable force on radio, video, in record bins and arenas, where they're now headlining after four months with Mötley Crüe.
"It's fabulous," enthuses David Coverdale, the leader, frontman, and creative mastermind of the killer quintet. He's ecstatic that American audiences have embraced his music and relieved that the traumatic experience of creating it is behind him. "A lot of people believe Whitesnake is a new creation," notes David, not at all displeased at the error. "There's obviously history to be charted, but my preference is to be looked upon as a new band." Not one to live in the past, he doesn't voluntarily discuss his Deep Purple days, either. "I left Purple 11 years ago last March," he points out, though he allows, "Every experience is a key to open another door."
Past associations figured vitality in the present configuration of Whitesnake: David met axeman Adrian Vandenberg four years ago, when Adrian was fronting Vandenberg, drummer Tommy Aldridge's old outfit Black Oak Arkansas opened for Deep Purple, and the previous lineup of Whitesnake toured with bassist Rudy Sarzo's and guitarist Vivian Campbell's former bands, Quiet Riot and Dio. David, who'd finished Whitesnake with studio musicians after terminating his relationship with his former associates, recruited his present ones for the "Still of the Night" video, hoping to snare their services for the tour. "There's always some method to my madness," smiles David, delighted that all opted to sign on – and have decided to stay on indefinitely. "The band gets along remarkably well. It's a very happy ship," says David, who has altered his original revolving door concept of Whitesnake. "I believe there's a great future. It's just too good to let go," he adds.
A perfectionist, but by his cohorts' accounts, a fair and non-tyrannical one, David allows "I like to think of myself as a professional and I prefer to be free of amateurs in a professional situation. I berate myself if I fuck up a great deal." He is also a self-described "man of extremes." 
"If you listen to the lyrics of my songs, one is the peacock, the other is little boy lost. There's very little gray area in my life. I don't like the idea of middle ground. I like positive or something to fight against. I work hard and play hard."
These days, however, he's exercising restraint in the latter. While he doesn't work out (it would strain his vocal cords), David has cut down on his drinking – a pre-show cognac aside – as a favor to himself and the paying audience. "I've seen a lot of people try to live 10 years in six months. 'Is this the last bottle of Stolichnaya on earth? I'd better drink it before someone else gets it.' I've been through that stupidity," he says, adding that whatever excesses his Snakemates may have had are also behind them. "They're not abusers – more like Boy Scouts," he laughs.
David has a sobering influence – literally – in fiancée and video co-star Tawny Kitaen, who doesn't drink. It was a case of "mouth open, hitting the floor at first sight" when they met, but as both were going through rough times and not looking for commitment at the time, "We sort of dallied with each other for a week or two." That was it for several months until David, laid up in L.A. with the flu, caught Tawny on TV, called her, and left a message. She showed up that evening at his hotel, and they rekindled their affair. David, a divorcée with a ladies' man reputation, soon stopped calling other women. "I think I've done enough research," he says, pronouncing his marriage "a very nice thing to do, when time permits."
David looks forward to her road visits, but otherwise busies himself with Whitesnake's now-expanded show and plans for the future. He's already laying the groundwork for the next album. "I've been wanting to write with Vandenberg for a long time, and the few ideas we've been messing around with are serious pieces of music. 'Slip of the Tongue' is an album opener if I've ever heard one," enthuses David, comparing it to "Still of the Night."
More imminently in the works is a fourth video, for "Crying in the Rain," "Straight From the Heart," or "Give Me All Your Love." David, who's hated the idea of doing videos much less since he saw the finished result of and response to Whitesnake's clips, nevertheless finds them grueling to do: "Still of the Night" involved 26 hours of performance shooting plus 14 of David and Tawny. "It's the equivalent of going through grief making an album. If it comes out the way you want it you don't think of the misery that went into it," he says, confiding that their three current clips were "improvised all the way. Don't tell the record company," he laughs.
Video is important, David agrees, figuring that the MTV exposure they've received equals "about five years of touring." But road work remains a priority, and Whitesnake intends to concertize here until April, before and after December – January trips to Japan. "The only critics I take seriously are the audience," says David. "If I wasn't coming up with the goods, I wouldn't be int this business." With nothing but raves from the people who count, David's future looks rock-solid indeed.