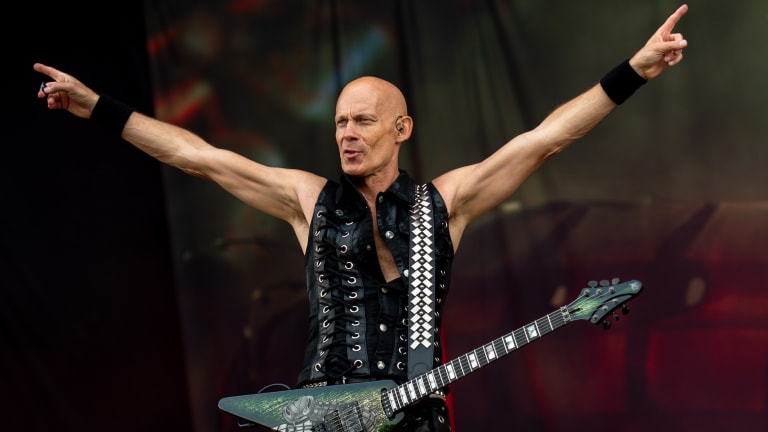 Accept's Wolf Hoffmann talks 'Balls to the Wall,' 'Fast as a Shark' and being 'too mean to die'
'We can write songs now that we couldn't ever do the past,' the guitarist says
"We were fucking freezing our asses off," guitarist Wolf Hoffmann says, thinking back to the music video shoot for Accept's 1984 metal anthem, "Balls to the Wall." "But, hey man, it was still exciting. It was glorious."
The big-budget video, which depicts the German band rocking before a clock tower and riding a wrecking ball, was directed by Julien Temple. Temple helmed a slew of now-classic clips, from Judas Priest's "Breaking the Law" to Tom Petty's "Free Fallin' " to Wilson Phillips' "Hold On."
"It was filmed in London in an old, dilapidated building near Heathrow Airport," Hoffmann says of the "Balls" vid. "The building in the background that was supposed to be destroyed was an old Black & Becker [hardware tools] factory, they told us. It was November or December or something like that, and it was raining, almost like ice-rain, during the filming. Everything was set up and there was no way we would cancel because it was so expensive, so we had to do it within a few hours. You could hardly feel your fingers."
Previously, it was Hoffmann's same fingers that manifested that snarling, stutter-stepping riff for "Balls to the Wall," back when they were writing what became their breakthrough 1984 album of the same name. Hoffman is known for playing Flying V guitars onstage. He brandished a V in the "Balls to the Wall" video, too.
"But I'll tell you the secret," Hoffmann says. "I've never recorded with a Flying V in the studio. 'Balls to the Wall' and all that stuff was played on a Strat. But I've always preferred Vs onstage just because when you're putting on a show, it looks good and it feels good and, you know, it makes a statement. It feels like metal when you hold that thing in your hand."
Hoffman still plays Flying Vs on the road, these days a signature model made for him by Framus & Warwick. Other members of Accept's core, classic-era lineup included singer Udo Dirkschneider, bassist Peter Baltes and drummer Stefan Kaufmann.
These days the band, which recently completed its first full U.S. tour in about 10 years, is comprised of Hoffmann, New Jersey native Mark Tornillo (formerly of the band T.T. Quick), guitarist Uwe Lulis (ex-Grave Digger), bassist Martin Motnik (Uli Jon Roth, etc.), guitarist Philip Shouse and drummer Christopher Williams (the latter two also tour in the solo bands of Ace Frehley and Gene Simmons).
Asked about Accept's return to touring in the States, Hoffmann says, "Dude, I don't know why that's taken so long. We've done occasional shows in the U.S. here and there, but we've always been so busy touring South America and mostly Europe and then there never seemed to be any good opportunities for touring here. So this time around, when we had some offers, we told our agent we're sick and tired of doing these one-offs, we want to do a proper tour like we used to do in the '80s or '90s. It was always amazing."
The 20-plus U.S. fall tour included shows at venues like New York's Gramercy Theatre and West Hollywood's famed Whisky A Go-Go. When Hoffmann checked in with Metal Edge for this phone interview at the tour's onset, he was psyched about "being on a tour bus and playing every night. It's gonna be awesome." Accept begins a 30-plus European trek in January. Tour dates, updates and more info at acceptworldwide.com.
A few years ago, when Lulis wasn't available for a tour, Shouse was brought into the fold for what became Symphonic Terror: Live at Wacken 2017. That album captured the band's performances from a tour with a full orchestra. The project fulfilled Hoffmann's longtime dream to mash-up Accept's heavy-metal with a classically-trained symphony. "When you manage to gel the two worlds together, it's magic," he says.
After Lulis returned, the band decided to keep Shouse onboard, creating an expanded "six-pack lineup," as Hoffmann puts it. "Now we have three guitar players, which is mega-exciting." To make use of all those guitars, for this tour the band arrange a "riff orgy" medley sewing together deep cuts like "Demon's Night," "Starlight," "Flash Rockin' Man" and "Losers and Winners."
In 2021, this Accept lineup featured on the band's 16th studio album, Too Mean to Die. The LP's title track retains the vicious sound and attitude fans expect from Accept. Producer and latter-day Judas Priest touring guitarist Andy Sneap was behind the board for Too Mean to Die. Hoffmann points out Tornillo fronted the band longer and more continuously than bruising, original singer Dirkschneider.
"Udo left the band and came back, so there was a lot of back and forth in those days," Hoffmann elaborates. "Now with Mark it's a very consistent, fruitful period for us. Very productive. He can deliver the old material convincingly, but he brings something else to the table. He doesn't just try to be a clone or anything. We can't really compare and say one is better than the other, but we can write songs now that we couldn't ever do the past. We can really do amazing melodic stuff with Mark that sounds killer."
Now 62, Hoffmann was born in Mainz, a city about an hour outside Frankfurt, and grew up in Wuppertal, which he likens to Germany's equivalent of Birmingham, the English city that birthed Black Sabbath and Judas Priest. "I think it's no coincidence that a lot of the hard metal bands come from areas that are like industrial, hardcore working-class, steel and mining areas and that sort of thing. It's never from the beaches or, like, Hawaii."
Early on, Hoffman drew inspiration from bands like Uriah Heep, Status Quo, AC/DC, Jethro Tull and Judas Priest. "But as a guitar player, it was mostly Ritchie Blackmore that really inspired me," Hoffmann says, referring to the now reclusive Deep Purple legend. "That Made in Japan album was something, my god. That was sort of a gold standard back then."
Accept has set standards, too. Take, for example, "Fast as a Shark," the blistering opening track off 1982 album Restless and Wild. "It's universally credited as being the first speed-metal song," Hoffmann says. "Our [then] drummer, Stefan [Kauffman] came up with a crazy idea of doing this double kick [drum] all the way through. And he even came up with the [main guitar] riff. I think I contributed the chorus, as far as I remember, but it was a collaboration between all of us. We wrote together, a lot of the stuff, in the room."
Six decades later, "Balls to the Wall" remains Accept's signature tune. "I remember it started with a title," Hoffmann says of the track's musical origins. Meanwhile, its lyrics reflected the band's interest in human rights. "The title inspired me to write the riff and the chorus. And it all happened within minutes, really," he says. "I sat at home and came up with the basic chunks of the song and then brought it to the guys in the rehearsal room. We jammed on it, and it felt perfect. Peter [Baltes, then-bassist] came up with the verse, the verse structure, but everything else was basically already there and fell into place super easy. It was almost unreal.
"Sometimes songs have to be reworked and reworked until they feel right," Hoffmann says. "But this one sort of just fell into place really easy. It's beautiful."