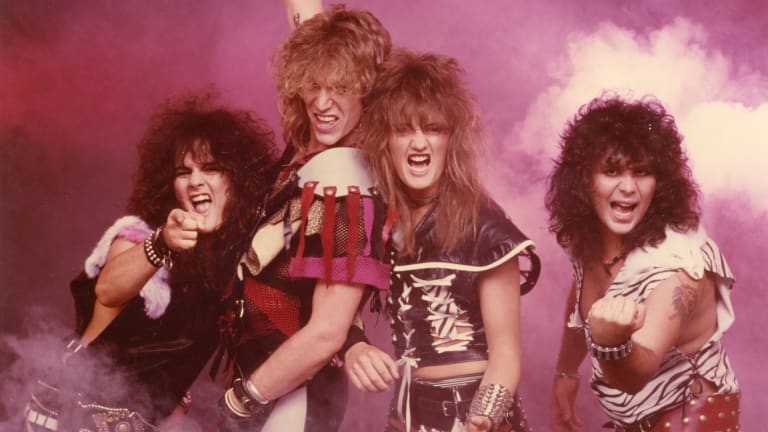 'Before the hair got super big': The story behind early '80s Sunset Strip compilation 'Bound for Hell'
'We want people to realize it wasn't just Mötley Crüe, Quiet Riot, W.A.S.P., and Poison,' says album producer Adam Luksetich
Mötley Crüe, Ratt, Dokken, Great White, Quiet Riot, Stryper, W.A.S.P.
When having an impassioned discussion about the hard rock bands that populated the Sunset Strip in the early '80s (which, for readers of Metal Edge, is likely a frequent occurrence), these are the acts most likely to be bandied about in conversation. But what about Leather Angel, Max Havoc, Knightmare II, Reddi Killowatt, Odin, Stormer, Witch and the dozens (or even hundreds) of other bands that prowled the scene at the same time but just weren't able to score a juicy record deal and attain anything greater than local legend status?
Numero Group's new Bound for Hell: On the Sunset Strip compilation hopes to bring fans up to speed on those overlooked acts and present them in all their faded glory. Packed with flyers, never before-seen-photos by veteran photographer (and Bound for Hell co-producer) Kevin Estrada and expansive band profiles by Louder Than Hell: The Definitive Oral History of Metal co-author Katherine Turman, this double vinyl set will get you completely up to speed on obscure bands that have virtually faded from memory as well as beloved cult acts — Steeler, Bitch, Lizzy Borden, Rough Cutt and Black 'N Blue to name a few — that you may have heard of but never actually heard.
Metal Edge caught up with producer Adam Luksetich to discuss the gargantuan task of researching and compiling Bound for Hell, and the satisfaction of turning a whole new generation of headbangers onto a wealth of hidden gems.
Bound for Hell focuses primarily on bands that many fans will not have heard of. Why?
Adam Luksetich: We want people to realize it wasn't just Mötley Crüe, Quiet Riot, W.A.S.P., and Poison. There were actually hundreds of bands before those bands blew up and hundreds of bands after — and they were keeping the L.A. scene alive and playing shows in front of massive audiences, playing on bills with Mötley and even Metallica opening for them. We wanted to give those bands and that scene the Numero treatment.
Can you elaborate on the "Numero treatment"?
Luksetich: It means doing a massive deep dive, almost to the point of overwhelming the person who buys it. There have been other compilations like this, but a lot of times it's just like, "Hey, here's the CD with 20 songs, bang your head!" Like, there's a couple cool photos and that's about it. The "Numero treatment" is, "We're gonna give you 21 songs, a lot of which you've probably never heard. Even if you're a fan of this music, there's gonna be two or three tracks on here that you didn't even know existed or are completely unreleased. And not only that, we're gonna give you pages and pages of notes about the bands, and tons of photos most of which you've probably never seen.
This compilation focuses mainly on the early '80s. Why didn't you go deeper into the decade?
Luksetich: In the late '70s, things we more hard rock or like, glam rock. And then in the early '80s, we started to hear bands that were sounding a bit like early Mötley Crüe. But then by about like 1985, it seems like things really started to change. And while I really don't even like to use the term hair metal, it's definitely getting into that. Everything's kind of starting to sound a bit more like Poison. It's very over-the-top. It's very polished. And I think our goal was to focus on the bands that were on the scene before the period where after Quiet Riot's "Cum on Feel the Noize" went crazy on the charts in 1984 and everybody started getting signed. This is documenting the scene before that, when it was a bit more rough around the edges. Before all the bands started getting plucked out of the scene and before the hair got super big. And that's why I think Bound for Hell is a nice title because it's just a bit more heavy metal.
A lot of these groups had massive stage shows even though they didn't have record deals.
Luksetich: 100%. I mean, bands that had no record deal and maybe a cassette to their name were showing up with, light-up drum risers and pyro and playing in front of 400 people at the Troubadour, putting on a show that you might as well have been at the L.A. Forum. There really is this DIY aspect. It's really weird. I mean, none of the bands sound punk, but they have that kind of aesthetic like, "Well, here's our demo. We made some flyers. We did all this on our own."
Were the bands excited when you approached them about the compilation?
Luksetich: Some of these bands are still active, but for the most part, they either don't really have the time because they have families and and jobs, so a lot of the times they just don't really care. They just don't see the value in it. They're like, "Why am I talking to this kid about this one 7-inch I released in 1979?" It took us forever us to get some of the bands that we reached out to them to sign something. And it's like, I get really excited because I'm like, "Yo! People are gonna hear this song again and freak out!"
Maybe it's a little painful for some of them to revisit a time when they couldn't make their rock dreams become reality
Luksetich: Yeah. And I think a lot of them feel like they were screwed by the record labels at the time. They were playing these great shows and then they saw a lot of their friends get signed and sell millions of albums. And they were still there in L.A., holding the scene down. I think there's definitely a bitterness there to some of them.
The compilation does a great job of representing the female musicians who were an integral part of the scene.
Luksetich: I definitely wanted to make sure that the women who were there and involved weren't excluded, because I do think people think of the scene as a bunch of dudes and that's it. But there were plenty of women that were there early on and involved in making great music. Some of the first people I reached out to were Kathy and Terry from Leather Angel and, later, Jaded Lady, which were all female bands. They were instrumental in getting me up to speed. They were playing shows with Mötley Crüe early on. I think Nikki Sixx even drew the first Leather Angel logo! So they were obviously very well connected and a part of the scene. Bitch, which was fronted by Betsy "Bitch" Weiss, were the first band to have a full-length released on Metal Blade. And Anne Boleyn from Hellion ran her own label and did everything on her own. They used to throw these wild mansion parties.
I'm assuming a lot of these bands didn't keep their master tapes in temperature-controlled vaults or at all. Are there songs on here that were pulled of cassettes?
Luksetich: The Stormer track was from cassette as it only ever came out in that format, and the Black 'N Blue song is also from cassette. But even worse than that is the V.V.S.I. song, "Savage Kind of Girl." The band couldn't find anything. We probably spent a year going back and forth with them trying to locate some demo or maybe a copy they had given to a girlfriend in 1983. But Kevin Estrada, our co-producer, kept being like, "I know there's stuff out there because I have this radio recording." He had dubbed it off the radio when it aired live in 1984. Finally, we were like, "Well, why don't we just try and master from your cassette dub from the radio,?" Which we did. And it sounds great!