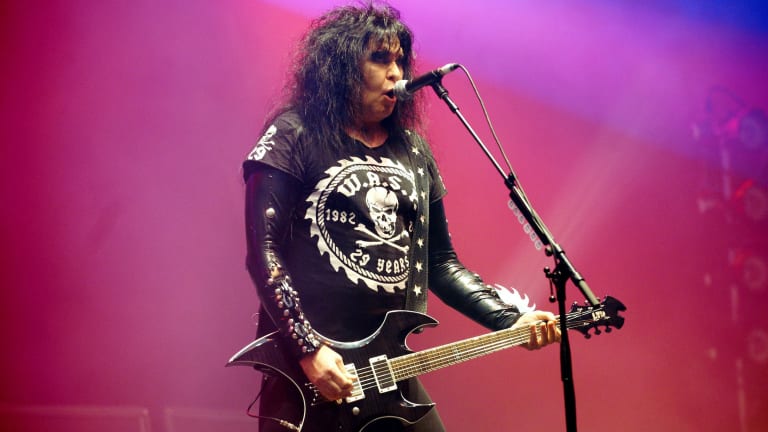 Exclusive: Blackie Lawless on the PMRC, playing with the New York Dolls and the craziest thing that happened to him in the '80s
'The effects of it quite honestly still linger to this day,' the W.A.S.P. leader says
The place was called the Woodstock Concert Theatre. It was a venue in Anaheim, California, and other bands that played there in this month included Slayer and Metallica.
This is where, on Aug. 28, 1982, the very first W.A.S.P. gig took place. The Los Angeles band's lineup that night featured Blackie Lawless on vocals and guitar, plus lead guitarist Chris Holmes, bassist Don Costa and drummer Tony Richards. W.A.S.P.'s set that night featured the debut performances of future classics like "L.O.V.E. Machine," "On Your Knees" and "Hellion."
Previous to the Anaheim show, the band sent their sharply recorded demo tape to record labels. Not a single one responded. The demo contained most of the songs that almost two years later would make W.A.S.P.'s 1984 self-titled debut album a grab-you-by-the-throat mix of shock rock and heavy metal.
Between W.A.S.P.'s first show and two September gigs at West Hollywood landmark the Troubadour, Holmes and Costa, who'd go on to play in Ozzy Osbourne's band, had a falling out. Holmes presented Lawless with an either-he-goes-or-I-go decision. Lawless stood by Holmes. Randy Piper, a guitarist Lawless had worked with before, was brought into the fold. The only problem? Now W.A.S.P. had three guitarists and no bassist.
With the crucial Sept. 21 and 28 Troubadour shows rapidly approaching, Lawless made the gutsy call to switch to bass himself, rather than search for a four-stringer that fit with the quintet's raw musical chemistry.
W.A.S.P.'s first Troubadour drew a crowd of some 63 people, according to a 2022 blog post by Lawless on W.A.S.P.'s website. But the second show a week later attracted Kiss guitarist Ace Frehley and manager Bill Aucoin, who Lawless had persuaded to come check out the band. W.A.S.P's Troubadour set boasted "I Wanna Be Somebody," the victory-or-death anthem that became the band's signature hit. Although Frehley and Aucoin hung out with the band after the show, Aucoin passed on signing W.A.S.P. The band just hadn't found final form yet.
But over the next few months, the band conceived and honed a wild stage show: sawblades on the codpiece and armbands of Lawless' stage costume; a topless woman strapped to a medieval-style torture rack; raw meat thrown to the audience; the band's name onstage behind them lit up in real flames; and a stunt in which Lawless drank "blood."
That combination of songs and stagecraft changed things for W.A.S.P. After the Troubadour, the band's reputation spread quickly among the Los Angeles rock scene. Crowds at their gigs multiplied each time. The band went on to score platinum and gold albums, influence future stars like Guns N' Roses and scare the hell out of young metal heads' parents.
Now, in fall 2022, W.A.S.P. has rock fans excited once again. The band begins their highly anticipated 40th anniversary tour Oct. 28 in Las Vegas at the House of Blues. They've also teamed up with Metal Edge for a one-of-a-kind contest where you can win tickets to any date on the outing, along with a signed guitar from Blackie's personal collection and a meet-and-greet with the singer himself. Enter to win here. 
In the below Q&A, Lawless chopped it up with Metal Edge on subjects ranging from being a target of the PMRC to his brief stint playing guitar for punk trailblazers the New York Dolls.
Blackie, originally you fronted W.A.S.P. on bass. Three albums or so in, you switched to guitar and you're playing guitar these days too. How did changing instruments change the way you sang and fronted the band live?
Blackie Lawless: I'm a guitar player by trade. What happened was when I came to L.A., I interviewed almost everybody that went on to come out of that early '80s L.A. scene. There's a lot of talented guys, but the chemistry to do what I wanted to do, it was difficult to find. Took six years. So once I had the chemistry, I knew I had the people, but the problem is we had three guitar players. Nobody wanted to play bass. I knew the other two were not going to play bass, so I volunteered myself. [Laughs]
So when Randy [Piper] left the band two albums into it, then that gave me the opportunity to do two things: To look for either another guitar player or a bass player, and whichever was going to surface first was the way we were going to go. And finding Johnny [Rod] out of King Kobra, because they had supported us, we had seen him for play for a while, that gave me the opportunity to go back to playing guitar.
Playing bass, I had done it in the studio off and on for years. But never had done it live, never. Not fronting a band. I did it a couple of times playing with some other guys just to help them out but not a serious venture.
Trying to front and sing and play [bass], it's a different animal. And it took me a little bit to get used to, but like I said, I'm a guitar player by trade so the transition back to guitar … And I know what you mean that it's a little bit of a visual shock for people when they see somebody switching instruments like that. But I also understood being a Beatles fan that those guys were always playing each other's instruments, so I grew up with that.
Speaking of playing guitar, one of the cool facets of your arc is that brief stint you did playing guitar with the New York Dolls. What songs did you enjoy playing most with the New York Dolls?
Lawless: Well, I only did two shows with them. So, it's not like, you know, it was a lot of stuff, but the song that always sticks out to me is "Personality Crisis." There's just a viciousness about that song I think stands up to this day. I've always wondered why somebody didn't redo that song. I mean, it's tailor made for something that could be done from time to time.
I think "I Wanna Be Somebody" could be redone too by the right artist.
Lawless: Hmm. Maybe.
Ever have any dangerous moments with the sawblades?
Lawless: I've cut myself and other people a few times. You know, because we first made those, we were using real sawblades and those blades are sharpened. Eventually we stopped using real blades and we went to having them custom-made. When we did that, we had them done where they look like they're really sharp. They're still made out of metal. So, you know, if you attack somebody with them, you could do some damage if you wanted to. But we've got them to where they're not quite as sharp as they used to be, so it makes it a little more livable.
W.A.S.P.'s cover of The Who song "The Real Me" off The Headless Children album was so great. Not everybody can sing Roger Daltrey, but you nailed it. Did you ever hear from The Who guys about what they thought about that cover? Because for many teenagers in 1989, the W.A.S.P. version was their introduction to that song.
Lawless: In '89 after the record came out, the Who came back to America and were doing Tommy and it was the first time they've done it in many, many years. They were playing in New York, and I was going to be in New York at the time, and so we did a thing where I presented [The Who guitarist and songwriter Pete] Townshend with a gold record, after the show. And we talked for, I don't know, 20, 30 minutes.
We talked mostly about songwriting. But he paid me what I think is a pretty high compliment. He says, "A lot of people have covered my songs, but no one has ever done to one of my songs what you've done." And he had this look in his eye when he was saying it, and then he followed it up. He said, "Must have taken a lot of courage to do that."
Now, I knew exactly what he meant when he said that. That band, when you listen to Live At Leeds, was a freight train out of control, musician-wise. I mean, these guys were unreal. So for another band to come along and think that they could do that justice, you've either got to be able to do it or you're totally insane and you're gonna embarrass the hell out of yourself.
So, I told him, "Well, we weren't trying to emulate exactly what you did on the record." We chose that song for two reasons. Number one, we had another song from Quadrophenia we were thinking about doing, "The Punk And The Godfather." But "The Real Me," we felt the song was a hit that never was a hit.
And so I went into rehearsal the first day, and everybody was already there. It was in a big room. And when I walked in, the lights were only on the stage where they were at, so when I walked in nobody could see me. And the crew was all in there.
They started rehearsing the song without vocals, and I just remember standing there at the door listening to what was happening. And the ferociousness of it, what was coming off of that stage, I mean, it was there. I don't know how long they had been working it up, because I was about an hour late getting there, because I was doing an interview or something. But when I walked in, they had it pretty much as you hear today, and I listened to it. And it literally was blowing my hair back. And we never attempted "The Punk and the Godfather." There was no reason to even do it.
I always thought there's two reasons to do a remake of a song. One, you think you can do it better. Or you can do it different. So what I told Pete was, "We weren't trying to emulate what they did exactly. We took the spirit of what we thought was Tommy, Live at Leeds, Who's Next, Quadrophenia," that period, which is really the peak of The Who, "and we went for the spirit of what that was."
You know, I remember when we were in the studio recording it, Frankie [Banali, drummer] was frustrated with his performances. And for a song like that the drums have got to be right. So he got mad, and he says, "I'll be back in a few minutes." And he took off and I didn't know where he went and so I went back into the control room. He came back about 45 minutes later, he goes, "I'm ready."
And so we went in, and we played and there it was. That was the take. And he told me later, I said, "Where did you go?" He goes, "Well, I went down the liquor store and I got myself a half pint of Jack Daniels' and I drank it, and I came back." That's the take that you hear on the record to this day.
Back in the '80s, the PMRC [Parents Music Resource Center] targeted W.A.S.P., you and your music. What the craziest, most intense thing that happened to you from that?
Lawless: I don't think you could limit it to just one thing. Because it was a timeframe from about '85 to '88 where there were thousands of death threats. Got shot at twice. I got my car tampered with once where one of the front wheels came off. The FBI had to come in twice. The effects of it quite honestly still linger to this day of some of the things that happened, and it made me more of a recluse, which I wasn't before.
People sometimes think that, you know, I'm aloof. And I'm not. We've been talking for 45 minutes here. I think you get a pretty good sense of who I am. But it just changes you. It changes your life. Especially when you see it happen to other performers. Tom Morello was attacked the other day. Dimebag gets shot in the head. I mean, this list goes on and on. And every time one of us who's been through it sees it happened to someone else, you're gonna flashback a little bit, I don't care who you are. You wouldn't be human if you didn't.