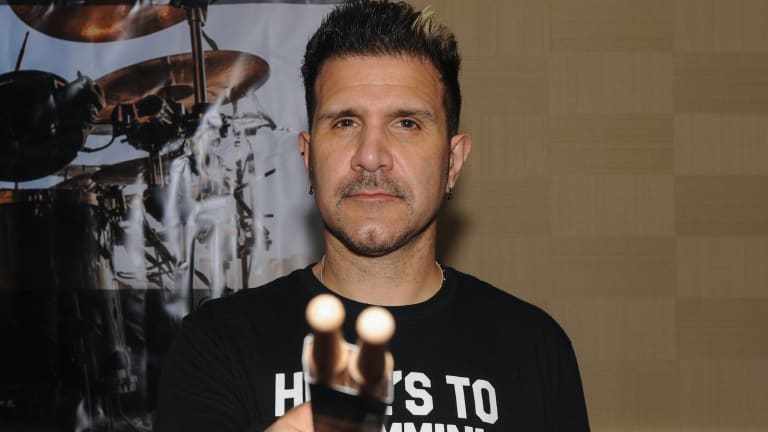 Charlie Benante on 'nerve-racking' first Pantera show: 'I'm probably gonna need a couple drinks to settle me down'
The tribute tour kicks off tonight
The day after celebrating his 60th birthday this past Sunday, drummer Charlie Benante woke to the news that Pantera – with whom he's sitting in for the late Vinnie Paul – would be supporting Metallica on their M72 World Tour both next year and in 2024. Add that to his duties with Anthrax, who will be co-headlining a run with Black Label Society this upcoming January and February, and not only is he holding down the most physically demanding position in music, but he's doing it for two of the most iconic heavy metal outfits in history.
Again – at 60 years of age.
"I don't think about the number that much, it's only when someone says it that I'm like, 'Oh fuck, there's that number again,' " Benante tells Metal Edge. "And I hate to name drop, but I just talked to [Metallica's] Kirk [Hammett] the past two days because he just went through it [turning 60], and he said he kind of beat himself up and he was trying to give me more insight. The way he put it was, 'You're looking through the wrong lens. Look through the right lens about it.' It's just a number. I don't feel it up here [points to his head], and when I'm playing, I'm kind of in my own world just enjoying what I've been doing pretty much my entire life."
Up next for Benante is Mexico's Hell & Heaven Open Air, where, on December 2, he'll be behind the kit for the first show of the wildly-anticipated Pantera tour. Two days later, he'll be back onstage at the same festival with Anthrax. He says it hasn't been difficult jumping back and forth between the varying styles of each band, nor is he too stressed about taking on the drumming role alongside front man Phil Anselmo, bassist Rex Brown and guitarist Zakk Wylde, who will be subbing for the late Dimebag Darrell in Pantera. That's not to say he won't need a stiff one to relax beforehand.
"The first show with Pantera is going to be kinda nerve-wracking," Benante says, then laughs. "I'm probably gonna need a couple of drinks to be honest with you, to kinda settle me down. Then once we play with Anthrax it's probably gonna be, 'Ahhhhh.' Kind of comfortable. I need to get that first Pantera show under the belt."
Asked if he's looking forward to any performing any particular Pantera tracks, Benante revealed there will be a pair of deep cuts he's got his eye on.
"I enjoy each one of them," he says of the set. "When I look down at the list, I'm like, 'Oh, I like this song,' that type of thing. There's two odd songs in there too that I don't think they played, consistently, throughout [their] sets. Those are the two songs I enjoy playing the most, I think."
Benante is aware of the criticism floating around social media about relaunching the Pantera name more than two decades since the group played their last show, and all the chatter about it not being a true reunion without Vinnie and Dime.
"First off, it's not a reunion," he says. "It's a celebration of the music. If you saw the thing that went out, it was like, 'Pantera featuring…' the four of us. Those two guys are a part of this and who else is there? Vinnie and Dime are not here, so, Philip and Rex, they were that band, too. [They] deserve to be there as much as anybody. I see the negative stuff sometimes, and I'm just like, 'This is so ridiculous, man.' Just enjoy hearing those songs again."
At this point, Benante's Anthrax band mate Scott Ian chimes in and says, "Hopefully you'll get to jam Van Halen with Wolf." The architect behind Mammoth WVH, Wolfgang Van Halen, will also be in a support slot on the bill with Pantera when they open for Metallica.
"You know, I thought about that too because that kid is fucking awesome," Benante says. "I look forward to that."