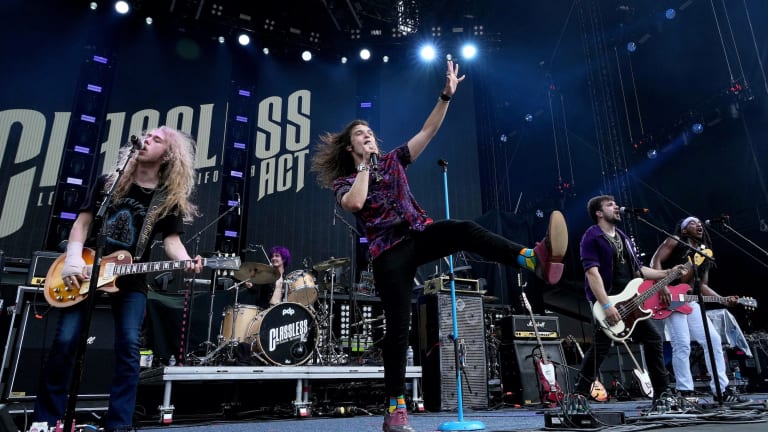 Classless Act's Derek Day talks Stadium Tour, Vince Neil and the band's unreleased song with Taylor Hawkins
'We're so excited to be up there,' Day says of sharing stages with Mötley Crüe, Def Leppard, Poison and Joan Jett
Way before Derek Day was competing for the attention of Mötley Crüe fans, he was trying to get people outside shopping malls, restaurants and movie theaters to notice him.
Day honed the uninhibited performance style – now on display as front man for Classless Act, the young Los Angeles band opening shows on the Stadium Tour – as a street musician.
"My whole goal," Day says, "was to make people late for their movie or stop for at least a few minutes and look at me and maybe affect their day. Rolling on the ground, running around, not caring what I look like, you know?"
The streets taught Day well. His high-hot vocals and energetic presence are helping Classless Act win over early-arriving Stadium Tour fans there to see Mötley, co-headliners Def Leppard and fellow '80s legends Poison and Joan Jett.
In addition to Day, the band's lineup features bassist Franco Gravante, guitarists Dane Pieper and Griffin Tucker and drummer Chuck McKissock. Classless Act's aptly-named debut album, Welcome to the Show, evokes '80s fun and sleaze with a pinch of '90s alternative grit and lots of youthful verve. Standout tracks include the group's namesake anthem, "Classless Act," boasting a cameo from Crüe singer Vince Neil, the strutting "Made In Hell" and the mini-epic, "Circles."
Scoring the Stadium Tour opening slot is the break of a lifetime. But Classless Act are by no means an overnight thing. They've been chipping away on the local circuit for years and previously toured with female-fronted blues-rockers Dorothy. Members have come and gone, including Slash's son London Hudson on drums. But Classless Act's current lineup sounds like it was meant to be. Day checked in with Metal Edge during a recent van ride between Stadium Tour gigs.
We're still only a few weeks into the Stadium Tour, but have there been any cool behind-the-scenes moments with any of the headliners so far?
Derek Day: Day one, I don't think we were in the first stadium more than like 30 minutes, but Bret Michaels from Poison immediately talked to us. Welcoming us, open arms, giving us all high fives, talking to us about whatever's going on. Giving us great advice on how to contain ourselves on a big stage, and how to hold it together if we ever feel lost. And then he even asked, "Hey guys, you want to take a picture?" Took a picture with us, posted it on his Instagram. That was a really fun, positive sign of what is to come. [Several shows after this interview took place, another such moment occurred when bassist Franco Gravante posted on social media about the boots he wears onstage had worn out and Mötley Crüe surprised him backstage with a new pair.]
How did Vince Neil end up singing on the track "Classless Act"? And what does it mean to have a guest vocal from an iconic front man on your band's debut album?
Day: It's so significant, and not only just for me but for my whole band. I was in a Mötley Crüe cover band when I was in sixth grade, and we all listened to Def Leppard and Mötley Crüe and all the bands that we're touring with. It was thanks to Mötley that we got on this tour. They gave us a chance. But they've been doing that since the '80s. They'd given Skid Row a chance, they gave Guns N' Roses a chance. And Ozzy gave them a chance. They're a band who believes in rock 'n' roll's future, so they wanted us to just jump on.
After we got on the tour, we had their contact and we realized our namesake song, the first song we'd ever written together, feels like Mötley Crüe. And it feels like something Vince would sing. So really, we just asked him. We reached out: "Hey, do you want to sing on this track? It would help us, but it would also help the song and it would bring it to life even more." And he was just like, "Sure, hell yeah." So it completed the circle for all of us. We're just so honored and it feels just right, for lack of a better term. Just right.
What's the status of the song Classless Act worked on with Taylor Hawkins before he passed?
Day: We pretty much wrote the essence of that song. It's got a verse, it's got a chorus, it's got maybe a bridge and it's something that could be very easily releasable. When Taylor passed, we just felt so shocked. The whole world was shocked. And you know, we just never thought about releasing it or doing anything with it, to be honest. I think our plan is to get a little bit more notoriety and just show the world who we are and once we get some form of respect, that's when we would perhaps put that song out and say, by the way, we did this with the late, great Taylor Hawkins. And thanks to him, we are who we are. And so, we're gonna wait on it, for proper timing.
Classless Act has played live for years in clubs and theaters. How is performing in stadiums shaping your music and the way you play together as a band?
Day: You know, we've played so many small stages, we just really wanted to move more. Everyone in the band has so much energy, and now that we finally have all that space. It's like a dog with 100 tennis balls. We're not exactly sure what we want to do with it. We're still learning this craft, like, "What is this?" Even though in all those clubs, we've been hitting each other's headstocks and stepping on each other's toes, literally. But so far, I've noticed that there's more interaction, there's more eye contact, there's more listening involved. Because now that we have this space where it's like, "Okay, let me see how I can interact with my mate." It's taught us more communication on stage.
As the opener for four bands, your Stadium Tour sets are only five songs each night. What's interesting about putting that short of a setlist together?
Day: That's a great question. We really wanted to be punchy and make an impression, and we only really have, like, 18 minutes to do it. And we have so much energy we're trying to put out in the first few songs that by the third or fourth we're getting a little winded. But we still finish the job. It's just crazy. We're so excited to be up there. So, the strategy on how to go about it, it's just pacing ourselves, working to a script and keeping our endurance up. And I think the main goal is to have so much fun we don't even realize how tired we are.
With the Classless Act debut album finally out, what's a deep cut you're psyched for people to hear?
Day: A song called "Haunting Love." It's just got a cool energy. It shows a different side of us, maybe something more vulnerable, yet at the same time energetic. I think it shows our capabilities as far as what we can say during a chorus and how we can sing a chorus and how we can structure a song.
You have a song called "Classless Act." Previous bands to name a song after their own band include Black Sabbath, Motorhead, Porno for Pyros, Bad Company, Body Count, Bad Religion and Green Day. Any you're particularly fond of?
Day: I love all those songs, "Black Sabbath" especially. And "Bad Company" is incredible song. I do love bands that do that. And Living Colour has a song called "What's Your Favorite Color?" I like the subtle references as well as the big blatant "This is our theme song," song. I don't know. Can I say "SpongeBob SquarePants"?