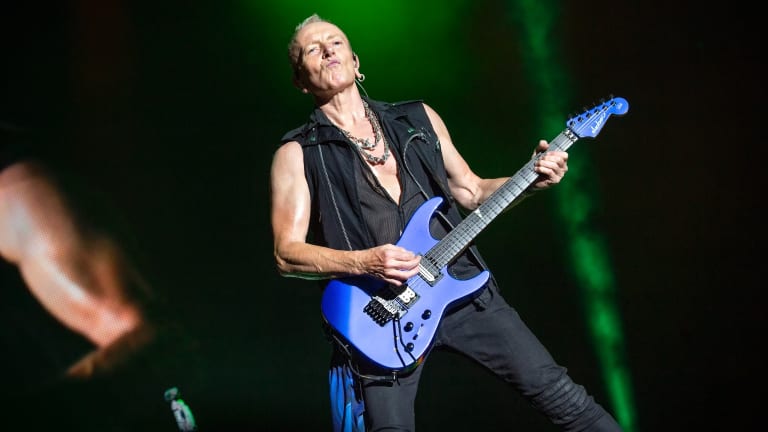 Def Leppard's Phil Collen on 'Diamond Star Halos,' his favorite Mötley Crüe song and his band's Robert Plant and Backstreet Boys connections
Then there was the time he found himself on Catalina Island with Tommy Lee and Ratt's Bobby Blotzer…
When Def Leppard announced earlier in 2022 they were releasing a new studio album – their first in seven years, in fact – it was a surprise to many longtime fans, who hadn't even been aware the band was working on a new record. And that's because, for a long time, they weren't. As guitarist Phil Collen tells Metal Edge, their original intention was to just record a song or two in advance of the band's highly anticipated (and twice delayed) Stadium Tour with Motley Crue, Poison and Joan Jett. But then Covid, and the subsequent lockdown, happened, and one or two songs turned into the 15 we now have on the forthcoming Diamond Star Halos. 
Def Leppard's 12 studio album overall, Halos is arguably one of their strongest – and also loosest – efforts in many, many years. It also captures the band – Collen, singer Joe Elliott, bassist Rick Savage, drummer Rick Allen and co-guitarist Vivian Campbell – having a blast playing the music they love, and revisiting the sounds (namely, '70s British glam rock) that they grew up loving. As for how it all came together? Collen breaks it down for Metal Edge…
At this stage in Def Leppard's career, what is your motivation when you begin work on a new record? Is it different than it was in, say, 1985?
Phil Collen: Well, this one was completely different, actually, because we didn't realize this was going to be an album. Just before lockdown we were going to go in and see if we had any songs, and maybe do one or two. There was no pressure to do an album, because we already had the more-or-less sold-out Stadium Tour on the go. So all the writing and recording was a different motivation – it was just because we wanted to do it. Then we had lockdown, and we wound up with all these new songs. And we kept seeing a thread within them that was almost like going back to when we first got into music in the early '70s and the stuff that made a real impact – Bowie, T. Rex, Mott the Hoople. Obviously we even named the record after a T. Rex line. It was just the energy and the vibe we were getting. So the direction just sort of happened. But that said, usually we do give ourselves a brief, and go, "Yeah, this album should be a cross between..."
Can you give an example of this?
Collen: I'll give you a great example. We did one of the albums, I think it was [2002's] X, and what was happening in the charts at that time, not that you copy it, but you're just aware of the parameters. And two of those parameters were the Backstreet Boys and Garbage. So somewhere in between those parameters is a place where…it's not necessarily influencing you, but you're just aware of it, and aware of the fact that you can actually pull from these places that are different than your usual places. And it was actually a really cool thing to do. But this time, it was different – it was no agenda, no briefing, no nothing. Most of it was just me and Joe [Elliott] sharing ideas with each other and getting excited about it.
You were really comfortable this time with just being who you are.
Collen: Absolutely. I mean, what was going on in the world influenced it as well. It kind of changed everything. It just changed people's perceptions. You know, I grew a big beard and it was completely white and I didn't really care. It was like, "Well, this is interesting…" You know what I mean? Whereas in the past what I would've done as it started growing in white was go, "Oh, my god! This is terrible!" [laughs] Instead it was, "Wow, this is fucking awesome!" So it was that kind of thing, and I think that probably influenced how everyone felt about other things. Even the guitars this time, a lot of 'em on the record are demo guitars. They're raw. They've got a different feel. We would never have done that in a studio back in the day. We'd have cleaned 'em up. Or some of the backing vocals, like stuff I did on "Kick," they were from my demo, just singing into a hand-held mic. And we would have definitely redone those. But they just had a vibe. So I'd say there was a lot of that going on.
Is there any song on the new record that has particular meaning for you?
Collen: Well, the song "This Guitar" is 17 years old. I wrote that with a really good friend of mine, C.J. Vanston. He's a producer, he used to be Chicago's top session keyboard player, he played with Tony Bennett, he's done everything. We wrote that song years ago about what it feels like to have this instrument, how weird is to have this artistic outlet and this entity that surrounds you and is with you all the time. It's almost like a spirit or something. Joe loved the demo from years ago, and every five years he'd go, "Can we try that song?" And this time he actually said, "Can you just do me a demo for me, for the hell of it?" So I did, and he put his vocal on, and his demo of it I think is the one that ended up on the record. It just sounded amazing. So that one's kind of special. And I think everyone in the band can relate to that feeling of having that kind of spiritual entity that follows you around.
Alison Krauss duets with Joe on that one. How did she get involved?
Collen: This is a good name-dropping thing. Joe was talking to Robert Plant about whose soccer team sucked most. Actually, Plant's team, Wolves [Wolverhampton Wanderers], beat Sheffield United, which is Joe's team. So they were talking, and Joe said to Robert, "You know, we're actually doing an album…" And Robert said, "Oh, I'm out with Alison. She'll be pleased to hear." Because apparently she's a big fan. So that's what started it. And Alison us actually singing on two songs on the record ["This Guitar" and "Lifeless"]. So that, again, was just kind of a natural thing. It wasn't like, "We should get Alison Krauss…" It just evolved naturally. The whole album was like that.
Looking at the Def Leppard catalog as a whole, is there a song that you feel has been overlooked, or that should have gotten more attention over the years?
Collen: There's been a bunch of 'em, actually. There are a few off Hysteria that I thought never got their due. I always thought "Excitable" was a great song. And we play that live because it is a really exciting song. Sometimes with these songs, they get a second lease on life, especially if you keep banging them over the head. So we're probably going to play that one live this time. Another one would be "Love and Affection," which I think was going to be the eighth single off that album. [laughs] But that didn't get its day in the sun either.
Since you're going to be out on the road with Motley, do you have a favorite song of theirs?
Collen: Absolutely. "Dr. Feelgood" is so awesome. Every time I hear that it's like, "Wow, what a great groove. What an amazing sound, an amazing vibe." I love it.
Has there been any talk of you guys and them jamming together onstage?
Collen: There's no time. Us and Motley, we have 90 minutes each, right? And we usually finish within two or three seconds [of curfew] every night. We're that consistent. So it throws a wrench in when it's such a limited amount of time. But it could be cool. So you never know. We'll see.
They should at least let you come up once or twice to play the "Dr. Feelgood" riff…
Collen: [laughs] Right? That'd be lovely, actually!
Obviously Motley Crue and Def Leppard go back some years. Do you remember the first time you met them?
Collen: Oh, yeah. We played a show with them in '83 in San Diego. So it was a long time ago. And I used to hang out with Tommy. There's a great story where me, Steve Clark, Tommy Lee and Bobby Blotzer from Ratt went on Bobby's boat to Catalina Island from Long Beach, and we had the best stupid boy's day out, you know? Drunk on the boat, going to Catalina, just having a fun time.
I have to know, what goes on when you're hanging out with Bobby Blotzer and Tommy Lee on Catalina Island?
Collen: Well, I remember you used to be able to get these Go-Karts, because there's no real cars on Catalina Island. Well, there are, but it's not really a driving place. So you'd just rent these Go-Karts. So it was basically a bunch of big kids from rock bands in Go-Karts, tearing around the place. [laughs] It was great. Lots of fun. Nothing too dangerous, you know?