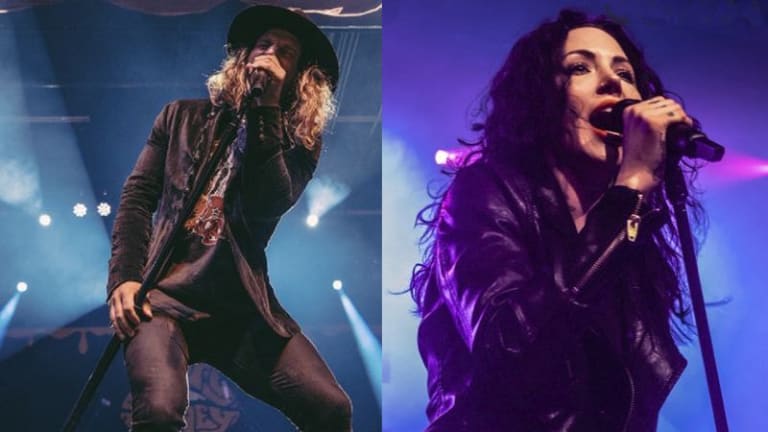 Dirty Honey and Dorothy talk Tom Petty and Jay-Z, rock cosplay and 'being true to who you are'
The modern hard-rock phenoms are currently storming the U.S. together on the California Dreamin' tour
Rock singers Marc LaBelle and Dorothy Martin have each experienced real-life versions of Bob Seger's classic song "Turn The Page." Getting those "You aren't from around here, are you?" looks, while out on the road with their respective bands, Dirty Honey and Dorothy.
"It's strange," LaBelle explains, "to do a show and everywhere you go near the venue people recognize you, which is flattering. But then you go five miles away to get a slice of pizza or something after the gig and people are looking at you like, 'What the fuck is this guy dressed like this for?'"
Martin adds, "Yeah, or you roll into Target or Walmart at 2 a.m. with your smeared eyeliner and leather jacket, and they're like, 'Are y'all okay?' It's one or the other. Either a really aggressive reaction or like, 'Oh cool, are you guys in a band?'"
During a recent video call with Metal Edge, LaBelle and Martin shared a couple laughs between those road stories. Now, their two bands are actually sharing the road.
Dubbed the California Dreamin' tour after Dirty Honey's 2021 wanderlust single, the trek features Dorothy as direct support, with Detroit dance-rockers Mac Saturn as the opening act. Tour dates and tickets are available via dirtyhoney.com.
Early in Dorothy's career, the band made a mark with fuzz-boogies like the 2016 track, "Raise Hell." They scored a top 10 rock hit with "Flawless," a standout heartbreak anthem from 2018, and again with "Rest in Peace," the group's sweeping recent single.
Dirty Honey, meanwhile, wield a swaggering classic-rock sound and tight songcraft. Particularly on their pair-of-aces 2019 singles, "When I'm Gone" and "Rolling 7s." Breakup-sex slow-burner "Another Last Time," from 2021, displayed the band's crossover potential. Last year, they won over new fans as the opening act on '90s blues-rockers the Black Crowes' reunion tour.
Dirty Honey and Dorothy both formed in Los Angeles, and built up solid fanbases by always bringing it live. To that end, each might benefit from doing a live album collecting their best material while still in their prime, like Kiss did with Alive!
The first time LaBelle saw Martin perform onstage, when Dorothy was opening for his friends in hippie rockers Greta Van Fleet, he was impressed with her vocals and "evil Stevie Nicks from the '70s" look. After Dirty Honey's music landed on Martin's radar, she thought, "This guy can sing his ass off."
LaBelle and Martin are two of the most talented rock vocalists to emerge in the last decade. They hit big bluesy notes without getting blustery. Both are also part of strong singer/guitarist dynamic duos. In Dirty Honey, LaBelle often plays off shredder John Notto. In Dorothy, Martin enjoys onstage chemistry with guitarist Sam "Bam" Kulton, hot off the Faster Pussycat tour.
Dirty Honey's rolling grooves are courtesy of bassist Justin Smolian and drummer Corey Coverstone. Dorothy's current touring rhythm section features bassist Mike Stang and drummer Jake Hayden.
Over the years, friendships have developed across the two bands, Martin says. "I feel like, you know, rock bands look out for other rock bands, and there's obviously been a lot of mutual respect."
During our video interview, LaBelle sported a Rolling Stones T-shirt while Martin repped Poison. Edited excerpts from our conversation are below.
Marc, who is a female singer you draw inspiration from? And Dorothy, can you name a male singer who inspired you? Present company excluded, of course.
Marc LaBelle: Two female singers for me are, of course, Stevie Nicks and Janis Joplin. I don't draw inspiration too much from, like, Celine Dion, but I've definitely gone down a lot of rabbit holes just watching her live performances [on YouTube] and being like, like, "Holy fuck, how do you do that?" The early Adele stuff, I appreciate like the soul in the songs and her emoting. To name a few, those are some of them.
Dorothy Martin: Besides Marc, I'd say Steven Tyler, Axl Rose, Chris Cornell, Kurt Cobain. There are just so many great male vocalists I love. I gotta say, I really love Steven and Chris Cornell. Where they sing, how they sing, the tones they produce. I feel like Steven can just do anything with his voice. It's crazy. So yeah, those are some of the guys I grew up listening to. And just a lot of Motown and classic rock, which is obviously male-dominated, but I don't usually even pay attention to that. If something feels good and sounds good, I'm gonna soak it in and try to try to learn from it somehow.
Speaking of Axl Rose, I've read you've both met him. What was the coolest or most surprising about meeting Axl?
LaBelle: I have to tip my cap to his fashion. He was wearing, like, sandals, a fucking robe and a cowboy hat all at the same time. I was like, "That is fucking Axl, dude." And then we're face-to-face talking about The Sopranos or some bullshit, and he's so nice, too, which…you never know what to expect. Yeah, that was cool. The fashion, for sure.
Martin: He's in rockstar mode, 24/7. He's highly, highly, highly intelligent and super nice. I have nothing but good things to say about him. I think he was wearing a cowboy hat when I hung out with him, too.
The Dirty Honey and Dorothy tour is a good package for rock fans. What's a double bill you've seen that was awesome?
LaBelle: Maybe the first concert I ever went to was Kiss and Aerosmith. That was pretty sick. That makes you want to be a musician real fast when you see that scene unfold, you know, as a little kid. I was so blinded by my love for Aerosmith that I didn't appreciate Kiss at the time. But I told Paul Stanley when we played with them in Europe, this most recent time after watching the shows, "I didn't think I would like it as much as I did. I was so surprised how good you still sounded. You sound fucking awesome. The show is still amazing."
Martin: I've gotten to see so many cool concerts – and not just rock, but in the pop world, too. I saw the Beyonce and Jay-Z On the Run tour, and Beyonce is just a force to be reckoned with. I saw Rihanna team up with Eminem for the Monster tour. That was really insane. I've seen Motley Crüe and Aerosmith in Vegas. That was a lot of fun.
Both your bands have done covers songs people might not have expected from you – Dirty Honey with Prince's "Let's Go Crazy" and Dorothy with "No Church in the Wild" by Jay-Z and Kanye West. What's the key to making an unexpected cover work?
LaBelle: I think the only prerequisite for me is, "How do I do this in an authentic way and make it my own?"
Martin. Yeah, I agree with that. One-hundred percent.
If you two were to duet on a song on this Dirty Honey and Dorothy tour, what might be a good one to tackle onstage?
LaBelle: I think the sweet spot really is finding something that you both love that's not either one of your own.
Martin: Hey, you know what we could do? We could do the Stevie Nicks/Tom Petty "Stop Draggin' My Heart Around" song. Because I when I think of like rock duets, that's one of my favorites.
LaBelle: Yeah, she's killing on that one. Tom Petty legendarily hated that song. He was like, "I didn't want to do it." He had this other record and this one obviously was, like, a smash, and totally trumped anything he did. And he was like, "Eh, it bought me a house. What are you gonna do?"
Martin: That's what I'm saying, Marc. We've got houses to buy!
Rock music isn't in the mainstream as much as it used to be. As musicians who have dedicated your lives to rock music, what do you think when you see artists from pop or other genres adopting rock imagery but without playing the music?
LaBelle: The thing that comes to mind for me when you say that is the recent success of Machine Gun Kelly in the alternative-rock sphere, being a rapper. I kind of hated on him before, and then I heard him on Howard Stern talking about, "This is what I did forever. I love this thing too." I'm not familiar with the music too much, but initially like I was like, "Fuck you, man." You can't just come into my space, you know.
Doing rock cosplay …
LaBelle: Yeah. And then diving into his story a little bit I was like, "Fuck, man, this guy's kind of a fucking rocker." Like, his spirit is a rocker for sure to me. And I kind of had to change my tune on it a little bit.
Martin: I agree with what Marc said. Back to the Machine Gun Kelly thing, sometimes it takes artists a while to find out who they really are, and to me this direction he's gone in feels so much more genuine. Hey, it's easy to say, you know, "Screw you for ripping us off." But at the same time, the more eyes that get drawn to the real rock 'n' roll community, the better, right?
And I keep going back to giving props to Stranger Things for putting Metallica in the biggest show on television. And now kids are being introduced to the music we grew up on and loved so much. I used to write pop songs and be in pop writing sessions. I feel like a good song is a good song. You can have a pop song and then dress it up in a rock 'n' roll outfit. I mean, that's Queen, right? It's just about expressing yourself and being true to who you are.